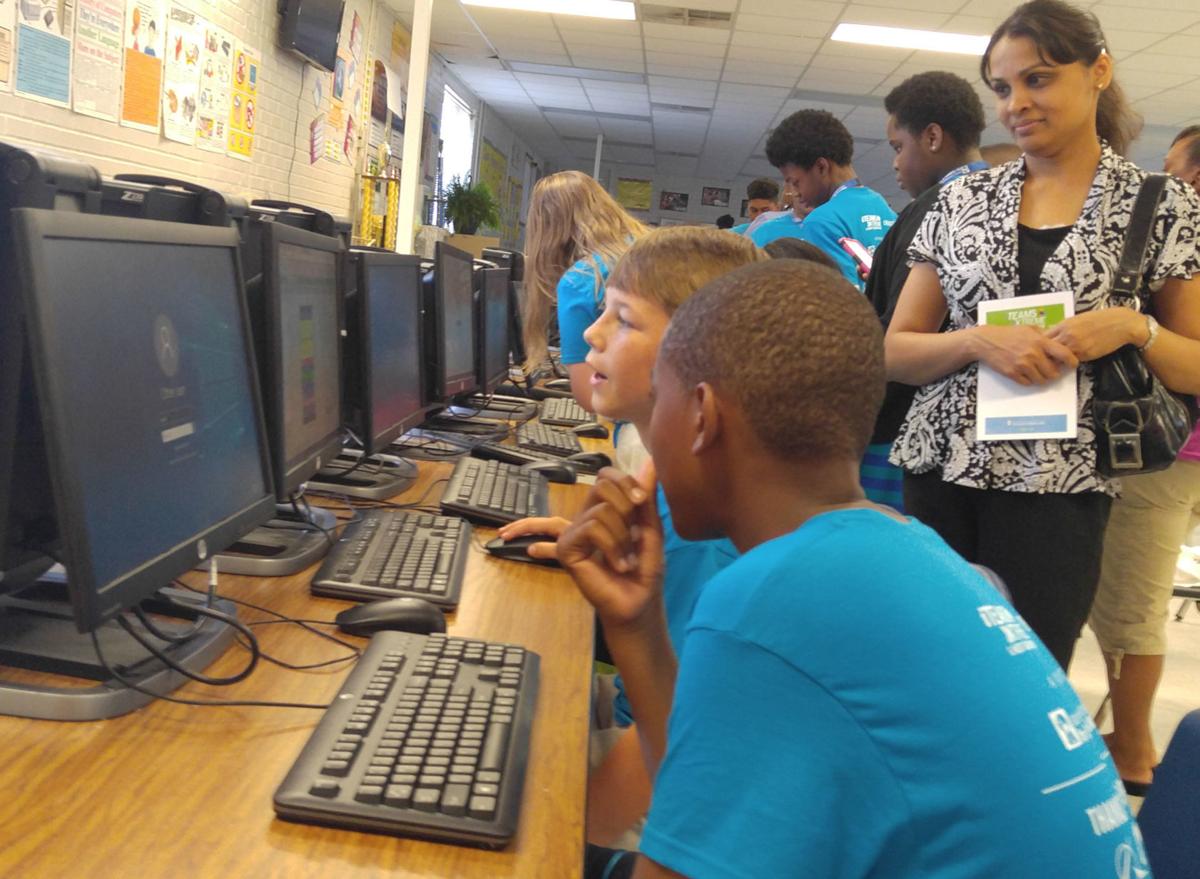 Students got a chance to step into the future recently at the Innovation, Technology & Entrepreneurship Among Middle Schools Xtreme Summer Camp.
Working in teams, the rising seventh- and eighth-grade students were given the chance to explore computer science and technology hands-on and then compete in a "Shark Tank" style competition.
"Working cooperatively and using technology to solve problems, students explored fields including gaming and app development," said LaChanda Hare, camp coordinator.
iTEAMS Xtreme is a four-day camp hosted by the South Carolina Governor's School for Science and Mathematics in partnership with Orangeburg Consolidated School District Five.
The camp aims to inspire students to pursue careers in the fields of entrepreneurship, technology and computer science through hands-on, team-based projects.
"It's an outreach program so it helps engage students in science and math, along with technology," Tionia Richardson said.
Richardson is a teacher who travels and works with the iTeams camp at different sites around South Carolina. She has been with the program now for two years.
She says that students do not have to be especially gifted in the mathematics or science fields, however.
"It's about everyone, for each and everyone who's willing to display that perseverance and reasoning," Richardson said. "You're willing to do that, you can do it. That's all it takes."
Students chose one of three areas in which to participate. They could create 3D models, interactive objects, or even design mobile applications.
At the end of the week, they presented their ideas and products to a panel in a "Shark Tank" style competition, which required them to pitch business ideas and answer questions about their projects.
"You have to go in there knowing your stuff," Hare said. "We put our students through that challenge of 'Shark Tank.' We had guests to come in from the community to actually listen to the students sell their pitch, and each of the 'sharks' had $100,000 — fake money that is — that they could invest in the teams' projects."
The teams used a variety of computer-aided software, such as Cura for 3D printing, Makey Makey for game design and App Inventor for creating mobile applications that the students actually displayed on phones for their parents.
Christian Ihekweazu, a rising eighth-grader, was one of three students awarded a $500 scholarship to attend GoSCiTech, an annual residential summer camp at the South Carolina Governor's School, where students can choose one of 25 STEM-related courses to take.
Hare described him as a well-rounded individual and the glue to his team. She said Ihekweazu sought opportunities outside of the camp as well.
"I felt really proud of myself," Ihekweazu said after winning the scholarship. He said he made sure his team stayed together.
"Even if someone didn't agree necessarily with what someone else said, I kind of had to be the middleman and see what we could do to come together on an idea," he said.
His team, JDC Sports Incorporated, created an app called SND (Sports News Daily), which gives the headlines and news of professional basketball, baseball and football games to its users.
He said in the future, he'd possibly like to go into making games.
The iTEAMS Xtreme Camp usually costs $185 per student but was offered to the students free of charge this year thanks to the camp's leading sponsor, Boeing, an aircraft manufacturing company.
The South Carolina Governor's School for Science and Mathematics is a two-year public, residential high school in Hartsville specializing in the advanced study of science, technology, engineering and math, with an emphasis on economics and entrepreneurship. GSSM has several camp partnerships throughout the state.
Next week, William J. Clark will host another Governor's School camp, iTeams Xtreme: Next Generation, a robotics camp teaching students the fundamentals of coding and computer programming. This is the first year the GSSM is offering the summer program.
To sign students up for any summer programs offered by the Governor's School, parents can go to www.scgssm.org and find the various programs listed under the "Outreach & Camps" tab.