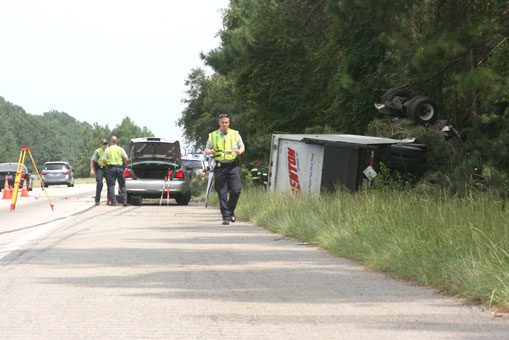 A West Columbia man is dead after a Friday morning accident near Bowman on Interstate 26 eastbound.
Benjamin Amstutz Jr., 55, was driving a tractor-trailer near mile marker 159 when the vehicle somehow left the roadway and ended up on the edge of a wooded area.
Amstutz died at the scene as a result of blunt force trauma to the head, Orangeburg County Chief Deputy Coroner Sean Fogle said. Amstutz was wearing a seatbelt and was entrapped.
The S.C. Highway Patrol said a 2005 Chrysler SUV was also involved in the collision, but did not say how. The collision remains under investigation.
The driver of the SUV, 67-year-old Rolie Gutierrez of Riverview, Fla., was also wearing a seatbelt, according to S.C. Highway Patrol Trooper David Jones. Gutierrez was transported by Emergency Medical Services to an area hospital.
The S.C. Department of Health and Environmental Control was also at the scene as a precaution. Amstutz's truck was hauling paint and paint thinner when it overturned, Jones said.
Traffic on Interstate 26 eastbound at the crash site was temporarily blocked, but operated using one lane for most of the afternoon and into the evening.
At one point, eastbound traffic was barely creeping along at up to 20 miles before arriving at the accident site.
Before 7 p.m. Friday, the SCHP cleared both eastbound lanes of traffic.
Orangeburg County fire and rescue services responded to the scene and also assisted in directing motorists around the accident scene.
Contact the writer: 803-533-5570