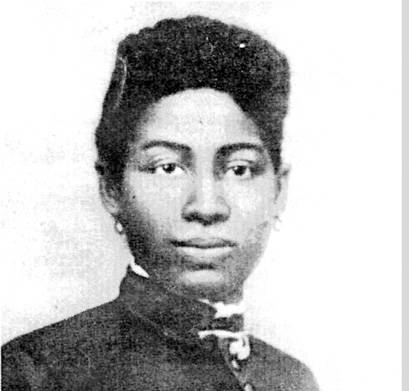 Elizabeth Evelyn Wright was born in Talbotton, Ga., on April 3, 1872. She was the seventh child of John Wesley and Virginia Rolfe Wright. John was a carpenter and Virginia was a stay-at-home mom who was said to be a full-blooded Cherokee Indian.
The family lived in a poverty-stricken black area of Talbotton known as "Smith Hill." Early on, it became obvious that Elizabeth was a "chosen one," all because of her steadfast focus in obtaining an education. The basement of St. Phillips AME Church became her avenue in fulfilling the basic fundamentals in reading, writing and arithmetic. Not long after starting school, she began to display extraordinary gifts in academic excellence. This special talent was recognized by her teachers.
In 1888, Elizabeth Wright completed her basic requirements at St. Philips. Realizing her high educational potentials, she became interested in enrolling at Tuskegee Institute in Alabama. John and Virginia did not have adequate funds to send Elizabeth to school and far more than that, they did not want her to leave home. But, with some convincing by the teacher, they finally agreed, and Elizabeth moved on and attended Tuskegee Institute.
Elizabeth arrived on the campus Sept. 3, 1888, and began working in the cafeteria during the day and attending classes at night. This continued until she met the wife of the principal Booker T. Washington. Through the guidance of Mrs. Olivia Washington, Elizabeth was able to change her schedule to daytime classes.
Lizzie, as she was known at Tuskegee, became closer to Mr. and Mrs. Washington while moving into her sophomore year. And surely, being mentored by a dynamic woman such as Mrs. Washington, she was being groomed to excel and promote education for poor black children. You see, Mrs. Washington was a woman before her time that possessed high visionary capacities.
She once gave a speech to the Alabama Teachers Association titled: "What Should the Women of Our Race Do to Become Stronger." From such topics, Lizzie developed a certain type of mental strength and determination that most will never attain. Olivia Washington died May 9, 1889.
While matriculating at Tuskegee, Lizzie developed the reputation of being dependable, trustworthy and caring. The Tuskegee students loved Lizzie. During her senior year in 1892, Lizzie dropped out on account of her sickness. Throughout her school days, she was always known to be frail and sickly.
After recuperating for several months, she was contacted by Mrs. Almira Steele, a white trustee at Tuskegee, about teaching at a school in McNeill, S.C. Although she had not completed her senior year, Lizzie agreed and arrived in McNeill in October 1892 to begin her dream of teaching black children. This experience helped to mold Lizzie's ambitions of one day operating her own school.
Her tenure at the McNeill School was cut short when in April 1893 some whites burned the school down to the ground.
Later in 1893, she re-enrolled at Tuskegee to complete her education. The McNeill experience encouraged her to become more focused in her desire and commitment to help educate poor black children. Lizzie graduated from Tuskegee in 1894 and soon after returned to McNeill to begin her mission of opening a school for black children. After two incidents of arson — a pile of lumber for building a new school was burned and another makeshift school building being torched — Lizzie and her other teachers decided to venture into Denmark.
Being penniless, she met with state Sen. Stanwix Mayfield about purchasing 20 acres of his land to build a school. He told her he could not see her buying land and building a school without any finances. However, he offered her a teaching position at the Colored State College (South Carolina State University) at Orangeburg paying $75 per month. Lizzie's response was, "Thanks, but I am not seeking a job for myself, I want to build an industrial school in which to teach poor boys and girls of my race to lead useful lives." The senator said he would do everything he could to help her.
For his humanitarian concerns, Sen. Mayfield paid the ultimate political price for supporting a black woman who was promoting education for black children. He lost hid bid for re-election as state senator for Bamberg County during the next election.
In 1896, with a high sense of determination, Lizzie campaigned constantly at churches seeking donations to start her school. One Sunday in a small Baptist church in Colleton County, she gave a speech that impressed a man name Jackson Wiggins so much that he told a friend, "If that woman will do what she says, I'll give her 50 dollars." When Lizzie questioned him about the matter, he said, "I was just talking, but I am willing to do all I can to help you." Later, he gave her the 50 dollars along with other solicited donations. Wiggins asked Lizzie to promise him that if "any one of my children should knock at the door of your school, penniless and want to go to school, you will take him in and allow him a chance." And she agreed.
In March of 1897, Lizzie met a local white woman, Mrs. Sontag, who owned a two-story general store in the Sato section of Denmark. Understanding and compassionate to Lizzie's plight, Mrs. Sontag consented to a request to use the second floor as a school. And on April 14, 1897, Lizzie Wright along with her assistants Hattie Davidson and Jessie Dorsey opened the Demark Industrial School.
Only 14 students enrolled when the school opened in makeshift quarters above the store. By 1898, enrollment had reached 270. This was a drastic change from Lizzie's earlier efforts to start a school in Hampton County and later Govan. She was thwarted three times by community hostility, arson and lack of support. But as fate would see it, her mission was complete.
As the school grew, Martin Menafee, a Tuskegee graduate, was encouraged by Rev. Robert Bedford and Booker T. Washington to go to Denmark in October 1900 and assist in strengthening the school financial operations. Through correspondence with the right sources, he arranged an interview between Miss Wright and Ralph Voorhees, a blind Philanthropist, of Clinton, N.J., in 1902. From that trip, Ralph and his wife Elizabeth became the primary source for the financial backing she needed in the purchasing of 280 acres of land on the outskirts of Denmark. With concurrence of Booker T. Washington, the name of the school was changed from the Denmark Industrial School to Voorhees Industrial School to honor Ralph and Elizabeth Voorhees' generosity.
On Feb. 25, 1904, the school was incorporated by an act of the state Legislature. And in 1905, only a year before the death of Miss Wright and two years before that of his own, Ralph Voorhees made possible the purchase of another tract of land, about 100 acres.
Throughout the years of soliciting support from the different communities, individuals and churches of Bamberg, Colleton, Barnwell and Hampton, Lizzie always believed that it was God's plan for her to build a school and that he would show her how. And indeed, he did.
Over a course of years, a quiet relationship was developing between Lizzie and her financial officer Martin Menafee. On June 2, 1906, Elizabeth Evelyn Wright and Menafee got married on the campus of Voorhees Industrial School. Shortly after, Lizzie began to suffer with her usual problem of fever and gastritis. Suffering so severely, she had to receive treatment at a hospital in Battle Creek, Mich., and was treated by two of the best doctors in America, Dr. Jean Harris Whitney and one of the Kellogg brothers, Dr. John Kellogg.
As our Lord would see it, the mission of Elizabeth Evelyn Wright-Menafee was completed when he cradled her away at the age of 34 while she was being treated at a sanitarium in Battle Creek on Dec. 14, 1906.
Over the years, history and historians have somehow missed or omitted the legacy of this "God-sent" woman. Her mission and vision came along several years before that of Mary McCloud Bethune but somehow failed to receive the due recognition in the main frame of history. But because of her early demise and the lack of promotion of her works to educate poor black children, Elizabeth Wright's place in the history of South Carolina, America and the world has been grossly obscured.
This brief overview of Elizabeth Wright's life is a true testament to anyone who has the will and determination to fulfill their vision. Today, Voorhees College continues to stand as a testament of the will and determination of Elizabeth Wright. Just think, if Elizabeth Wright had a vision in 1897, you can do it also in 2009.
Be the first to know
Get local news delivered to your inbox!