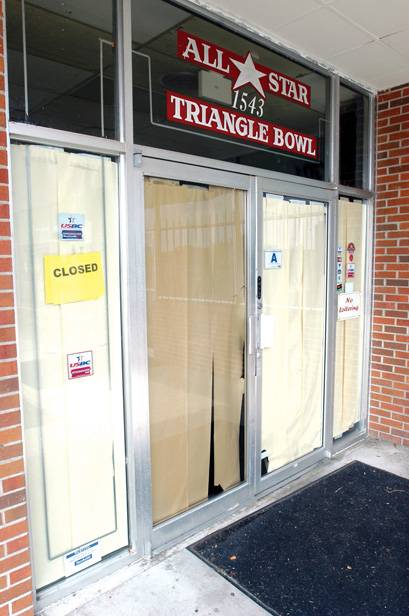 An Orangeburg bowling alley at the center of one of the most infamous events in the history of the city has closed its doors.
All Star Triangle Bowl at 1543 Russell Street closed its doors at the end of August, according to a source close to the closing.
The business has been looked at several times by some physicians as well as an out-of-county couple which has expressed some interest in purchasing and keeping the building as a bowling alley, according to the same source. None of the contacts has come to fruition.
Ken Floyd, owner/operator of the bowling alley, could not be reached for comment.
Sources said over the past couple of weeks, equipment such as the bowling lanes and machines have been removed from the business.
Floyd assumed the ownership of the alley from his father, Harry, who passed away in July 2002. The building was leased by the family.
The bowling alley became the focal point of civil rights protests in February 1968 over its whites-only policy.
The unrest led to the night of Feb. 8, 1968, when highway patrolmen opened fire on a protest at South Carolina State College, killing three students and wounding 27 others.
The event came to be known as the "Orangeburg Massacre."
The business has been listed on the National Register of Historic Places since 1996. Owners of private property listed in the National Register are free to maintain, manage or dispose of their property as they choose, provided that there is no federal involvement.
The Rev. Sammie Gordon, owner of GFL Uptown Sports Store, which is next door to All Star Triangle, said he opened his business next the bowling alley in part because of its historic nature.
"I hate to see it go," he said. "It was one of landmarks of Orangeburg. It is a historic spot."
Gordon said he is "hoping and praying" that somebody will purchase the building and keep the bowling alley.
"I have been talking to a lot of people and encouraging people to come in and look at it and to invest," he said, adding that the bowling alley was a popular destination for school field trips. "I would like to see the bowling alley to come back. I would like to see it rise up again."
Orangeburg city officials expressed their desire for the bowling alley to reopen, or for some other business to fill the spot.
Orangeburg County Chamber of Commerce President David Coleman said "Businesses develop, grow and change and maybe the market has changed but I would like to see this type of recreational activity continue in our community."
"Obviously, the All Star bowling alley was involved in a very significant time in our state's history and certainly, regardless of what business is in operation, the sign of those events will not be forgotten by the people of our state," he said.
Orangeburg Mayor Paul Miller expressed his sadness at the closing of the bowling alley.
"As we continue to work on the revitalization of downtown Orangeburg, I would hope that the shopping center, which has been there for a long time, will get back to the promise it had many, many years ago," Miller said. "It would be great if an investor would go in there and revitalize it and get good tenants there and create some retail."
Downtown Orangeburg Revitalization Association Director Bernice Tribble echoed Coleman's sentiment.
"I would be excited to see someone open a bowling alley back down there," she said. "We don't have another one in Orangeburg. I sure do want to see it opened up again. It would be a good thing to have down in that shopping area."