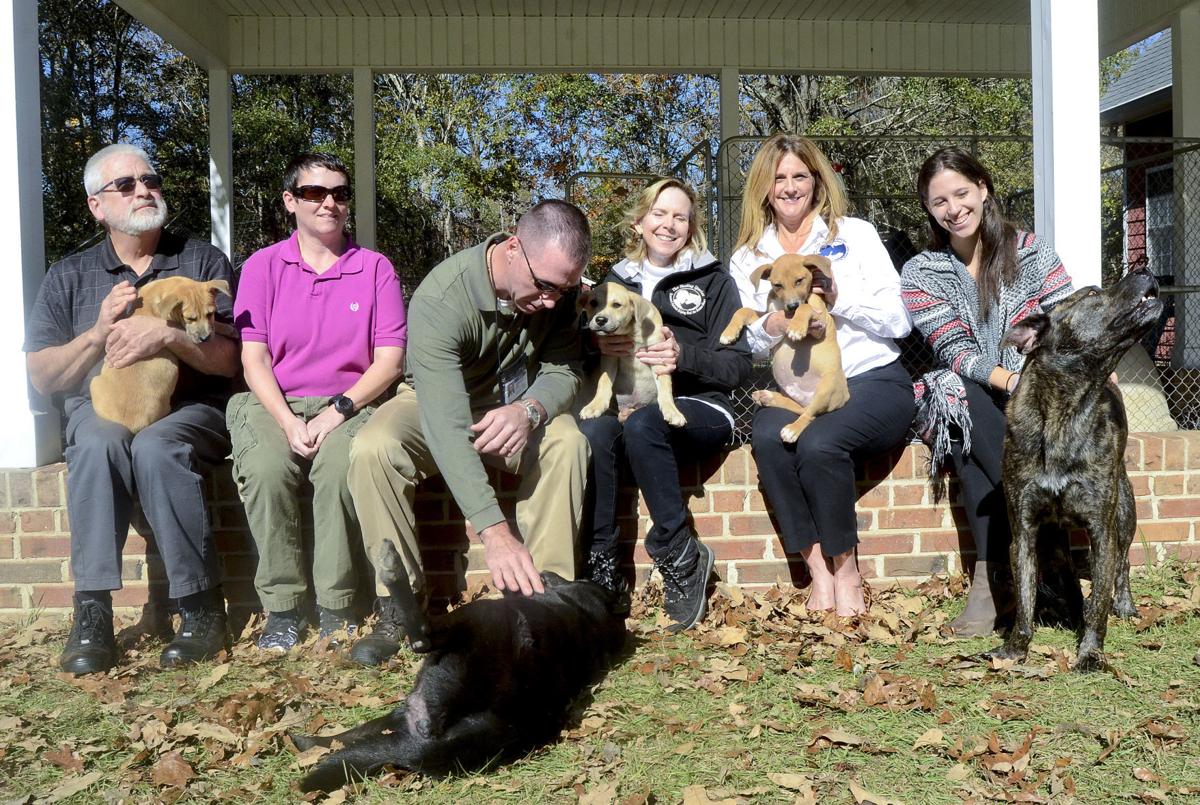 An Orangeburg-based program that uses rescued and abused animals to teach compassion to children is also transforming lives in prisons.
Officials from Perry Correctional Institution in Pelzer toured Healing Species' Orangeburg facility Friday morning. Prison chaplain Pastor Larry Epps and Unit Manager Susan Duffy are taking over the administration of the dog program in the prison from retiring Associate Warden Steve Claytor.
According to Duffy, the program at Perry began about five years ago. And the three said they have seen the positive effect the dogs have had on the inmates.
"One thing about this program that is such an effective tool for us in trying to rehabilitate the inmates is the concept that we get these dogs – they've been abused, they've been beaten, they've been mistreated," Epps said.
"So when they come to us, in some ways they're sort of broken. We get the dogs in and we love on them and offer them a safe place, we offer them structure," he said. "We start to see these dogs come back to life."
The inmates train the dogs and "one concept of this is that the inmate sees that transformation take place, them responding to that love," Epps said.
"I think in a lot of the inmates' hearts, they kind of identify with the dogs," because the inmates, too, have been beaten and have come to prison broken, he said.
The inmates think "so maybe if this can happen in the life of this dog, maybe there's hope that I can change as well," Epps said.
Certain inmates are chosen as dog handlers, Duffy said.
"They train them, and that's their roommate," Duffy said. "So they're with them all the time."
There are also other inmates who serve as backup when the handler has to work, has other plans or gets in trouble, she said.
The handlers are carefully screened. To be considered, "they have to be disciplinary-free," she said. "They have to be in the character-based program – they can't be in some other type of dorm.
"They have to be good with animals, they have to know what they're doing – I have to observe them."
"And these dog handlers do have training on how to train the dogs," Epps said.
Claytor said the dogs who come to Perry "have it made."
"Those dogs get treated like royalty," he said. "They get more love, affection, attention and training than most dogs ever get."
Epps said that after the dogs are trained and "healed from some of their brokenness, we get those dogs adopted out. We find homes for them."
"We've had a lot of employees, employees' families, inmates' families adopt these dogs," Duffy said. Many are even brought back to the prison to visit from time to time, Epps said.
The idea seems to be catching on. Lee Correctional Institution in Bishopville also has a relationship with Healing Species, he said.
"We're just so impressed with how the folks at Perry have been so amenable to what our concerns and stipulations were," Healing Species founder and President Cheri Brown Thompson said. "For example, we did not want a dog ever left in a crate, left alone.
"So they have managed to work out a system where the dog is never, ever left alone," she said. There is always a handler with the dog, she said.
"They have emergency systems in place. If there's a lockdown, the handlers are still able to see that the dogs' needs are always met," Thompson said.
And, Healing Species has "free rein" to perform checks on the animals at any time, she said, and they consult with the prison on who is selected as a handler.
"Our main concern was 'Will these dogs be safe?'" she said. "And I can say for sure at Perry ... the dogs have come first."
Thompson said she has heard firsthand the impact the program has had on the inmates.
"We've had inmates tell us that it's changed their life," she said. "Over 90 percent of all prison inmates will be released back into mainstream society. So the question is, wouldn't you like for them to have had a program where they are learning compassion and empathy and respect for the feelings of others?"
Claytor said when the program first began at Perry, there were some inmates who had been incarcerated for long periods and who "had just hardened and closed themselves up."
"One man in particular - he was one of our first handlers – he was just in tears," he said. "He saw (the dogs) and was just in tears."
"Within a few months, he had gotten off of blood pressure medicine and wasn't taking the stuff for his stomach anymore," Claytor said. "So it had a positive physical effect on him."
Thompson said Perry is currently looking for volunteers to donate veterinary care for the dogs and offer support for the program.
To help support Healing Species' ongoing mission, Thompson said that a silent auction fundraising event with cocktails will be held Thursday, Nov. 30.
If you are a donor, contributor or other supporter who has not received an invitation, contact Healing Species at rescue@healingspecies.org.
Be the first to know
Get local news delivered to your inbox!