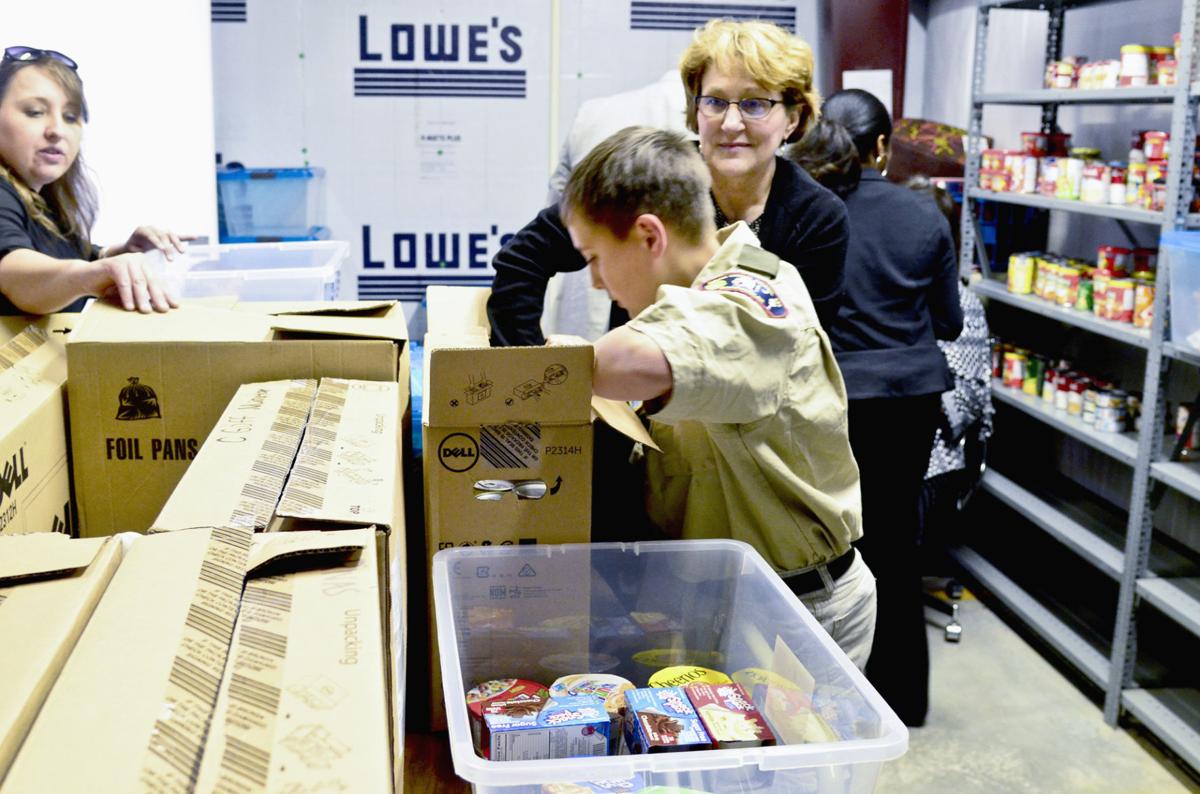 The middle school student was continually acting up, disturbing the class, said Dr. Derrick James, instructional coach/administrator at the Bethune Bowman K-12 campus.
"I pulled him out," James said. "I asked, 'What is the problem? Do you want me to call home?'"
The student told him, "You can call home, but we still won't have anything to eat."
James realized the child was really hungry and gave him the only food he had available — three bags of potato chips.
The student devoured the chips, he said. "I think he would have eaten the bags if he could."
According to the S.C. Department of Education, Orangeburg Consolidated School District Five has a poverty index of more than 88 percent. James' student is just one of a significant number of kids in the district who are going hungry, especially on the weekends, said Dr. Jacquelyn Inabinette, head of the district's Title I funding.
But thanks to the district's "Filling Station," created by Homeless Coordinator Cindy Clark, quite a few students carried home a bag of food on Friday to tide them over the weekend.
"We saw that some kids were going home on Friday and the next meal they got would not be until they came to school for breakfast on Monday," Clark said.
Four district schools were already working with different organizations to send backpacks of food home with students over the weekend, she said.
"We realized there are so many other schools that don't have that as an option," Clark said. "We decided we were going to replicate this on a grander scale because we have so many other students that have the same needs."
Inabinette said a number of the district's students are homeless as well as hungry.
By federal definition, anyone not having have a permanent, nighttime residence is considered homeless, Clark said. She said the district's homeless rate is below 10 percent, but it's had a number of students staying in hotels or with relatives. Only a few students have stayed in cars, she said.
The problem of hunger is much greater, Clark said. While the Filling Station was created specifically to help the homeless, it will also be used to feed kids who are hungry, she said.
The four schools that have already implemented the backpack feeding plan are serving about 30 students each, Clark said. She expects the Filling Station will be serving about that many students in each of the other schools in the district.
Inabinette said the district works to identity those who need help, but it will do nothing to embarrass people.
"There's a lot of pride, and we don't ever want anything we do to cause anyone to shy away from us," she said.
The food will be handed out to kids in a discrete way so that they won't be embarrassed.
The district is depending on the community for supplies to fill its shelves with food, Clark said.
The Orangeburg County Bar Association, the Junior Service League of Orangeburg and Boy Scout Troop 45 are already partnering in the effort.
The bar association presented the district with a $500 check on Thursday.
"It just blows my mind that there are kids that go hungry right here in Orangeburg," said Sarah Ford, the association's vice president.
It's terrible, but this is a situation that can be helped, she said. A lot of people want to help the community, but they don't know what to do, Ford said. The word about this problem needs to be taken out to the public, she said, adding that helping is so easy.
"When you go to the grocery story, just pick up a few more things. Write a check for a meal that you would have out one evening and you can make a real difference for a kid's life," Ford said.
The JSL partnered in a food drive with the St. Andrews kindergarten.
"As soon as our organization found out what Cindy was doing, we wanted to help," said Junior Service League President Jennifer Blanchard. "We take for granted having the food we need."
By working with St. Andrews, the JSL not only helped provide food for hungry kids, but also taught the kindergarteners about the value of giving, according to Blanchard.
"We thought it was a great opportunity for our kids to see how they could benefit other children right here in Orangeburg that go without," she said.
Troop 45 recently set up tables at Piggly Wiggly and collected food for the project. Troop members Nic Rivas and Gavin Drake were on hand Thursday afternoon to help unload food supplies and stack them on the Filling Station shelves at the OCSD 5 district office.
Rivas said he feels "pretty good" about helping other kids. He had thought about some kids not having homes or enough food before this project, he said.
Drake said he'd never really thought a lot about kids having to do without food, but he said he was glad to work on the project.
"We just did it because we wanted to help people out and not have anybody going home hungry, he said.
Clark asks anyone who wants to donate food to the Filling Station to email her at cindy.clark@ocsd5.net or call her at 803-533-7969.
She suggests people give foods that don't need to be cooked and are nutritional, such as single servings of canned fruits in light syrups, whole grain cereal/granola bars, individual cereal boxes, canned foods with protein like spaghetti and meatballs or ravioli. Microwaveable foods are also a good choice, she said.
"But these are just suggestions," Clark said. "Food is food."