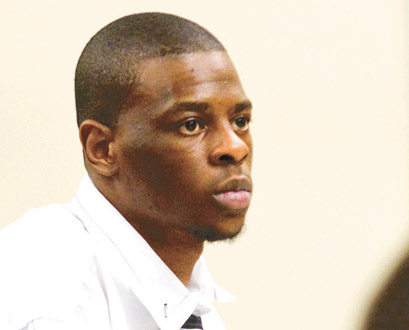 An argument over a dog between rival gang members led to the shooting death of an innocent bystander, according to testimony given during the murder trial of Ronald Smith.
The 24-year-old called off his trial Wednesday after a co-defendant described for jurors an argument over a pet that ended with what prosecutors called a "Wild West" shootout.
"He certainly, certainly never wanted that to happen," defense attorney Peggy Hinds told the court.
Circuit Court Judge Ed Dickson sentenced Smith to 31 years, giving him credit for the year he's spent in jail since his arrest.
First Circuit Solicitor David Pascoe said he was "very pleased with the way the trial was going. Because it was going so well, the defendant had to beg for mercy from the court."
Smith and four others were charged in the shooting death of 58-year-old Samuel Simms.
Simms, of New York, was shot once in the head as he tried to take cover during the free-for-all at the Shell/Bojangles' on Chestnut Street in Orangeburg on June 12, 2010.
Pascoe said Simms visited relatives in the Orangeburg area yearly and was at the station preparing his vehicle for the return trip to New York.
Charges are pending against Jarrod Jacques, 24; Orlando Haynes, 24; Brandon Bradley, 22; and Donald Harmon, 24.
It was Harmon's testimony Wednesday combined with store video that appeared to remove any doubt of Smith's involvement.
Harmon's story included characters named Skeeter and Big D, as well as allegations of gang involvement, including the Bloods, Crips and Folk Nation.
He said he was associated with - but not part of - the (Highway) 33 Boys. A couple days prior to the shooting, a gang member had gotten into an argument with one of the Stilton/Hill Boys, associated with the Folk Nation, Harmon said.
As the parties arguing separated, Harmon fired a shot into the air.
"And this all started over a dog?" Pascoe asked.
"Yes, sir," Harmon replied.
Armed with a .380-caliber semi-automatic, Harmon said he, a man named Skeeter and several others went to Bojangles' around 12:50 a.m. Security video shows a parking lot buzzing with traffic and activity when they arrive.
Using a large-screen TV, Harmon explained the store video by saying he got into a car underneath the fuel island canopy to talk to a friend while others in his group were walking about the parking lot.
A silver Chevrolet Impala drove up. Several individuals got out of the Chevrolet, identified by Harmon as Smith, Haynes and Jacques.
"Why did Ronald Smith go up to the car you were in?" Pascoe said.
"He say, 'Somebody going to die tonight,'" Harmon said.
The parking lot then exploded in gunfire. The video shows at least four weapons being drawn, with the shooters in close proximity to one another. The vehicle in which Harmon was seated backed away about 40 feet from the silver Chevrolet before Harmon is seen leaping out. Several individuals are seen firing toward Harmon.
At the top of the video screen, behind Harmon and away from the center of gunfire, a man is seen quickly exiting a Ford Explorer. The man runs around to the passenger's side of the Ford. As he reaches the far side, he goes down with what prosecutors say was a fatal shot to the head.
That man was identified as Simms.
SLED Agent James Green testified that from the shell casings found at the scene, there were at least two .380-caliber, one .40-caliber, and one and maybe two .45-caliber handguns being fired that night.
Due to the weight of the projectile removed from Simms' body, the person firing the .40-caliber weapon is believed to have fired the fatal shot that struck Simms.
"We were able to prove almost without a doubt through the video that it was Ronald Smith's bullet that killed Samuel Simms," Pascoe said.
On cross-examination, Hinds questioned Harmon's motive for such a compelling story.
"When did you decide to testify?" Hinds said.
"When they brought it to my attention," Harmon said.
"I don't remember what date," Harmon said. He said his attorney, Byron Gipson, "told me to tell the truth."
While Hinds questioned Harmon on his testimony, Smith sat quietly with his head down.
"You want us, the jury, to believe that there's no deals" in exchange for his testimony, Hinds asked.
During the plea hearing, Hinds wanted it on record that Smith took exception to testimony he was a gang member.
To the half-dozen friends and relatives of Simms, Dickson offered condolences.
"Thank y'all, thank y'all for coming in," he said. "I'm very sorry about your loss."