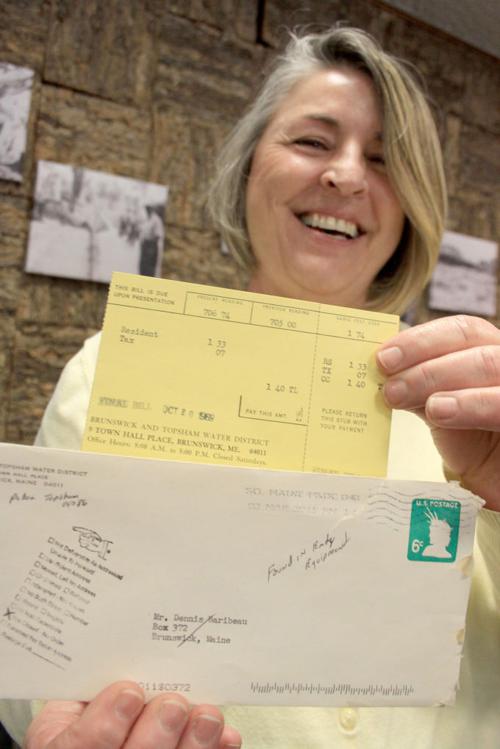 Bill sent out in 1969 returned to Maine water district
BRUNSWICK, Maine — A bill for $1.40 sent out by a Maine water district almost a half-century ago has finally been returned.
The Brunswick and Topsham Water District mailed the bill to a resident of Topsham in October 1969. The bill was supposed to be returned to the water district by the post office because the customer's post office box had been closed.
However, it didn't find its way back to the district until last Tuesday, 46 years later.
Linda Deacetis, the district's executive secretary, told The Times Record she was quite surprised to receive the bill. The district believes the customer has since passed away. The bill had a 6-cent stamp on it.
Cost to reopen Ghost Station could top $18M
CAMDEN, N.J. — A closed Philadelphia train stop commonly referred to as Ghost Station could be reopened at a cost exceeding $18 million.
The Delaware River Port Authority was due to receive a report last week examining the feasibility of reopening the Port Authority Transit Corporation's Franklin Square Station in the Old City section of Philadelphia. The Delaware River Port Authority oversees the PATCO, the commuter rail that shuffles passengers between southern New Jersey and downtown Philadelphia.
The station was abandoned in 1979 and is dimly lit and eerie. The report says it would cost $18.5 million to resurrect it and another $8 million to install escalators and reopen additional entrances.
The station would serve 1,300 passengers each day. But the study says most of those already use another station in downtown Philadelphia.
Runaway beer keg no lucky charm for Indiana teenager
SOUTH BEND, Ind. — An Indiana teenager's luck has apparently run out after a runaway beer keg on St. Patrick's Day caught the attention of police.
Indiana State Excise Police say the newly purchased keg fell from the bed of 18-year-old Scott Benge's pickup truck Tuesday when the tailgate gave way. Police retrieved the keg from the road and cited Benge for illegally transporting an alcoholic beverage.
Indiana law bars those under 21 from transporting alcoholic beverages unless they are with their parents or legal guardian.
Police say Benge was one of 24 people ticketed during St. Patrick's Day patrols in South Bend.
Phoenix Zoo discovers 2-year-old bear is female, not male
PHOENIX — The Phoenix Zoo is fessing up to what it calls an "embearassing" mistake regarding one of its animals.
Zoo officials say they were planning to transfer Luka to the Nashville, Tennessee, zoo when they recently discovered that the 2-year-old Andean bear is a female, not a male as thought.
According to the Phoenix Zoo, Andean bear cubs' genitalia are highly undeveloped before age 2, making it very difficult to determine gender.
The zoo said employees there also hadn't handled the bear much because it was doing very well with its mother.
The zoo said Luka still might go to Nashville, but now that they know she's a she, it opens up other options for the bear's participation in a breeding program.
Be the first to know
Get local news delivered to your inbox!