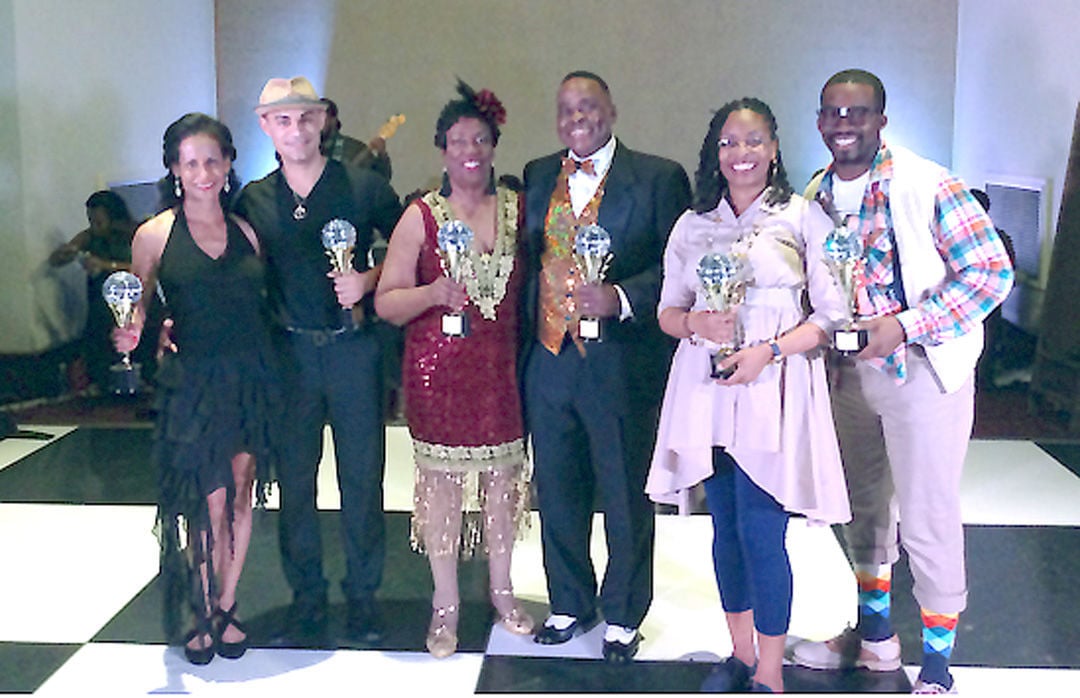 "Dancing with the Orangeburg Stars," presented by the Orangeburg Consolidated School District Five Education Foundation, provided a second annual event to remember with competition, philanthropy and fun, all to benefit students.
The entertainment-filled event drew hundreds to The Cinema on Saturday night, Jan. 21, and raised thousands of dollars toward its projected fundraising goal.
Von Gaskin, WIS-TV meteorologist, served as emcee for the exhilarating program of attention-grabbing performances by nine celebrity couples. Serving as judges, WIS morning anchors Mary King and Leland Pinder and OCSD 5's Dr. Sharon Berry-Quinn added fun and a clever element to the show with their positive and often witty critiques of the dancers' performances.
Several of the routines brought the audience to their feet. Broadus and Brenda Jamerson's Cotton Club-inspired performance earned them the title of "People's Choice."
The Jamersons raised more than $14,000 to earn the title.
Dr. Tracy Macpherson's and state Sen. Brad Hutto's performance to the Champs' 1958 hit, "Tequila," earned them a standing ovation and a few quips from the judges.
The audience was left wondering why Hutto had to bail Macpherson out of jail on their first date? Hmm ...
Taking home the title of "Most Entertaining" was Mellichamp Elementary School Principal Hayward Jean and his wife, Starlette Jean, a teacher at Rivelon Elementary.
The Jeans' performance included Hayward channeling his inner Steve Urkel, as the audience went on a comical journey of how the two meet at Claflin University.
Rounding out the winners, Asha Rodriquez and her son, John Rodriquez, took home the title of "Judges' Choice."
Considered a romantic dance, the pair managed to make their salsa routine a tale of gentle, maternal love, the judges noted.
There were also jumps, twirls, flips, dips and a 007-inspired routine by Dr. Audrey Gordon and Northan Golden, Jeanna Reynolds and John Henry Reynolds, Drexel Ball and Tammy McCuttry-Brown, Roy Dickson and Beth Baggerly and state Rep. Jerry and Wanda Govan.
Choreography was provided by Tamalyn Blackman, owner of Tamalyn's Dance Center and founder of the Orangeburg Civic Ballet, and Cammie Bunch.
The foundation will use the proceeds from Dancing with the Orangeburg Stars to award grants to teachers and schools to implement innovative educational programs and experiences for children in OCSD 5 schools that are beyond the funding capacity of the district, Public Relations Director Bill Clark said.
"Although the final total is still being tallied, the foundation is very pleased with the support shown by the community and the event sponsors," Clark said.
Proceeds from last year's event were used for projects such as making a playground accessible for children with physical disabilities, the purchase of adaptive devices for iPads for children with learning disabilities and materials for STEM instruction and funding programs in the arts, he said.
For more information on how to be considered for the 2018 Dancing with the Orangeburg Stars, contact Clark at 803-533-7925 or bill.clark@ocsd5.net.