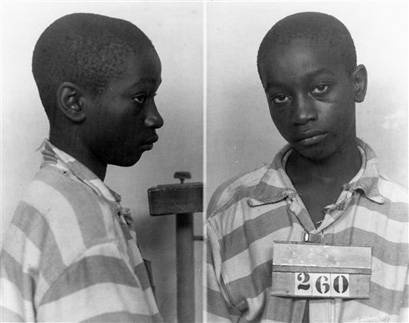 MANNING, S.C. (AP) — In a South Carolina prison 65 years ago, guards walked a 14-year-old boy, Bible tucked under his arm, to the electric chair. At 95 pounds, the straps don't fit, and an electrode was too big for his leg.
The switch was pulled and the death mask fell from George Stinney's face. Tears streamed from his eyes. Witnesses recoiled in horror as they watched the youngest person executed in the United States in the past century die.
A community activist is now fighting to clear Stinney's name, saying the young black boy couldn't have killed two white girls. George Frierson, a 56-year-old school board member and textile inspector, believes Stinney's confession was coerced, and that his execution was just another injustice blacks suffered in Southern courtrooms in the first half of the 1900s.
In a couple of cases like Stinney's, petitions are being made before parole boards and court are being asked to overturn decisions made when society's thumb was weighing the scales of justice against blacks. These requests are buoyed for the first time in generations by money, college degrees and sometimes clout.
"I hope we see more cases like this because it help brings a sense of closure. It's symbolic," said Howard University law professor Frank Wu. "It's not just important for the individuals and their families. It's important for the entire community. Not just for African-Americans, but for whites and for our democracy as a whole. What these cases show is that it is possible to achieve justice."
Some have already achieved justice. Earlier this year, syndicated radio host Tom Joyner successfully won a posthumous pardon for two great-uncles who were executed in South Carolina.
Three years ago in Mississippi, a judge threw out a trumped-up 1960 burglary conviction and seven-year prison sentence against Clyde Kennard in a dispute over $25 in chicken feed. The year before, Lena Baker, a black Georgia maid sent to the electric chair for killing a white man, received a pardon after her family pointed out she likely killed the man because he was holding her against her will.
In the Stinney case, supporters want the state to admit that officials executed the wrong person in June 1944.
Stinney was accused of killing two white girls, ages 11 and 7, by beating them with a railroad spike then dragging their bodies to a ditch near Acolu, about five miles from Manning in central South Carolina. The girls were found a day after they disappeared following a massive manhunt. Stinney was arrested a few hours later, white men in suits taking him away. Because of the risk of a lynching, Stinney was kept at a jail 50 miles away in Columbia.
Stinney's father, who had helped look for the girls, was fired immediately and ordered to leave his home the sawmill provided. "They had to leave town walking," said Frierson, who discovered the case three years ago.
Frierson hasn't been able to get the case out of his head since, carrying around a thick binder of old newspaper stories and documents, including an account from an execution witness.
The sheriff at the time said Stinney admitted to the killings, but there is only his word — no written record of the confession has been found. A lawyer helping Frierson with the case figures threats of mob violence and not being able to see his parents rattled the seventh-grader.
Attorney Steve McKenzie said he has even heard one account that says detectives offered the boy ice cream once they were done.
"You've got to know he was going to say whatever they wanted him to say," McKenzie said.
The court appointed Stinney an attorney — a tax commissioner preparing for a Statehouse run. In all, the trial — from jury selection to a sentence of death — lasted one day. Records indicate 1,000 people crammed the courthouse. Blacks weren't allowed inside.
The defense called no witnesses and never filed an appeal. No one challenged the sheriff's recollection of the confession.
"As an attorney, it just kind of haunted me, just the way the judicial system worked to this boy's disadvantage or disfavor. It did not protect him," said McKenzie, who is preparing court papers to ask a judge to reopen the case.
Stinney's official court record contains less than two dozen pages, several of them arrest warrants. There is no transcript of the trial.
The lack of records, while not unusual, makes it harder for people trying to get these old convictions overturned, Wu said.
But these old cases also can have a common thread.
"Some of these cases are so egregious, so extreme that when you look at it, the prosecution really has no case either," Wu said. "It's apparent from what you can see that someone was
And sometimes, police under pressure by frightened citizens, jumped to conclusions rather than conducting a thorough investigation, Wu said.
In Charleston, an author is trying to get officials to say a black man convicted of killing a white clothing store owner in 1911 was railroaded by police desperate to solve the crime.
The Evening Post newspaper proclaimed it "the most dastardly and sensational crime that has happened in Charleston in several years." Investigators questioned a half-dozen blacks and offered a $750 reward but couldn't find a suspect until two weeks later, when the shopkeeper's widow was attacked in the same store. Two white men grabbed Daniel "Nealy" Duncan, who was walking near the store as the woman staggered out.
Duncan had a severe speech impediment, which no one who fingered him as the killer pointed out. There was no physical evidence, but Duncan was convicted in about an hour and hanged nine months later, according to Batt Humphreys, a former CBS News producer who researched the case for his new novel "Dead Weight" and has written the state asking for a posthumous pardon.
"I could spend money and hire lawyers and all that but I'm not going to," said Humphreys, whose book was published by Charleston's Joggling Board Press.
"It's clearly their choice to do something and take positive action. By not taking action it will show the state has not grown in 100 years."
Associated Press writer Bruce Smith in Charleston contributed to this report.