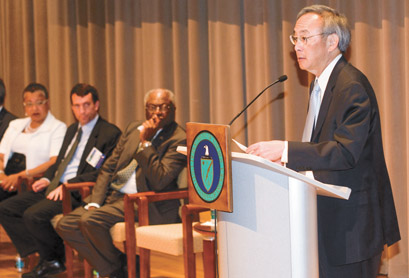 U.S. Secretary of Energy Steven Chu says the entire community wins when people make their homes and businesses more energy efficient.
"You have more money in your pocket. You created jobs in your local community in making those retrofits and you created investments for the long-term future for yourself, your home and the United States," Chu said Tuesday.
Chu, co-winner of the 1997 Nobel Prize for physics, stopped by Orangeburg-Calhoun Technical College for a summit designed to educate entrepreneurs on how the DOE supports small businesses.
He noted the Department of Energy's support for energy efficiency through loans and partnerships with states and organizations.
"The Department of Energy is doing everything it can to partner with states," Chu said. "We want to give you the tools so you will know exactly what you should be doing for the most efficient energy methods possible."
Chu also noted that the Department of Energy is interested in supporting the creation of new, clean types of energy.
Sixth District Congressman Jim Clyburn, who was also in attendance, said the creation of new sources of energy could benefit Orangeburg County.
"We have a 5,400-foot runway airport," he said. "We have two Class A railroads, we have two interstate highways and two universities."
He said Orangeburg "seems to have all that's necessary to be a strong and vibrant economic engine."
And yet Orangeburg County's jobless rate is 17.7 percent.
"This is not acceptable," he said. "We must create jobs, and small businesses are the engines to create jobs in this country."
The county has the benefit of colleges and universities that are training students to work in the field of energy, Clyburn said.
OCtech is training students to work with wind and solar energy technology, he said.
Down the street, Claflin University is involved in creating biofuels to replace fossil fuels, and S.C. State is the only Historically Black College or University to offer an undergraduate degree in nuclear engineering in the state, Clyburn said.