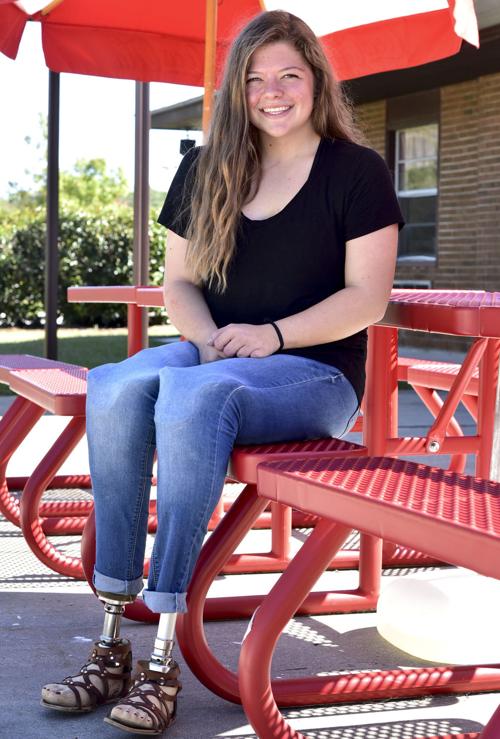 For 17-year-old Pamela Reynolds, playing sports is what she knows and loves.
Whether it's playing on Orangeburg Prep School's varsity volleyball and soccer teams or surfing off Myrtle Beach, something she was doing by age 5, the high school junior is virtually unstoppable.
"I've played every sport," she said.
Reynolds doesn't have legs. Nine of her 10 fingertips are missing.
When she was 10 months old, Reynolds contracted bacterial meningitis. As a result, surgeons amputated both of her legs below each knee and removed nine of her fingertips. The double amputee wears prosthetic legs.
"A lot of times when I go play sports and stuff, other people think I won't be good enough," she said. "They automatically judge me on my body image and I take that negative energy to train harder and try to be better and show them just because I look like this doesn't mean anything at all."
"I can do exactly everything you can do and sometimes do it better, depending on what it is," she said.
For example, last year, Reynolds played on the S.C. Independent Schools Association's all-star soccer team. She's planning to run track this spring.
Reynolds' positive message about body image is captured in the November issue of Seventeen magazine.
On Monday, the issue hit the stands and Seventeen published its online version of her story.
Reynolds said she posted a photo of herself on Instagram -- an online mobile multimedia sharing application and social networking service -- a couple of months ago as part of Seventeen's initiative #PerfectlyMe campaign.
It wasn't long before an intern at Seventeen noticed her photo and message about loving oneself.
"I wrote about how I have no problem with my legs; that's the way God made me. You can't hate something you can't change," she said in an interview this week.
The magazine intern presented Reynolds' story to a senior editor and three weeks later she got a phone call asking her to fly to California to be interviewed for the November issue of Seventeen.
She's thankful for the opportunity to spread the message of loving one's body image.
"In my opinion, you should always love yourself. How are other people supposed to love your body if you don't even? And it's very important to know that you're worth something and that you're beautiful no matter what," Reynolds said.
After she contracted meningitis, which is an inflammation of membranes surrounding the brain and spinal cord, she was hospitalized at the Medical University of South Carolina, where she underwent amputation surgeries.
"If you don't know anything about amputations, you think, 'What are they going to do now? They're not going to be capable,'" Reynolds said.
"But growing up, my parents never babied me, not at all," she said. "They always told me that I was perfect the way I was, so I just grew up with the confidence I could do anything and I just do my very best with all that I can do."
"And if I can't do something, then I adapt until I can do it," she said.
"It's so important to love yourself so you can have the confidence to go throughout the day," she said. "And maybe if you just say a nice thing to another person, it can help them."
Reynolds wants people not to judge others based on outward appearance.
"It doesn't matter what anybody looks like or what they are capable of or who they are as a person, you have no idea what they're capable of," she said.
Reynolds, who moved from Myrtle Beach and enrolled at OPS last fall, said she has plans to pursue a degree in either sports medicine or general surgery.
As Reynolds walked across a patio on the upper campus of OPS on Monday, the school's librarian Lynn Garrick hugged her.
"This child is amazing," she said. "I'm so proud of her; she just amazes me. She has a happy attitude all the time."
"I can do exactly everything you can do and sometimes do it better, depending on what it is."

17-year-old Pamela Reynolds