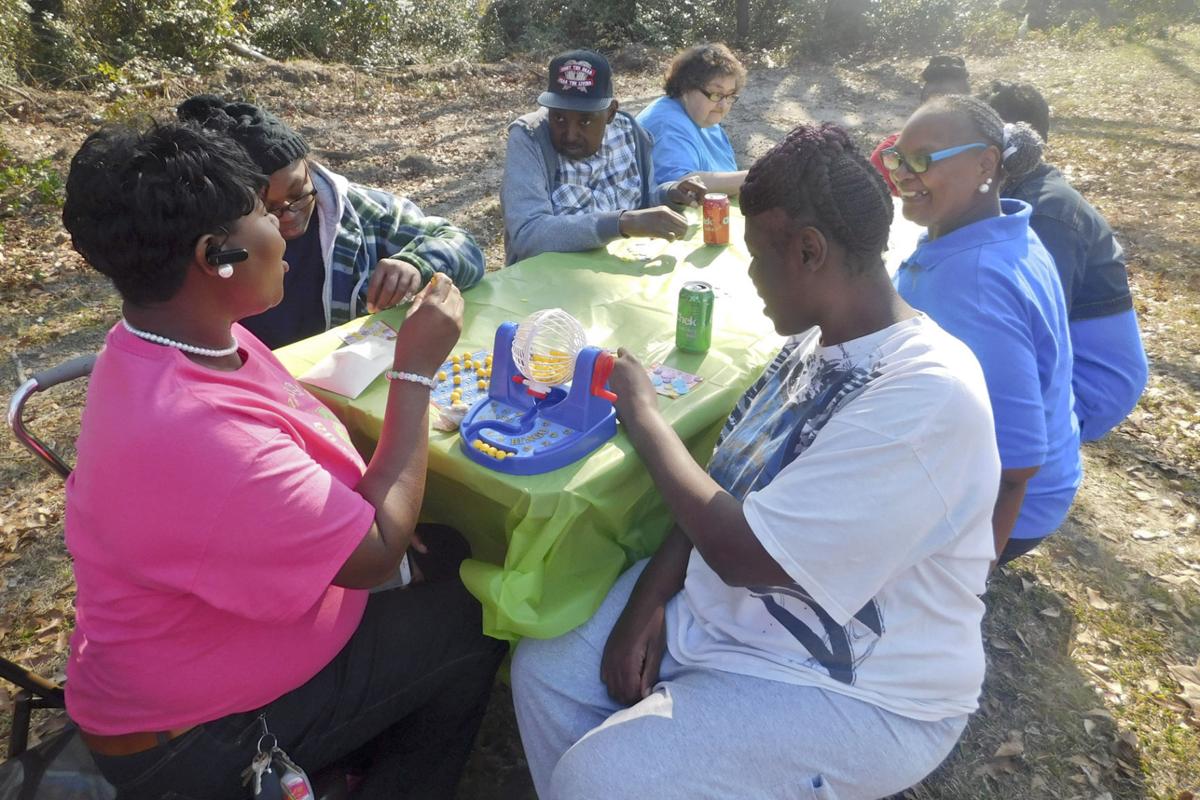 DENMARK – The late Rev. Dr. Martin Luther King Jr.'s wish that people of all ethnicities and backgrounds come together and also to serve their communities was honored on Saturday by the Nu Tau Omega and Eta Nu chapters of Alpha Kappa Alpha Sorority Inc. during MLK Day of Service activities at Bernard Cummings Park in Denmark.
More than 50 volunteers and citizens joined to celebrate the late civil rights activist and Nobel Peace Prize winner. Souvenir bags donated by Family Solutions of the Lowcountry, which contained information from that agency and other nonprofits, were handed out to participants. Healthy eating was one of the issues addressed in the material.
Community service was emphasized in other ways at the event. A book drive was held prior to the event by AKA, and books were handed out to participants to promote literacy.
Lisa Stokes, public relations chairperson and member of Alpha Kappa Alpha Sorority Inc., Nu Tau Omega chapter, said the chapters have been holding the annual day of service for about a decade.
"Martin Luther King was about service … . Those who believe in Martin Luther King Jr.'s work believe that the best way to honor him is through service," Stokes said.
Grilled hamburgers, hot dogs, homemade vegetable soup and beverages were served without charge to participants. A sack race, croquet and bingo games, an egg-in-spoon race and other activities were available for children and adults.
Destiny Riley, 10, said of the event, "The giveaways are nice."
Rakarie Morris, 7, added, "The games are fun!"
You have free articles remaining.
"It's been good to celebrate MLK Day," Khaleah Riley, 11, added.
Sequarin Pough, 9, joined in a sack race while Johnae Sanders, 5, watched.
Bessie Sapp, certified nursing assistant lead with the Bamberg County Disabilities and Special Needs Board, brought a diverse group of clients of all ages and backgrounds to the MLK Day of Service.
"We come out to different organizations' events. We get to know people. The clients get a chance to socialize with other people," Sapp said. "They get a lot of literature they can read. If they cannot read it, we will read it to them."
"Yesterday an announcement about Martin Luther King Jr. Day was on television. One of my (special needs) clients said, 'I have a dream … MLK!'" she noted.
Antigone Solomon, chairperson of the event and member of the Nu Tau Omega chapter, said, "I wanted to do something special for Martin Luther King's birthday and give back to the community."
Chantel Chandler, president of the Eta Nu chapter at Voorhees College, said, "I think this is very important because people do have to take the holiday seriously. I think we need to recognize what he (King) has done for our community and for all communities and for everyone to help us maintain unity."
"I am here just to be a role model to the youth," said Dr. Melissa Peeples, assistant principal of St. Matthews K-8 school and Nu Tau Omega president. "I want to let them know that there is nothing impossible … . There are ways you can give back to your community -- to do a cleanup, for example."
"The high school students (enrolled in Achievement Self-Awareness Communication Engagement Networking and Developmental Skills) are participating in this day of service and are earning service hours for this event," Peeples added. She said ASCEND is designed to motivate, encourage and assist high school students in reaching their maximum potential.
The MLK Day of Service is a part of United We Serve, President Barack Obama's national call to service initiative.