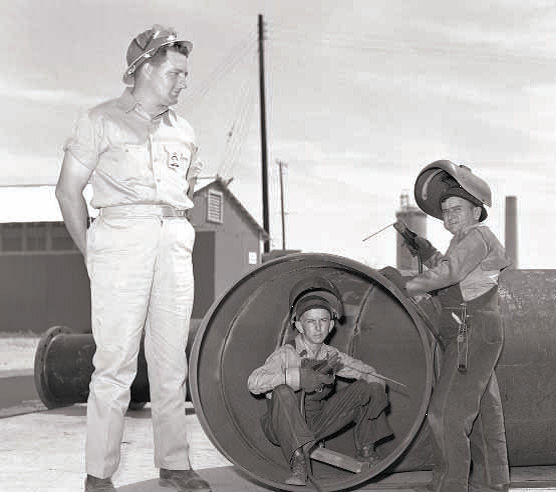 BARNWELL -- They were not Munchkin-sized ruby slippers but rather the work shoes the former Savannah River Plant in Aiken County found for two of its employees who were Munchkin actors in the 1939 MGM classic film "The Wizard of Oz."
According to the Savannah River Site's archives, they were the smallest work shoes the plant had ever ordered.
The SRP workers, two "little people" brothers, Eugene and Eulie David of Barnwell, were once part of the Singer Midgets who performed in "The Wizard of Oz." According to the SRS archives, Eugene portrayed one of the five fiddlers who saw Judy Garland (as Dorothy) and her dog, Toto, off during the "Follow the Yellow Brick Road" sequence. Eulie played one of the soldiers who marched during the "Ding! Dong! The Witch is Dead" sequence.
The brothers, who were pipe welders at the Savannah River Plant in the 1950s, wore small work shoes made to order by the Thom McAn Company -- a child's size 11-½ for Eulie and a child's size 12-½ for Eugene.
John Fricke, considered the preeminent "Wizard of Oz" and Judy Garland historian, confirms the David brothers' participation in the movie.
"Both of their names appear on MGM's 'daily time report' list of the Munchkin actors," he said.
Michael Sewell, a former resident of Barnwell, met the Davids when he was a child. Sewell was a former reporter for The State newspaper who retired as a professor of journalism and mass communication.
"The Davids ... lived in a trailer for about a year, I think, on adjacent land (a pecan grove owned by the Richardson family) … I knew one of the David brothers growing up when I was about 10 years old ... . I didn't know about Eugene and Eulie being Munchkins in 'Wizard of Oz' until my childhood friend, George Stoltz, informed me two or three years ago."
The David brothers toured with Dodson's World Fair Shows for three years after the film was released, according to SRS archives. They gave up show business for the welding trade.
According to SRS archives, the David brothers' small size enabled them to get into areas the other construction workers could not access to do welding work. Both men were 50 inches tall (under 4 feet), the records show. Eulie weighed 70 pounds; Eulie weighed 80.
According to SRS records, Eugene and Eulie David were welders for 15 years, working also at the Navy shipyard in Charleston during World War II and the construction of the Savannah River Plant from 1951-1954. They were also employed at one point at Oak Ridge and the Chemstrand Plant in Pensacola, Florida and at several steel welding firms in Columbia.
The Munchkins' roles in "The Wizard of Oz" didn't bring in the big bucks.
"Even Terry -- the trained dog who played Toto -- made more money than the Munchkins," Fricke quipped. "Margaret Pellegrini, one of the flower-pot hat dancers, always joked, 'Toto had a better agent!'"