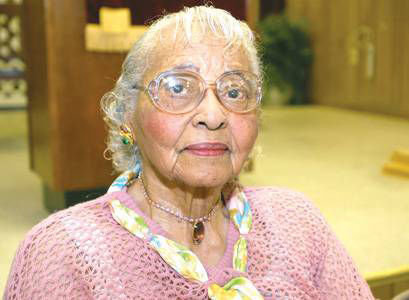 The contributions of the late Geraldyne Zimmerman will be recognized at the fourth annual gala to support a scholarship named in her honor.
Called everything from a community icon to civic champion, particularly for youth, Zimmerman's impact on Orangeburg will again be recognized at this year's gala. 
The Girl Scouts of Eastern South Carolina will hold the fourth annual Geraldyne Zimmerman Gala from 6 to 9 p.m. Friday, Sept. 20, at The Cinema in Orangeburg.
Orangeburg businesswoman Rachelle Jamerson-Holmes will serve as the event MC.
Part of the proceeds from the event will go to support the Geraldyne Zimmerman Scholarship Fund. Two $2,000 scholarships are awarded to two graduating members of the GSESC council who have been accepted and enroll at South Carolina State University, Claflin University or Orangeburg-Calhoun Technical College.
Chayna Rivers and Pria Anderson, who both attend Claflin University, are the 2019 scholarship recipients.
The formal scholarship fundraiser will include dinner, music and a video tribute to honor the legacy of Zimmerman.
"This year we're also doing a special video tribute to former girl scouts who now have their daughters enrolled in girl scouting. They are carrying on the girl scout tradition through their family connections," said Frances Morant, chairperson of the scholarship committee.
A choral ensemble featuring students from Claflin University will provide musical entertainment.
This year's event is open to all girls age 12 and older. A Trailblazer Award will also be presented, with the honoree to be announced during the event.
Orangeburg native Angela T. Clark, founder and chief executive officer of Frabjous Enterprises Inc., will serve as keynote speaker during the event.
You have free articles remaining.
Clark serves as executive director of the Miss Orangeburg County Teen and Miss Orangeburg County pageants and is also a successful jazz vocalist who has traveled worldwide performing on cruise ships.
Tickets for the gala are $60 for general admission. Tickets are $40 for adults who are registered GSESC members and $25 for girls aged 12 to 18 who are registered GSESC members.
Morant said the gala and namesake scholarship are a fitting tribute to Zimmerman, who made a significant impact in the civic, education and social arenas within her community.
"She was a trailblazer before her time. I have to give her kudos for that. She impacted not only youth, but adults in the community through giving of her time and finances if need be. She was not afraid of sharing whatever she had to help her community that she loved so much," Morant said.
Zimmerman, known affectionately as "Mrs. Z," died April 10, 2011, at the age of 100. Born in 1911, she was one year older than the Girl Scouts.
She had been active with the Girls Scouts since 1951 and started the first Girl Scout troop for African-American girls in Orangeburg. Zimmerman went on to create the Helen Sheffield Girls' Club for girls in grades 9-12 in 1963.
Zimmerman, who retired as a math professor in 1976 from S.C. State after 31 years of service, would meet with her young troop members at the Sunlight Club Community Center on Treadwell Street. She was a member of the Sunlight Club, the first African-American women's organization dedicated to performing charitable acts for fellow citizens and sponsor of Girl Scout troops.
Zimmerman served not only as a Girl Scout troop leader, but as a board member, association president, troop consultant and service unit chairperson.
Zimmerman had also been recognized as Orangeburg's "Citizen of the Year" and was awarded the state's highest honor, the Order of the Palmetto, for her community service.
The Girl Scouts of Eastern South Carolina serves girls and adults in 21 counties, including Orangeburg, Bamberg and Calhoun counties.
Diane Flanagan is the new chief executive officer for the GSESC.
Morant, a troop leader in Service Unit 643 which serves Orangeburg and Calhoun counties, said sponsorships can be made to support the upcoming gala. Gold sponsors pledge $7,500; silver sponsors, $5,000; bronze sponsors, $2,500; pearl sponsors, $1,000; and daisy sponsors, $500. Individuals can also purchase ads to be placed in the gala programs. 
Morant said she appreciates the support from the community over the years.  
"We thank the community for their support of the girls in the Orangeburg and Calhoun area, and we look forward to seeing everyone there. It's really been tremendous. We've had loyal supporters who have supported the effort year after year. And we opened the (formerly adults-only) gala up to because we've had many inquiries about having girl participation in it," she said.
To learn more about the event, including how to become a sponsor, donate or purchase tickets, call Morant at 803-682-5926; Janet Fields, 803-707-8881 or go to the GSESC website online at girlscoutsesc.org/en/donate/zimmermangala.html. Pat Baxley, grants and community resources director, can also be contacted at 843-669-5174, ext. 3150, or patbaxley@girlscoutsesc.org.