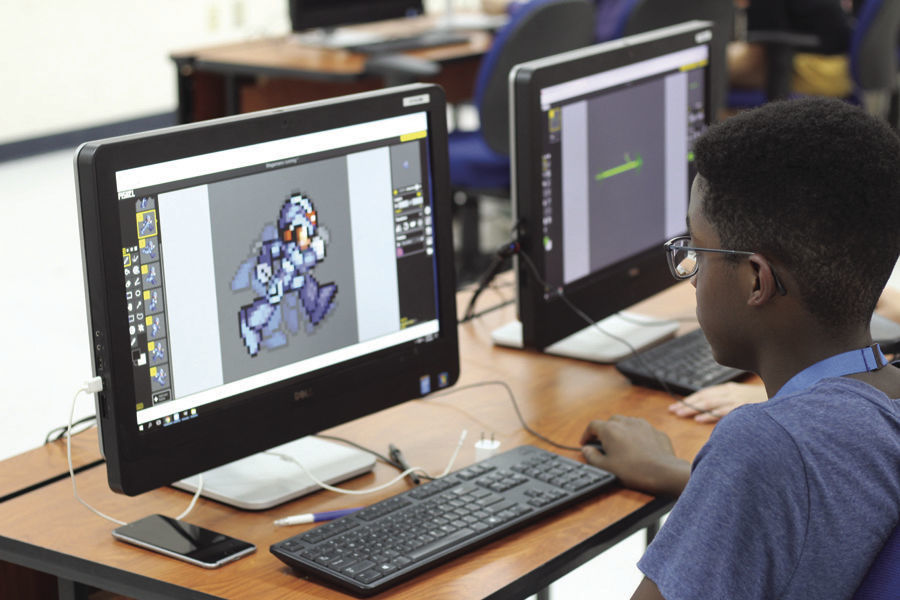 HARTSVILLE - The South Carolina Governor's School for Science & Mathematics (GSSM) is now accepting applications for its outreach after school programs Spark! and ENGAGE. Online applications are available at www.scgssm.org/outreach.
Delivered by GSSM's Center for Science Education & Outreach, Spark! and ENGAGE are after school programs designed to introduce early experiences with STEM help to build students' confidence with new technologies. Spark! and ENGAGE are intended to impact students through early interest and awareness of STEM studies. Snacks will be provided at these programs and the cost is free.
"Participating in one or all this semester's SPARK sessions is an amazing opportunity for young learners to deepen their knowledge of science, mathematics, technology, and international cultures while interacting with GSSM students." Said Randy LaCross, GSSM VP for Outreach and Global Initiatives. "You will walk away from your SPARK experience with the desire to attend more sessions and a motivation to learn more."
ENGAGE is one four-week after-school engagement offered this fall to 6th, 7th and 8th-grade students. It will take place at GSSM from 4:00 PM to 5:30 PM every Monday and Wednesday starting October 7 and ending October 30. In total, there will be eight sessions of captivating STEM fun!
Activities will center on the fundamentals of electrical circuits through breadboarding and electronics. Our project-based curriculum is to be challenging, interactive, and fun. Students will use critical thinking skills and deductive reasoning as they explore ways to create electrical circuits using a variety of materials. During ENGAGE sessions, participants will have opportunities to interact with GSSM students who serve as both instructors and role models.
SPARK! is designed to inspire an early interest in and awareness of STEM studies. In a series of after school workshops, 6th, 7th, and 8th graders follow their interests to learn the science or math concepts behind daily questions or curiosities. Enjoy hands-on activities in the areas of chemistry, biology, mathematics, physics, and more that are designed for middle school students and taught by GSSM students. Students can select any or all workshops to attend. These sessions will take place at GSSM from 4 to 5:30 p.m., Sept. 24 - Oct. 24. Below is a list of all the SPARK! Workshops available.
Math: To Infinity and Beyond! -- Tuesday, Sept. 24, 2019 
Physics: Forces & Work -- Thursday, Sept. 26, 2019
International Studies: Thailand - Tuesday, Oct. 1, 2019 
Biology: Biodiversity - Thursday, Oct. 3, 2019 
Physics: Rotation and Moment of Inertia - Tuesday, Oct. 8, 2019 
Chemistry: Electrochemistry - Tuesday, Oct. 15, 2019 
Math: Geometry - Thursday, Oct. 17, 2019 
Chemistry: Bonds & Energy - Tuesday, Oct. 22, 2019 
Biology: Genetics - Thursday, Oct. 24, 2019  
For more information about GSSM's programs, please visit www.scgssm.org.