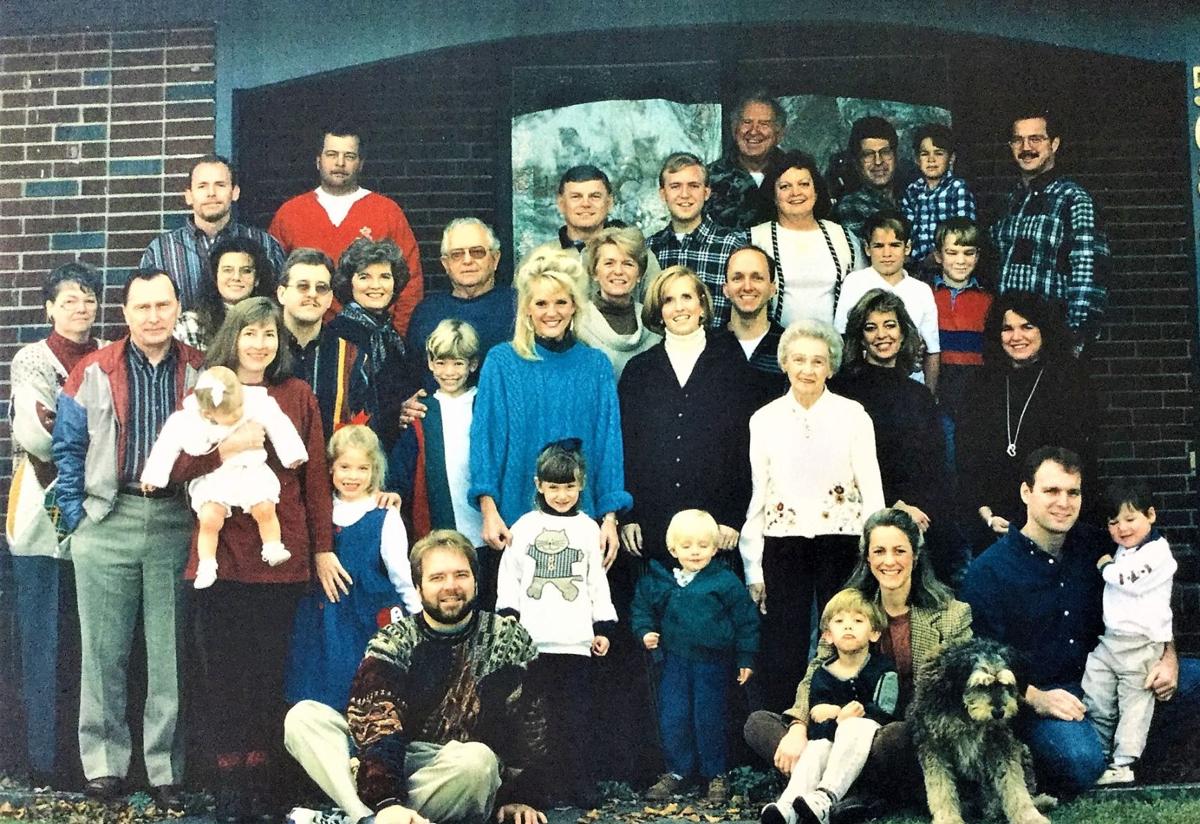 As lives change, so do family traditions. In 1983, several family deaths caused us to change the way we would spend Thanksgiving.
After a pow-wow, my family decided that our house would be the best place to meet. For the next 26 years, this was the gathering spot. At that time, the group included my mother along with her children and their spouses and her grandchildren. The first year was the only year we had just 16 here for dinner and supper!
Each year brought memorable things to celebrate and be thankful for. In 1984, we celebrated the first wedding of one of my mother's grandchildren, so a new spouse was added to the list. That was also the year of the story of the ham -- which was discussed for every year after that. One of the families in Charleston offered to bring the ham to go along with our turkey and trimmings. When they arrived, the oldest child in that car was asked, "Did you bring the ham inside?"
"The one that was on the kitchen table," her mother replied.
And it was then discovered it had been left on their kitchen counter -- that no one had put it in the car. Lack of food was never a problem, but every year that followed always included the question, "Is the ham here?" And it always was.
Over the next few years, we listened to plans for eight weddings of the grandchildren generation. We even helped prepare for several. In 1986, the women spent the afternoon working on taffeta rosebuds which held rice and birdseed to be thrown on the bridal couple after the wedding that was then at hand.
In 1989, Thanksgiving Day included a lot of discussion about Hurricane Hugo when many of this same group had come from Charleston in September to seek refuge from the storm. The day after, they discovered they had not come far enough inland to escape Hugo's destruction. As we gathered together on that Thanksgiving, we gave thanks for the safety of all.
By 1990, we added card tables to accommodate the 28 who were here. One nephew, who was flying in from Washington, D.C., missed a plane due to problems with a cab. This caused him to be stranded in an airport for a while, but when he reached Columbia, some of the cousins here drove there to pick him up, and he managed to arrive at our house before all of the food was eaten!
As great-grandchildren of the family matriarch began arriving, every year from 1987 until 1996 saw at least one new baby making its first trip to "Aunt Harriet's and Uncle Charlie's" to celebrate Thanksgiving. More births were sprinkled over the next few years, until her total number of great-grandchildren reached 18. By then, the Thanksgiving group numbered 40. The tables expanded into our garage and even into some bedrooms.
As the great-grandchildren grew, Thanksgiving afternoon transformed itself into many different directions. They were times when they were younger that they wanted to "have a show". The adults always enjoyed watching whatever they did. Maybe one just sang the ABC song, or another played the piano, or one made some creation out of LEGOs ... while still others told about dinosaurs, tornadoes, American Girl Dolls … and some just modeled clothes from the dress-up basket. Whatever -- but all who wanted to participate had a part.
Their outdoor games were special too. I remember one year as that of "the missing laundry basket." On that particular afternoon, this group of cousins were of the age to want to pit the boy cousins against the girl cousins in some fashion. We did not have to be involved in those battles.
At any rate, after they all went home, I couldn't find my laundry basket. I remembered that my older granddaughter had actually asked if they could use it, so I called her to ask what they had done with it. Her answer was somewhat startling. She said, "Oh -- we must have left it up on a limb in the magnolia tree."
The girls had selected that tree as their castle. She told me they had gathered pine cones in the laundry basket and took their positions in this refuge to fend off the soldiers (the boys). So I climbed up in that tree and brought my laundry basket down. Believe it or not, I was already collecting Social Security when I did that!
This was soon replaced by touch football in our back yard. The few times when the weather did not cooperate for that, they dug into our cabinet where the board games have been kept for almost half a century, and they made plans about who would play what.
In 2009, we had a total of 42 at our house. Every family member was present except one. An anesthesiologist, married to my niece, was on call that day, so he missed the celebration. My mother had celebrated her 95th birthday that year so we took photos of her with every group possible -- her children and their spouses, each of her children individually with their entire families, her grandchildren and their spouses, her great-grandchildren. It was impossible to get everyone in one picture. But everybody was in at least one photo with Grandmother/Granny (You are right --everyone was not patient).
Though we treasured each year we were all together, we did not know then that 2009 would be the final Thanksgiving year this group would gather to celebrate as we had for over 25 years. No, my mother was not the first to go. Sadly, just before Thanksgiving in 2010, our middle son made an appointment with the doctor that changed our lives forever. Because he was having difficulty breathing at night, the doctor ordered a chest X-ray. Results of that caused other diagnostic appointments to be set up at MUSC, and one month after he first went to the doctor, he was on the surgery schedule to remove a growth in his right lung.
We knew the alternative plan was to remove the entire lung if needed, so we were not really shocked when the nurse came to tell us after surgery that was what they had done. She assured us that they had gotten everything and we should soon be able to see him. That was not to be the case. Almost immediately after she gave us that news, she was back to tell us there were unexpected complications, and he was critically ill. The surgeon, joined by other physicians, kept him in the OR for the rest of the day, reporting often but with no good news. With that information, we kept vigil there until the final visit from the surgeon. And he was gone.
He was the one who never married, the one who took over Charlie's share of the family farm, the one who lived just two miles away. Once when I told him, "One day you'll find a special person to share your life," he said in his usually witty manner, "Not being married has a lot of good things about it."
"Like what?" I questioned.
Just as quickly, he replied, "You never have to eat anything you don't like."
And that was a good example of his philosophy: Be happy with what you have.
He was the son who always had a funny story to tell, the one with friends who came out of the woodwork to support us. He was the one that everyone in the community called to keep an eye on their house when they were away, and because of that, they called him the Sheriff of Providence. He was the one that young people listened to. He was also the one who discovered two guys siphoning gas from the tank of his car when he and a friend returned to where they had left it parked. He called the sheriff and had them arrested.
Returning from a trip to Orangeburg the following day, he saw these same two boys walking by the highway after they had been released from jail. Recognizing them, he stopped and asked if they needed a ride. They did not recognize him at first, because he was in his pickup this time. They were attempting to explain where they were trying to go, and he interrupted them. He said, "I know where you are going. Get in the back of the truck." And he brought them back to their car, gave them $20 and told them he'd prefer they never come back around here, but if they did, if they needed money for gas, to look him up -- that he'd buy some for them so they wouldn't have to steal it.
He never grew too old to check the pots on my stove at night to see if he wanted some of what I had fixed or if he would cook his own supper.
Thanksgiving 2010, just weeks after his death, was overshadowed with this sorrow, and there was not any way I could physically or emotionally handle hosting the annual family dinner. New traditions were started. My mother lived to be 100. Bart was just 51. So never think that age might be the reason for the "final" whatever.
Now, 10 years later, 2020 Thanksgiving is overshadowed by COVID-19. I will leave it up to our sons and daughters-in-law to decide if there is any way we might celebrate together. Enjoy the blessings you have when you have them, and be thankful every day for something.
Harriet L. Hutto of Providence is a periodic contributor to The Times and Democrat.