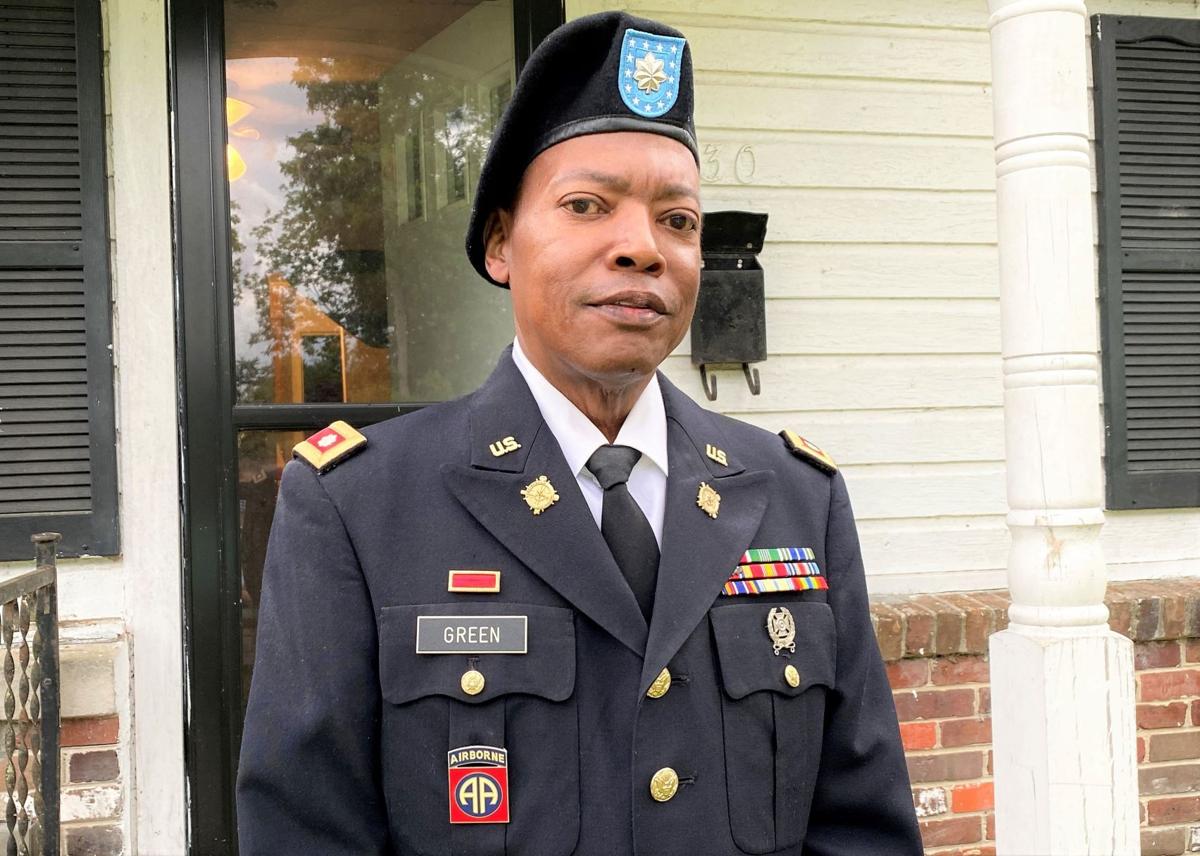 "My job was to transport and make sure they get what's needed on the front lines," said 57-year-old Lt. Col. Andrew Dallas Green, U.S. Army, retired.
"I would go tomorrow, if I had to," he said.
For 11 months, between 2004 and 2005, Green served in Operation Iraqi Freedom while at the Logistical Support Base, Camp Anaconda, in Balad, Iraq, under the 49th Transportation Battalion. He was the commander of the 285th Transportation Detachment based at Fort Bragg, Fayetteville, N.C.
For his service, the commanding general awarded Green the Bronze Star medal for his efforts and leading a successful mission.
"That made me feel like a winner, altogether a champion," he said, "because going into the fight is no easy task."
"Don't take it for granted where the temperature is at least, during the day, 126 degrees and 99 degrees at night in the dusty tent on a cot," he said, "and I called my home in that tent the Marriott," he said with a smile.
The T&D Stories of Honor program is in its third year. The program accepts nominations of local veterans and active-duty military personne…
Green was 54 miles from Baghdad, the capital of Iraq.
He said, "The catch with medical supplies, it mainly entailed blood. Regardless of what type – Mosul, Ramadi, Baghdad – soldiers needed blood, all different types on the battlefield because they're up front."
"I was in charge of cargo documentation, in charge of Balad Air Field, and throughout that airfield, we had mortar rounds and shells because I was in charge of the 12 Sherpa planes, which is a 10-man plane," he said.
Green made sure supplies were stocked up.
"The general didn't care how much they shot as long as they had rounds (of ammunition)," he said.
"We had vessels coming in and I'd send convoys out to unload it and get it to us because I was at the logistical board area in Anaconda," he said.
But there were some close calls too.
Enemy forces sought to destroy supply lines.
Green said it was fortunate no one was hurt due to attacks.
He found strength within to get through those tough moments by praying, reading the Bible and singing a song called, "I Have Jesus and I've Got Enough."
After 11 months in Iraq, the Army redeployed him to Camp Spearhead in Kuwait City, Kuwait, at the Port of Ash Shuaiba.
That's were Green experienced some intense threats by improvised explosive devices, often called IEDs.
"They can come at you from anywhere at any time, no matter what time," he said.
"All of us actually kissed the soil, to be back on USA ground," Green said upon their return to Fort Bragg, "It felt great, sensational."
In 2007, he served as Hurricane Relief Officer supporting the Department of Homeland Security/Civil Support on the Crisis Action Team in the Army Operations Center at the Pentagon.
During his service there, Green received the Army Commendation Medal for meritorious service.
In addition, he also received a limestone fragment from the face of the Pentagon from when terrorists attacked it on Sept. 11, 2001, reminding him that "Freedom is not free," he said.
His last tour of duty and assignment was in 2008; there he served as commander U.S. Southeast Region 4 of 12, which consisted of South Carolina, North Carolina, Kentucky and Tennessee.
He then served as an Army Reserve recruiting officer based at Fort McPherson in Atlanta until his 2010 retirement.
For Green, it was all he dreamed of doing.
"Since growing up, I always wanted to be a soldier," he said, "That was my goal and my end goal was retirement, in which I did."
He graduated from the public schools in the St. George area and then pursued a degree in elementary education at South Carolina State University.
While there, he joined the ROTC program in 1981.
In 1985, he was commissioned.
For 10 years, before he was called to active duty, Green spent teaching. He first taught self-contained fourth-grade students at Bowman Elementary School and then two years at Branchville High School.
He then taught at a Headstart program in Cottageville.
In total, Green served 25 years, 18 days and 17 hours in the Army.
Green is the son of Deacon Charlie Green and Daisy Green. His parents, along with both of his siblings, live in St. George.
In his retirement, Green enjoys spending time with his family, especially doting on his nieces and nephews.
"That made me feel like a winner, altogether a champion, because going into the fight is no easy task."

-- Lt. Col. Andrew Dallas Green, U.S. Army, retired