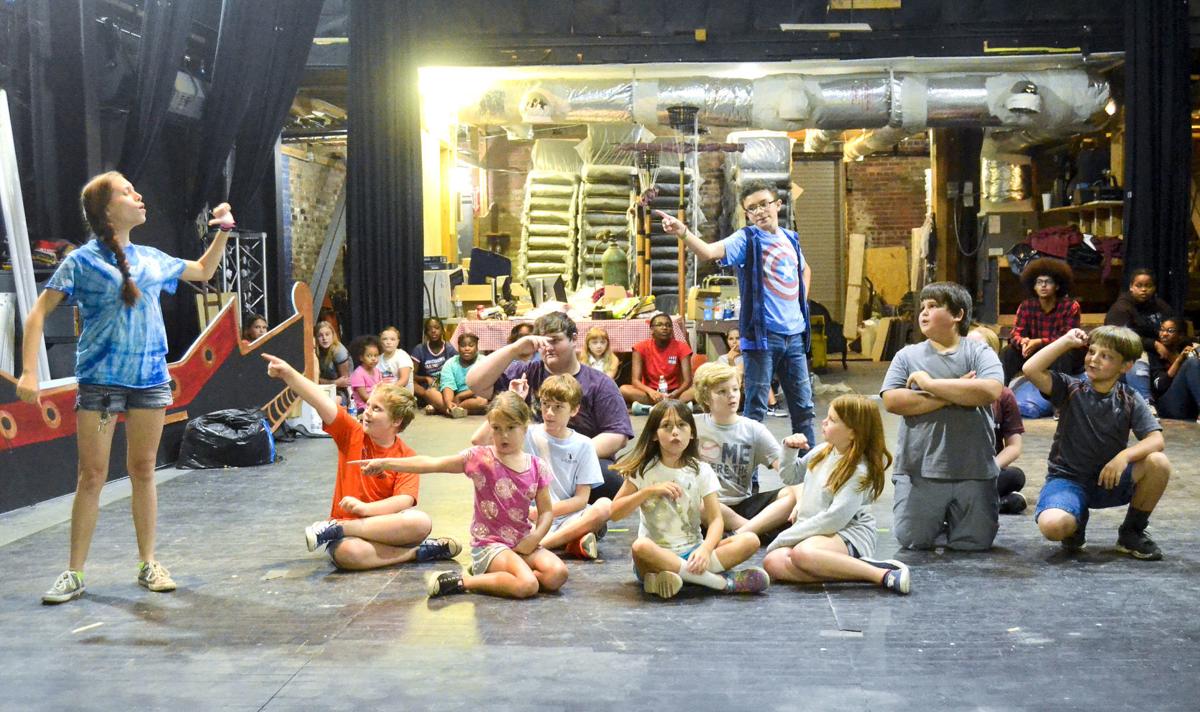 Wendy Darling loves to tell stories to her brothers, Michael and John.
But when her father announces she must move out of the nursery, Peter Pan comes to visit the children and whisks them away to Neverland.
Their adventure introduces them to the Lost Boys, mermaids, Indians and even the infamous pirate, Captain Hook.
Come experience the wonder as the Junior Orangeburg Part-Time Players — with a cast of about 40 — are presenting the adventure of a lifetime.
"If for no other reason come out and be a child and don't be grown up," Director Mitzie DeAloia said.
The first public showing will be open daycare showings at 10 a.m. Thursday and Friday, July 25-26.
Tickets are only $5 per child/chaperone.
Show times are 7 p.m. Friday and Saturday, July 26-27, and 3 p.m. Sunday, July 28, at the BlueBird Theatre in downtown Orangeburg.
Tickets are on sale now. All reserved seats are $12.
Based on the Disney film and J.M. Barrie's enchanting play, "Disney's Peter Pan Jr." is a modern version of the timeless tale about a boy who wouldn't grow up with no flying required.
The score includes new arrangements of classic Disney songs, such as "Following the Leader", "You Can Fly", "The Second Star to the Right," and "Yo Ho, A Pirate's Life for Me."
DeAloia describes the play as her "favorite."
"I love this show ever since I saw it way back in the early 1960s on TV," she said. "I just absolutely adored it."
DeAloia said the Orangeburg Part-Time Players' adults performed the play in the mid-1980s.
"They did the live performance and it was great," she said. "I have been wanting to do it, and wanting to do it. It has been real good."
Joining DeAloia are musical director Albert Shuler, choreographer Mason Beckom, with costume design by Emily Bonilla.
DeAloia said the preparation for the showing has seen its challenges — the biggest being the reconstruction of the BlueBird Theatre.
"Everybody needs to come and see it," she said. "The munchkins are dong just an absolute phenomenal job."
"I could put the show on the stage right now with just the music," she continued. "Their vocal ability is just some of the best vocalists I have ever had."
DeAloia said the show will include a lot of younger talent. There is only one senior in the show compared to five last year.
"This is a younger group coming up which is a good thing because there is no other way to grow the group," DeAloia said. "We have some little ones that have never done anything here before that are just amazing with what they are able to do."
Rachel Cramer, 17, will portray Peter Pan. Cramer has been acting since 2014 and has been seen in roles such as Teen Fiona in Shrek Jr.
"The reason Rachel is playing Peter Pan ... you would think Peter Pan a boy and whatever ... but this show absolutely requires you cast a female as Peter Pan," DeAloia said.
Mikayla Rider will perform in the role of Captain Hook. Rider is a dance student at Tamalyn's Dance Centre and a principal dancer with the Orangeburg Civic Ballet. She has performed in various OCB productions, including their annual full-length production of "The Nutcracker."
Rider played Pinocchio last year with the OPTP.
Despite the fact that many wanted to play Tinker Bell, the script specifically states Tinker Bell cannot be a live person.
"So many of the kids wanted to be Tinker Bell because you have to use the lights," she said. "You cannot cast a live person."
Be the first to know
Get local news delivered to your inbox!