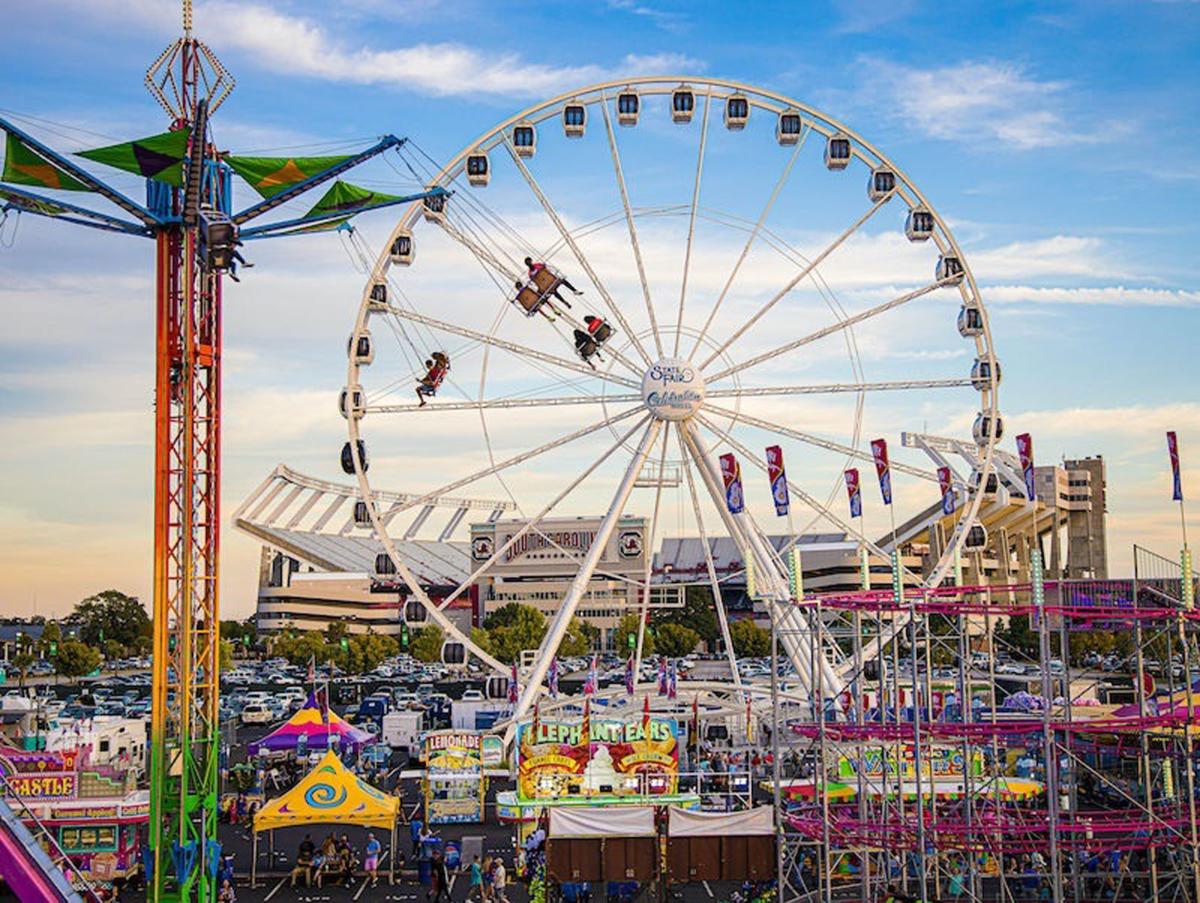 COLUMBIA — The 152nd South Carolina State Fair returns Oct. 13-24, 2021, with a full lineup of traditional favorites and a variety of new rides, foods, entertainment and the return of the CIRCUS at the Fair and the Celebration Super Wheel. The S.C. State Fair is committed to bringing a safe 12-day event to the Midlands region and will follow the latest Centers for Disease Control and Prevention's (CDC), state and local COVID-19 guidelines. To learn more about how to make the most of your S.C. State Fair moments, visit SCStateFair.org and start planning your visit.
"We are thrilled to once again bring the tradition of the South Carolina State Fair to the Midlands and present an array of classic and new food and entertainment options — all while operating with our guests' safety as our top priority," says S.C. State Fair General Manager Nancy Smith, who served as the 2020 chair of the International Association of Fairs and Exhibitions. "Whether you're coming to taste some of our state's sweetest treats, experience our 60 rides, or visit with your favorite farm animals, it's time to enjoy your moment at the South Carolina State Fair."
Skip the lines and buy advance, discount tickets
Skip the lines and save up to 50% by purchasing S.C. State Fair tickets in advance at SCStateFair.org or a participating Circle K store now through Tuesday, Oct. 12. Discount admission tickets are $10 per person ($15-$20 during the fair) and discount ride vouchers are $25 per person ($33 -$38 during the fair). Purchase a Family Fun Pack, available only at SCStateFair.org for a limited time, Sept. 8 to Oct. 19. Fun Packs include four admission tickets, two ride vouchers and one car entry pass to Carolina Lights in December 2021.
From corn dogs and blue-ribbon roses to roller coasters and prize-winning pigs, the S.C. State Fair offers special moments for everyone. Here's how to make the most of this year's S.C. State Fair.
Enjoy new and classic rides
With 60 rides, this year's S.C. State Fair is sure to create special moments — from sky-high thrillers to family-friendly fun, including two new kiddie rides, DUMBO and Tea Cup. DUMBO sends kids spinning in delight high into the air. The brilliant colors on DUMBO — accompanied by bright lights and lively parrots – are sure to make this new family ride a fan favorite. 
Experience a diverse lineup of entertainment
CIRCUS at the Fair: The free, daily CIRCUS at the Fair is returning for a second year and will feature a brand-new larger tent, fresh new acts and a never-before-seen show. Led by Ringmaster Ian Garden, the CIRCUS acts will include performances from Urias Globe of Death, Surnina Sisters, Joseph Bauer Wheel of Destiny, Duo Petrov Juggling, The Upside Down Man and Adam Kutchler (the clown). The CIRCUS will perform three 40 minute-long shows each day beside the Ellison Building near the South Gate Entrance. Shows begin at 2 p.m., 4:30 p.m. and 7:30 p.m.
Celebration Super Wheel: The popular Celebration Super Wheel will return — towering above the midway at a breathtaking 150 feet. This Rolls Royce of Ferris wheels features 36 climate-controlled gondolas, each seating four to six guests, that provide luxurious and smooth rides coupled with unparalleled views of the fairgrounds and Columbia. The Celebration Super Wheel is $12 per ride.
Music: Music has always been important to the S.C. State Fair and their fans alike. Enjoy musical performances on your schedule from Diamonds & Whiskey, Bombshell, Renata the Band, Geru Y Su Legion 7, Dennis Lee Band, Thistle & Lace, Carl Brunson, Swingin' Medallions and more.
Stage and Roving Shows: The S.C. State Fair will feature a mix of stage and roving shows, including various musical shows, dance groups, animal acts, magicians, jugglers, stunt artists and other entertainers. Daily shows include: The Robocars: Changing from Cars to Robots, The Strolling Piano and the Amazing Giants. You can catch these acts daily roving the grounds.
Discover South Carolina's agricultural roots
The S.C. State Fair is rooted in agriculture. South Carolina residents will compete for bragging rights and a blue ribbon with their home-grown produce, including apples, home garden wagons, large pumpkins and watermelons, Christmas trees, a shoe garden, sugar cane, sweet potatoes and more. There will even be a scarecrow making contest. Visit with the South Carolina Beekeepers, Clemson Extension and 4H, and stop by the produce stand to purchase South Carolina grown produce.
Visit with live farm animals
Visit with live farm animals, including swine, sheep, rabbits, horses and more. Watch a Donkey & Mule Show, experience a Border Collie Exhibition and get up close and meet members of the Commerford Petting Zoo, a family-owned and operated petting zoo featuring domestic animals and hand-raised exotic animals.
COVID-19 health precautions
The S.C. State Fair is closely following the Centers for Disease Control and Prevention's (CDC) latest recommendations and strategies to prevent and reduce the transmission of COVID-19 and maintain healthy business operations. This year, the S.C. State Fair will follow the latest CDC, state and local mask guidelines, have increased hand sanitation stations, offer limited contact payment options, provide increased cleaning protocols and display hygiene signage throughout the Fairgrounds. 
Safety is a top priority — new clear bag policy
The S.C. State Fair is committed to providing a safe experience for its patrons. To ensure a safe and memorable event, the S.C. State Fair will have:
A large contingent of law enforcement on the grounds from open to close every day of the Fair.
Updated metal detector technology.
A new mandatory clear bag policy. Visit SCStateFair.org to learn more about this new policy.
Additions to general grounds security.
Updated Youth Admission policy.