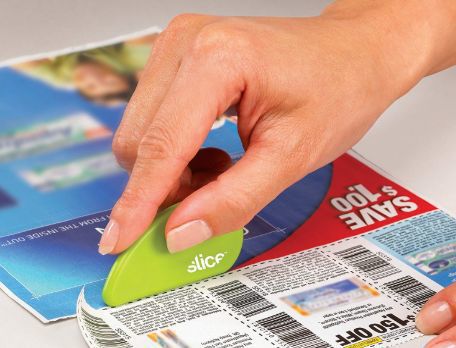 Whether you want to clip coupons, open tricky blister packaging, or tear open a bag of chips, you probably find yourself reaching for scissors in your kitchen as often as any other tool. The downside: they're bulky, can't always cut through thick plastic, and aren't child-safe. That's where this ceramic safety cutter comes in.
How It Works
The Slice ceramic safety cutter has a sharp ceramic blade that's nestled between two easy to grip pieces of plastic to prevent accidental cuts. It slices through everything from coupons to blister packages but won't injure you.
You have free articles remaining.
Cute and Compact
This avocado green safety cutter is compact enough to take anywhere and includes a key ring hole so you  never get stuck trying to open boxes or packages without it. The built in magnet makes it easy to store on your fridge. While it may be small, it's mighty enough to do big jobs.
Why Customers Love It
With 472 customer reviews and 4.3 out of 5 stars, customers love the Slice ceramic safety cutter. Reviewers loved that the ceramic blade was still as sharp as on day one after months of daily use. They also like that this safety cutter could do anything a box cutter could do without the risk of injury. Customers with dexterity issues said it was an essential tool to have on their key ring.