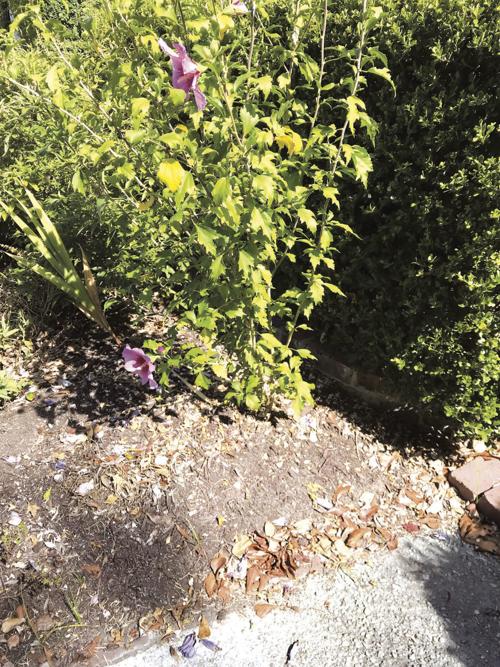 In case you have not noticed we are in the middle of hurricane season and the fourth named storm, Dorian, is almost certain to bring rain and storms to the Orangeburg area. Typical damage, from hurricanes or summer storms, include damage from high winds and flooding rains. This can rearrange your garden overnight.
Floods cause more damage to the buildings and property than the garden because most floods only last a day or two and your moisture starved lawns will bounce back quickly. Rivers and ditches that overflow bring nutrient rich sediments along with the water. These nutrients are deposited on your lawn and gardens as the flood recedes. 
It is important that you do not walk on the lawn area until the floods have receded and the lawn dried out. Instead, take note of the drainage pattern and where there are low spots in the lawn. Low drainage spots are indicated where you have remnant puddles in the lawn that take an extra few days to drain. When things dry out you can build these up if necessary.
Excessive rain causes gutters to spill onto the foundation plantings below. The velocity of the downpour carries mulch and soil along with water and sometimes the plants go along too. More likely the soil is carried off leaving tender roots exposed to sun. Reseat these plants as soon as you can to save the plants. Raised beds in general, particularly those with no boundaries are more vulnerable than flat garden areas.
More problematic than floods are tree damage. This can range from downed tree limbs and trees themselves being toppled in wind. This is particularly hazardous when branches fall over electrical lines. DO NOT remove these branches and stay well clear of any snapped lines. This includes walking in water near disturbed lines particularly snapped lines - electricity and water are a bad mix. Call your electrical company to get the power lines shut off and tree branches removed safely.
Check your roof shingles to see if small or larger branches have pierced the shingles and compromised the roof. You will probably find the dripping inside before identifying the culprit outside.
Depending on how much damage your trees have sustained determines if a professional help is needed. Large branches that have ripped the main trunk of the tree and not totally been severed need to be treated carefully. Small trees that have been damaged may not recover and will need to be replaced.
Also be aware of shade patterns that suddenly change. Plants in a nice shady garden under thick green branches of a tree may suddenly be facing strong summer sun and wilt quickly. As we are getting close to cooler weather, wait a week or two and then move the plants to a better location. The same goes for garden areas that were underneath a fallen branch. Shrubs damaged by heavy branches need to be tidied up by removing the branch promptly as well as any broken stems on shrubs or stems.
We cannot stop storms and hurricanes, but the garden will manage much better than your flooded basement.
Kate Copsey is a garden author, writer and speaker now living in eastern Orangeburg County. Her book, "The Downsized Veggie Garden," is available from bookstores everywhere as well as her webpage, www.katecopsey.com.
Sprout new ideas
With our home & garden newsletter!