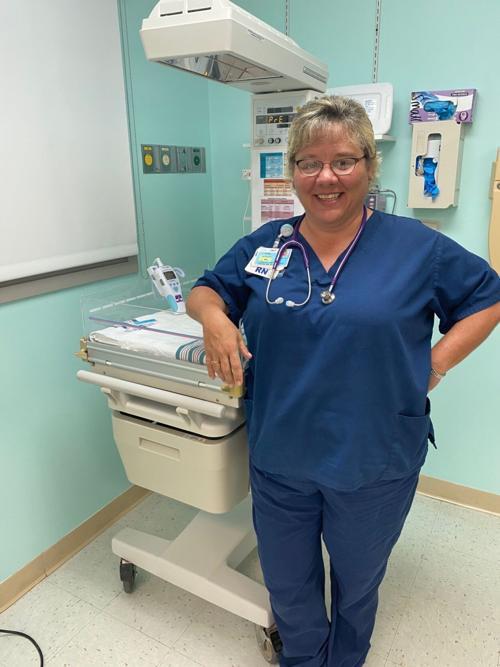 The nomination: "Dedication, compassion and the desire to help others makes April Kovach a marvelous nurse and worthy of recognition," says Susan Rucker, a patient of Nurse Kovach.
Her pathway to becoming a nurse was different from most nurses. April started out earning a degree as a medical lab technician from OCtech and worked for 10 years as a lab tech. But her desire to become a nurse became stronger and with two babies under the age of 4 and a wonderful husband who became mother and father to their two girls, April went back to OCtech in the nursing program as a full-time student.
After working for a year with surgical patients, April found her true calling when she was transferred to the baby nursery and began welcoming babies into the world while using her knowledge and skills to give them their best start during those critical first hours of life.
Rucker says, "April's dedication to her profession is obvious in her willingness to drop everything when called and needed regardless of the day or time.  She is a mentor to new nurses in her area, helping to further their training."
April Kovach of Orangeburg is a nurse in the Newborn Nursery department at the Regional Medical Center. She graduated from Orangeburg-Calhoun Technical College with an associate degree in nursing in 2008 and received her bachelor's degree in nursing from Claflin in 2020. Kovach, 46, is a married mother of two daughters.
So why did you want to be a nurse? "As a child I always dreamed of being a nurse and helping to take care of sick people. I have always had a loving and nurturing spirit about myself and thought it would also be a very rewarding job to help sick people feel better.
"I used to play with my dolls as a child and be their nurse and teacher. The profession of nursing is just that -- a nurse and teacher. I always made my dolls feel better when they were sick.
"Although I was not able to go straight into nursing out of high school, the desire of being a nurse never left me. I pursued my nursing dream at the age of 32, with two small children and a loving and supportive husband. It was a tough two years, but with my husband and the love and support from both our moms and family members, we made it happen."
Memorable events: "I have had the pleasure of taking care of special family members in my line of work. I took care of my premature nephew when he was born. The whole staff got very attached to the little guy while he was hospitalized with us as a growing preemie. It was a great honor to watch him come into this world and be a part of his nursing care at the hospital."
What is the most rewarding/challenging part of your job? "In my job as a newborn nursery nurse, and now as a clinical unit leader, there are many rewards and challenges to my job.
"The biggest reward in my line of work is being a part of the wonderful experience moms have when bringing a new life into the world and taking care of each newborn miracle.
"The most challenging part of my job is that not all babies survive, whether it be prematurity or sickness that take them to their heavenly home too soon. Each saddened situation is always hard, but I must be the best nurse in these situations because the new mom needs my strength and support."
What does the future hold? "My future in nursing has grown since I first started. With this advancement in the profession, I have moved into a leadership role at the hospital where I work. Of course, I do not want to lose my bedside nursing, which I love so much, so I continue to do that as well.
"My future has many opportunities that I may pursue later to advance even further in the profession," she said. "I see the profession of nursing continuing to grow as more and more people join the profession as well as the opportunities that are being made for the profession by education and legislation."
Nursing during the pandemic: "Nursing during this coronavirus emergency has been heartbreaking and scary for our profession. I have been blessed, because I have not had many citations of coronavirus exposure in the mother/baby unit. We have had strict rules to lessen any unnecessary exposure.