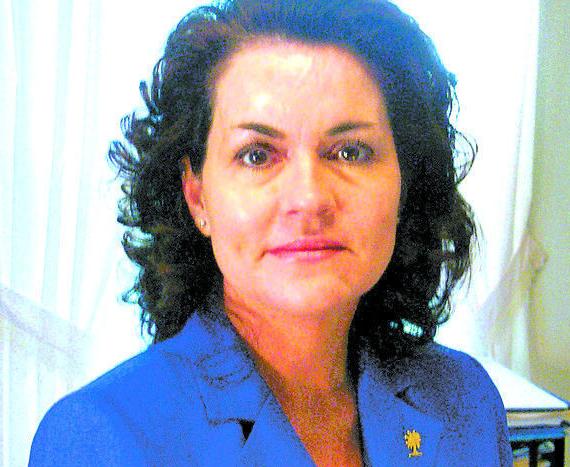 Over the years, I've been asked so many questions by readers who had various problems getting their cakes to turn out with a smooth texture and not-quite-so-dry on the inside as well as "level across the top." I always suggest that aspiring bakers invest in well made, heavy cake pans if they want their cakes to be smooth and "even," especially if you tap them on the countertop several times to get the air bubbles out of the batter. If by some chance you have oven racks that are not level, simply cool your cake layers on racks and refrigerate them until they are very cold. Then, use a sharp, serrated knife to carefully even out the tops of the layers.
Almost 13 years ago, I received a very kind letter from Margaret Darby who was both complimentary of "What's Cooking" and curious about particular matters of baking. Among other concerns, Margaret wanted to know the best way to "cream" ingredients together when you're mixing up a cake.
When you are setting out on a cake project, remember: (1) to use fresh large eggs, set out for about 15 minutes to reach room temperature; (2) to use fresh flour (if you use self-rising, you may omit the baking powder and salt from the recipe); (3) to invest in name brand butter, sour cream, cream cheese, etc. Sometimes I think some generics are "diluted" just a bit. 
As I said in last week's column on "frosting," for creaming butter and sugar together, be sure to set the butter out for at least 15 minutes or more before you start the project to let it reach room temperature. Again I stress "don't try to cream cold butter and sugar." That is what causes a horrible texture in whatever you are going to use the mixture in (frosting, cake, pie, etc).
If your butter is room temperature, just use a hand mixer and cream the ingredients for about three minutes. As for use of eggs in a recipe, please follow the recipe. Some recipes call for eggs being beaten in with the sugar and butter — usually one at a time is a good rule of thumb. Some recipes call for a different method.
Making a cake from scratch is expensive, I don't take shortcuts or use old flour or eggs. To make a top quality cake, take your time — don't get stressed. Also, let me emphasize that preheating your oven for 10 to 15 minutes is essential! Use a timer! Don't keep opening the oven door to check the cake.
As for pan preparation, I rub my pans down with butter and lightly flour them the old-fashioned way by tapping the flour until the sides and bottom are lightly covered and then tapping out the excess flour over the kitchen trash can. I hope these hints will help you. 
Chocolate sheet cake
2 cups all-purpose flour, sifted
1 cup (2 sticks) butter, Land O'Lakes
2 (2-ounce) squares unsweetened chocolate
Preheat your oven to 350 degrees. In a large bowl, combine the flour, soda, sour cream, salt, sugar and beaten eggs with your electric mixture. Beat this mixture until it is smooth. Set it aside. In a small saucepan, combine the butter, water and chocolate and bring it to a boil, stirring all the while. Add the chocolate mixture to the batter and stir together well. The batter will be thin. Pour the batter into a well-greased 17x11-1/2x1-inch jellyroll pan. Bake at 350 degrees for 25 minutes. Cool the cake in the pan on a wire rack. Allow this cake to cool completely before frosting it with your favorite frosting.
Best vanilla layer cake
2 sticks of plain butter, room temperature
3 cups all-purpose flour, sifted
1/2 teaspoon baking powder
1 teaspoon vanilla extract
Preheat your oven to 350 degrees. In a large bowl, cream the butter and sugar. Add the eggs, one at a time, beating well after you add each egg. In a separate bowl, combine the flour, baking powder and salt with a fork until well combined. Add this dry ingredient mixture, alternately with milk, to the creamed mixture in the large bowl, beating well. Add the vanilla extract. Beat just enough to combine the vanilla well. Pour this batter into three 9-inch cake pans that have been greased and floured. Bake the layers at 350 degrees until a toothpick inserted in the center of each layer comes out clean (about 30 minutes). Frost well with Cream Cheese/Butter Frosting or with chocolate, caramel, strawberry, or any flavor you desire.