My next dish has a Hawaiian influence with a summer twist you won't forget! That's right, we're making watermelon poke.
Cooking tip: Start by cutting both ends of the watermelon so you can turn the watermelon on a stable side. Then, using a circular motion, curve your knife down the watermelon in order to cut as much of the rind off as you can without removing any of the juicy insides.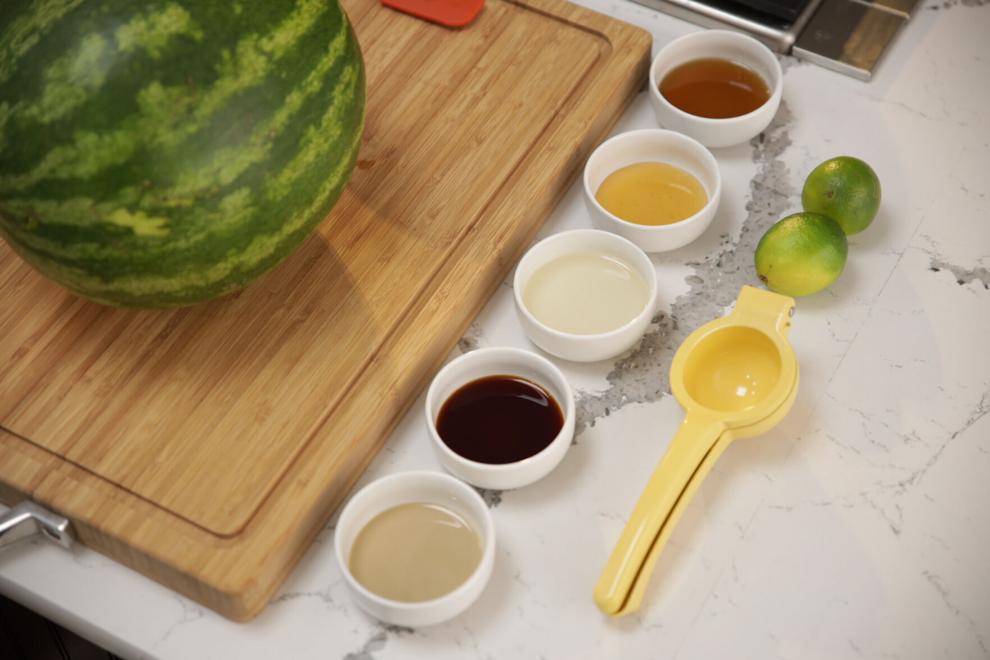 Cut the watermelon into large slices. And don't worry if the watermelon is a little bit red on the inside, that just means it's nice and sweet!
I marinate the watermelon with some sweet and salty flavors, including sesame oil, rice wine vinegar, soy sauce, tahini and honey. To combat a little bit of that sweetness, I add a little bit of lime juice.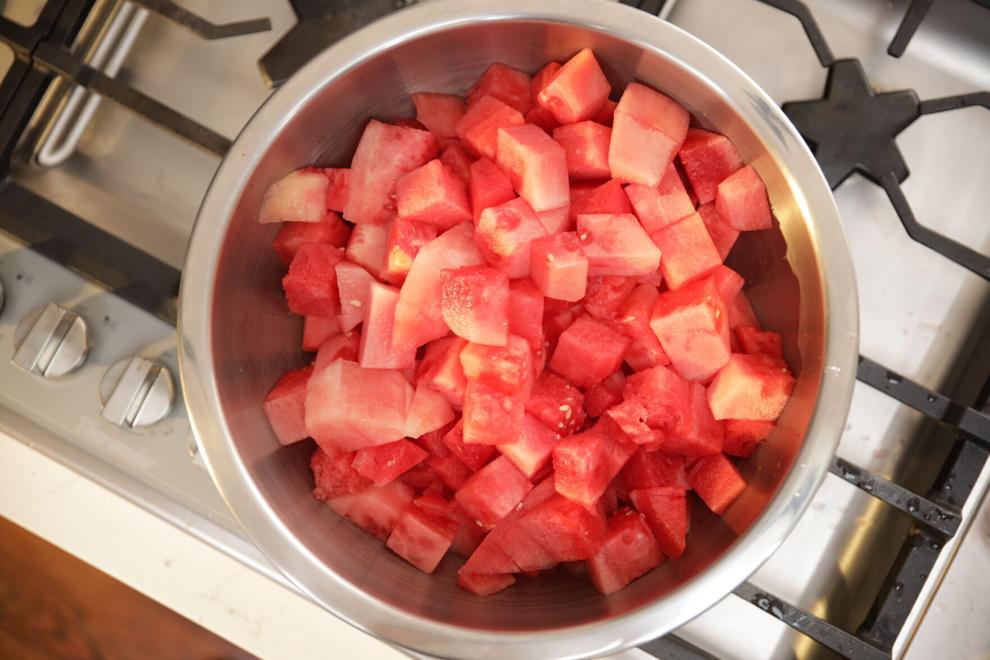 Toss the watermelon chunks with the marinade in a zip lock bag until all the watermelon is coated. Let these flavors marinate for at least four hours, (but you can marinate up to a day) because these flavors are going to be intense!
Once marinated, put the watermelon chunks into a medium-high heated pan – make sure to save and set aside the remainder of the marinade from the bag to make the sauce.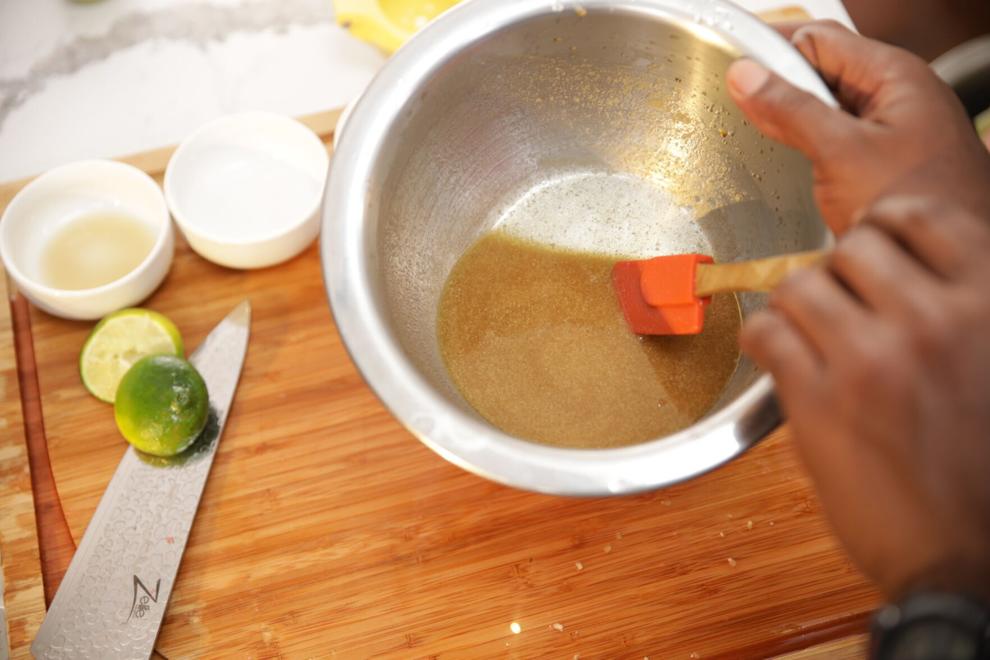 Cooking tip:Try not to crowd the pan too much so the watermelon dries out a bit.
Time to assemble! I take a little bit of rice and put it at the base of the bowl. On top I add shredded carrots, some pickled red cabbage and pickled ginger. (If you can't find pickled ginger, you can use rice wine vinegar and a little bit of sugar/salt to substitute.) Now add the star ingredient: the watermelon! Garnish with white sesame seeds and sliced scallions. Finally, now that the sauce has thickened a bit, drizzle it over the bowl to add some intense flavor.
There you have it! You'll feel like you're on the island itself with this spin on a classic Hawaiian dish.
Recipe by Christopher Sinclair-McCalla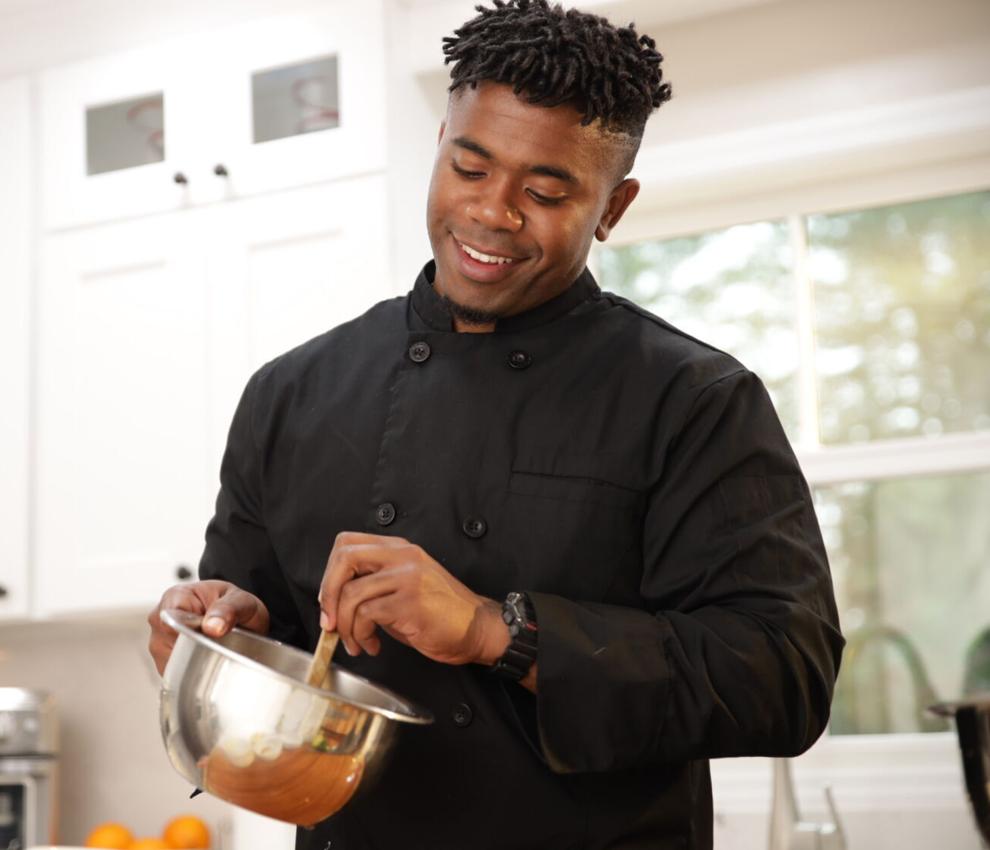 3 lbs watermelon, rind removed and flesh cut into large cubes
½ cup rice vinegar
¼ cup sesame oil
3 Tbsp soy sauce
2 Tbsp fresh lime juice
2 Tbsp tahini
1 Tbsp honey
salt, to taste (optional)
2 green onions, thinly sliced
|Preparation| Place watermelon in large resealable plastic bag. In bowl, with whisk, stir vinegar, sesame oil, soy sauce, lime juice, tahini and honey until smooth. Pour marinade over watermelon; seal bag, pressing out excess air. Refrigerate at least 4 hours or up to overnight.
Heat large skillet over medium heat. With slotted spoon, remove watermelon from marinade. Add watermelon to skillet and cook 6 to 8 minutes or until it lightly caramelizes, stirring frequently. Transfer watermelon to large serving bowl.
Meanwhile, in a small saucepan, heat marinade to boiling over medium-high heat; reduce heat and simmer 12 to 15 minutes or until marinade thickens to the consistency of heavy cream.
Refrigerate watermelon and sauce separately at least 1 hour or until chilled.
Add marinade to watermelon in bowl; toss until well coated. If desired, add salt to taste. Sprinkle watermelon with green onions to serve.