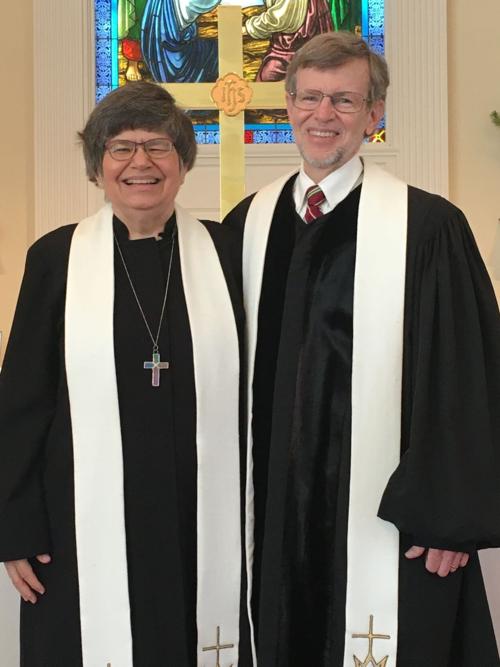 On June 13, St. Andrew's United Methodist Church will bid farewell to Reverends Robert and Carol Cannon as they will be retiring from almost 40 years of service and ministry.
Pastors Robert and Carol arrived at St. Andrew's in 2016 and have impacted and inspired not only the congregation of St. Andrew's UMC, but also the community of United Methodists throughout the Orangeburg area as well as Claflin and South Carolina State universities.
The two pastors are "cradle Methodists." Robert was raised in Central United Methodist Church, in Florence. Carol was raised in Missouri United Methodist Church, in Columbia, Missouri.
The two met at Yale Divinity School in New Haven, Connecticut, where they graduated in May 1982. While in seminary, each of them was ordained deacon in the United Methodist Church and became probationary members of the annual conference. Robert and Carol were ordained elder in 1984, becoming full members of the conference. After their graduation, Robert and Carol moved to South Carolina to serve different churches. They were married in October of 1982, beginning their lifelong partnership.
For most of the past 35 years, the Cannons have served together as co-pastors. Robert and Carol chose to do this so that each of them could serve in ministry and each would also have time to care for their family. The Cannons have two daughters: Sarah, who lives in Washington, D.C., with her husband, John; and Betsy, who lives in Brooklyn, New York.
Since the Methodist tradition is that the ordained clergy are "traveling preachers," the Cannons have served churches throughout South Carolina. Robert and Carol have served in or near the following towns: McBee, Kingstree, Johnsonville, Whitmire, Greenwood, Rock Hill, Gilbert, West Columbia, Bamberg, Ehrhardt and Orangeburg.
While serving in Orangeburg, Robert and Carol were part of a group of Methodist ministers, led by the Rev. Dwight Nelson, who began Lenten services that involved six Methodist churches, including North Orangeburg UMC, St. Paul's UMC, St. Andrew's UMC, Trinity UMC, Orangeburg Lutheran Church and Williams Chapel AME. The Lenten services continued in 2018, 2019 and 2020 until disrupted by COVID-19.
The six churches held several other activities together, including viewing the movie "Selma" as a group and having small discussion groups afterward; holding a joint worship service on June 17, 2018, honoring the nine people who were killed at Emanuel AME three years before, and supporting local outreach agencies with joint offerings including CCMO, The Filling Station, Williams Chapel AME soup kitchen, Trinity UMC soup kitchen and St. Andrew's Shepherd Ministry.
The Cannons supported the Wesley Foundation and, at S.C. State, Robert served on the planning team for the 2020 UNCF Ecumenical Day of Prayer. The Cannons delivered invocations at various baccalaureate and commencement services at Claflin and S.C. State.
Throughout their years serving together, joys which the Cannons recall are being able to serve together as a team, as well as seeing changes in people's lives.
Carol recalls a ministry which the two began in the Kingstree, Lake City and Florence area. Robert and Carol organized a District Youth Council that intentionally represented the whole district, geographically as well as racially. Carol viewed the transformation of a teen who was known as a troublemaker at school and was not expected to do well because of her "attitude." This information was unknown to the Cannons, but they recognized her leadership abilities and worked with her when she was elected president of the District Youth Council. From there, she ended up attending Claflin and then entered the military.
"Knowing the difference that God made in her life through the District Youth Council brings my heart joy," recalls Carol.
More recently, Robert and Carol presented a series at St. Andrew's UMC on being a disciple of Christ, defining true discipleship and sharing the gospel with others. Through sermons and teachings, congregants were reminded that the purpose of the United Methodist Church is "to make disciples of Jesus Christ for the transformation of the world." Members and friends of St. Andrew's UMC were encouraged to reach out to neighbors and businesses surrounding St. Andrew's, as well as forming bonds with neighbors that each one connected with on a daily or weekly basis including work and local businesses. The Cannons were a great inspiration through their actions in the Orangeburg community as well as their sermons and Bible studies.
Looking forward to their retirement, the Cannons will be settling into their new home outside Hendersonville, North Carolina. They look forward to hiking the variety of trails in the area, as well as continuing ministry as active participants in a local UMC congregation. Carol expects to serve as an ambassador for VeDA (Vestibular Disorders Association) to elevate awareness of vestibular disorders and provide support for those who live with them.
While retirement is bittersweet for the Cannons and the congregation of St. Andrew's UMC, St. Andrew's is excited to continue ministry with the Rev. Cynthia Muncie in July. Muncie currently serves at Bethany UMC outside of Charleston.