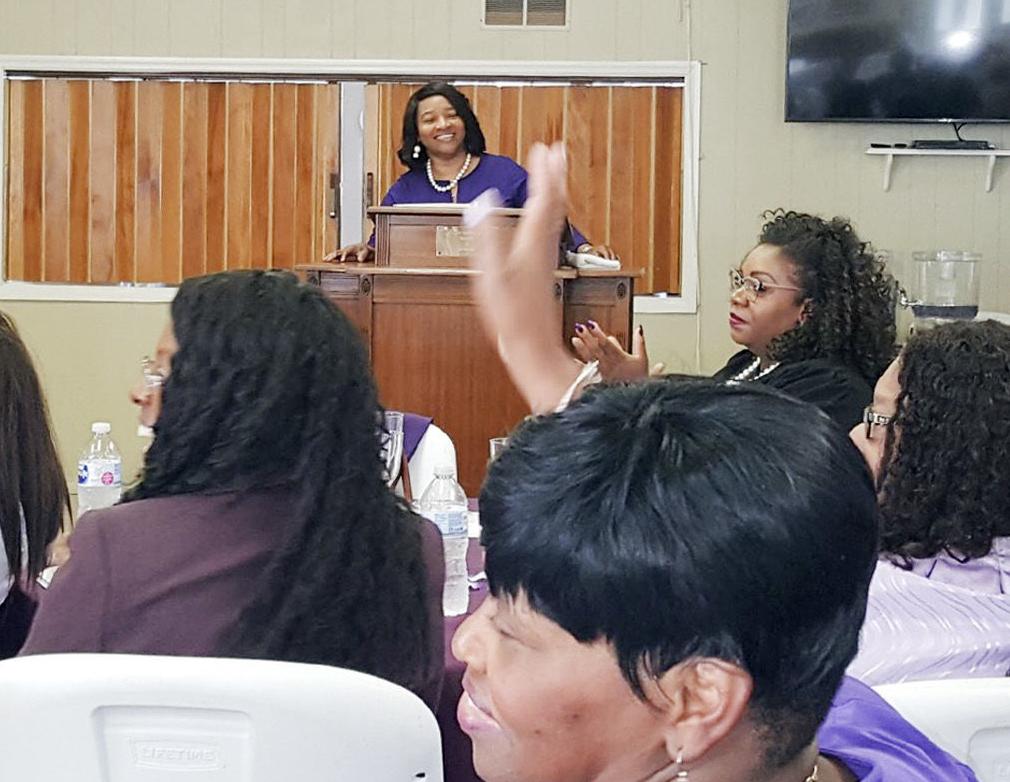 Acts Missionary Baptist Church of Santee recently hosted the third annual Purple & Pearls Women's Luncheon at St. Paul's United Methodist Church in Orangeburg.
Founded by Associate Minister Tara T. Greene, the annual event celebrates and honors women.
"Women have become the backbone of the church, so we need an opportunity to bask in the essence of all the sacrifices, dedication, and service we devote in the spiritual well-being of our churches and communities," Greene said.
The event was emceed by Lady Carolyn Collier-Greene, First Lady of Acts Missionary Baptist Church. This has been her second year as emcee. The event included activities, games, worship and a keynote speaker. The activities were centered around the women's roles and responsibilities, acknowledging the many hats women wear in the church.
This year, the ministerial staff of Acts Missionary Baptist Church served the ladies which is a first out of the three years the event has taken place.
"Typically in the Baptist Church, when we have Women Day, the women do everything and vice versa when it comes to Men Day, so I thought it would be a great idea to get the men involved with serving the ladies on their day," Greene said.
The event also included vendors from all over S.C. The ladies had an opportunity to not only fellowship through song, worship and activity, but they were able to doing a little shopping.
"Women are naturally nurturers, and outside of that, we like nice things, so I thought adding a personal touch with vendors, where the ladies could buy something for themselves or for someone else, would make them that much happier during the event," Greene said.
This year's keynote Speaker was Lady Ronda Risher Simmons, First lady of Shady Oak Baptist Church of Greenville. 
"I thought it would be a disservice not to have her back again. I'm building a bond with these ladies and God laid it on my heart to have her come again," Greene said.
Simmons and her husband, Pastor Douglass Simmons, recently relocated to Greenville, where she is now principal of Thomas E. Kerns Elementary School and Pastor Simmons is the senior pastor of Shady Oak Baptist Church.
"I also wanted to include younger women this year, something a little different than the previous years," Greene said. "I reached out a few friends, including Mrs. Latrina Holmes of St. Stephens United Methodist Church here in Orangeburg; Mrs. Leslie Stewart of Brookland Baptist Church, Columbia; Ms. RuShondra J. James of Hickory Hill Baptist Church, Orangeburg; and Assistant Pastor Lois Dinkins of Christian Antioch House of Prayer, Orangeburg. These ladies were more than happy to fellowship with me on this annual event."
The event concluded with gifts given to everyone in attendance.
As the event continues to grow, Greene said she hopes to reach more and more women hoping to empower, enrich and inspire all the same time.
"When you love God, you show it, and when you show it, people will know it," she said.
Be the first to know
Get local news delivered to your inbox!