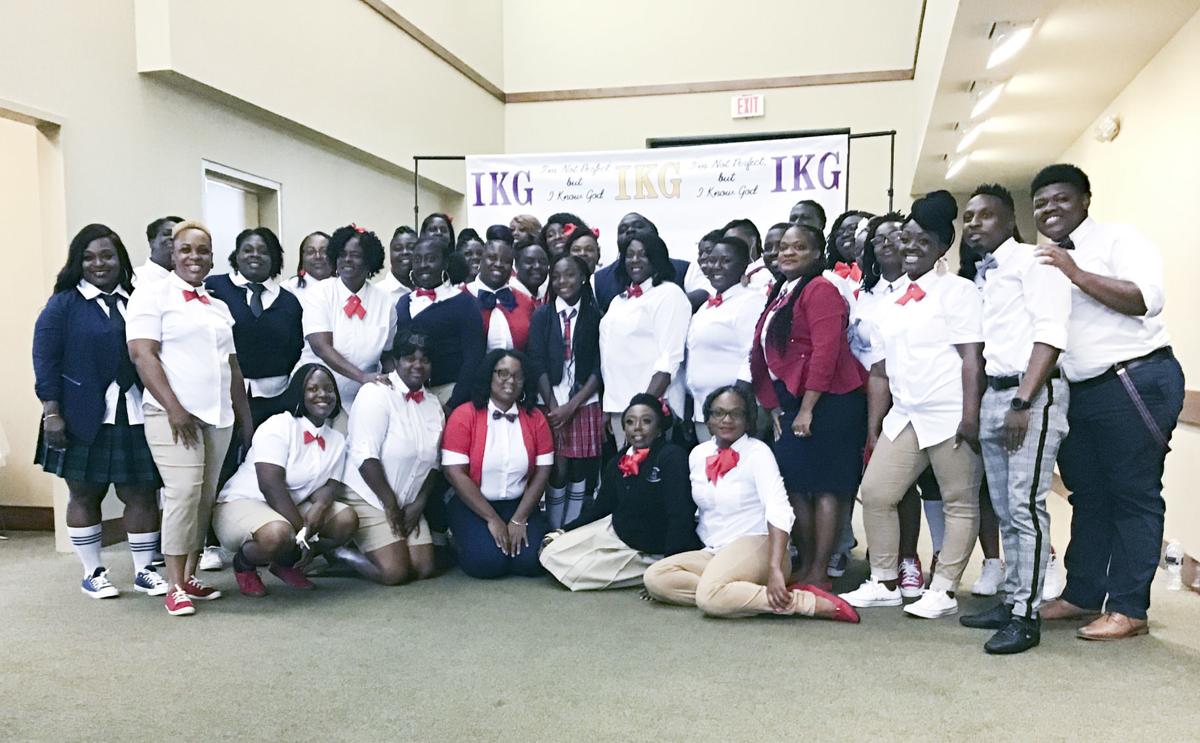 Decked out in school uniforms, the IKG Choir performed its "I'm Not Perfect, But I Know God" concert Saturday evening, Sept. 14, at the Santee Conference Center in Santee.
The growing and matured choir swayed the audience with their blended version of old school and contemporary gospel songs. This year they wanted to take a different approach with reaching their audience and embracing the change that the choir has made in the area.
The choir's president, Reggie Fludd, said, "The choir has grown tremendously and the community has changed, which is surprising."
The event was sold out again this year. In addition to their marketing efforts from last year, they sent out invitations to the surrounding communities including Eutawville, Moncks Corner, Holly Hill and Santee.
"We are targeting more people, reaching a different group of people," Fludd said. "The people want to be a part of a choir and they are interested in learning more about God. We can now see the seed manifest."
Along with the committee members organizing the event through rehearsals and social media posts, family members and friends participated with ticket collection at the door and assisted with seating in the convention center.
Committee members LaTonya Ravenell, Moses Smith, Makeida Middleton, Diandra Hilliard and Reggie Fludd welcomed the audience to the concert, explaining their purpose.
Ravenell stated that their goal is to "unite the community through song and advocate for those in need." Hilliard explained that their purpose is also to "share with the people that we're not perfect, but we know God."
The event began with praise dancers and the emcee of the evening was introduced by committee member Moses Smith. The event was emceed by Minister Desimond Antley of Good Shepherd Community Church. Antley said that the IKG Choir "are evangelizing, ministering to the youth."
The concert began with a familiar song, most known as a spiritual, "Ride On, King Jesus," as the choir marched in surrounding the room. The choir continued to sing a few familiar gospel songs from the '90s, which included "Wonderful Is His Name," "I Told the Storm," "He Cares for You," "Melodies from Heaven," and many more.
The program also included an "in memoriam" segment where four families of victims of violence were recognized, including the "Holly Hill 4." There were also gifts given out to the audience by random selection of tickets.
Orangeburg County Sheriff Leroy Ravenell spoke to the audience about crime and violence in the area. He also expressed his gratitude for the young people in the area coming together to do something positive. He said, "Now we can do better in our community."
Also in attendance were other ministers, pastors and officials from the area, including Orangeburg County Clerk of Court Winnifa B. Clark.
Be the first to know
Get local news delivered to your inbox!