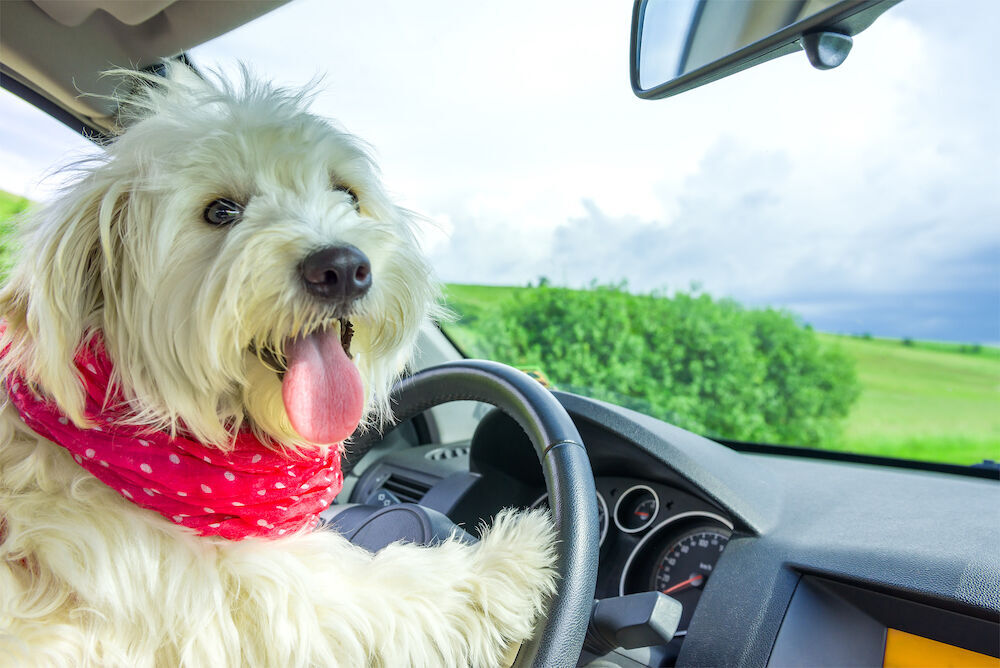 Adventuring is always more fun when shared with your pup -- especially if the two of you are going it alone. Taking a solo trip with your pet does require a little extra foresight and preparation, but if you plan wisely, and anticipate your pet's needs, you and your best furry bud will have an enjoyable, stress-free road trip. To help you along, here are our tips to ensure your trip is happy and safe.
Safety first
To keep your pet safe and minimize driving distractions, make sure your pet is properly secured in the back seat or cargo area. Acclimate your pet to the restraint well beforehand so that he is comfortable with it.
Be sure to share the details of your trip, including your itinerary, with a friend or family member. Check-in routinely with your current location, where you're staying, and any change of plans.
Get your most important ducks in a row
Before you head out on your trip, double-check that your pet's tags, vaccinations, and microchip information are up-to-date. Check with your vet to make sure your pooch is in tip-top shape for travel, and get a copy of his vaccine records to bring with you. 
These should be the most essential items on your trip checklist. Accurate tag and microchip information will help identify your pet if he gets lost. Checking in with your vet can prevent you from having to deal with a sick or miserable pet alone and far from home. Current vaccines will keep him safe, and carrying around his vaccination records can help keep your travel plans running smoothly: several states require vaccination proof for any pet crossing state lines.
Plan your route well
When you're planning a trip alone with your pet, it's even more important to ensure the "essentials" are along your travel route.  You don't want to spend time stranded with no gas, food, or rest stops, with an anxious, unhappy pet. Take the time to plan a route that has plenty of places for him to potty (the standard is three to four hours between potty breaks, but some dogs need to go more often). You know your pet best, so if you think more frequent stops are needed for him to stretch his legs...be sure to make that part of your plan.
You won't have anyone to leave your pooch with while you pop into a grocery store or gas station (and we do not recommend ever leaving a pet alone in a car). So make sure you stock up on provisions for your trip.
Reserve your room in advance
Pet-friendly hotels are plentiful. But that doesn't mean it will be easy to find one right when you need one. Some hotels have a limited number of pet-friendly rooms, while others sell out their rooms quickly, and require booking way in advance. In addition, most hotels have restrictions -- such as pet weight limit, and number of pets allowed.  Some even have breed restrictions.  So, "winging it" when it comes to finding a pet-friendly hotel while you're already on the road, may not work out so well.  Fortunately, you can find and book pet-friendly accommodations easily with TripsWithPets.com, leaving you one less thing to worry about on your solo expedition.  
Pack your car for convenience
Make a thoughtful list of everything you'll need, keeping in mind that stopping for new snacks or supplies with your pet will be a challenge. Arrange the space in your car so everything you need for your pet is easy to access when he needs it, including pet travel bowls, treats, waste bags, medication, leashes, first aid kit, toys, and blankets.
Potty breaks
Meeting Rover's potty needs is simple: head to the nearest rest stop, and make sure you keep waste bags and supplies on hand to clean up after him. 
Managing your own potty breaks, however, is a bit more complicated. Pets shouldn't be left alone in a car, so what can you do when nature calls?  Find a pet-friendly business, and use their restroom. Pet stores like Petco and PetSmart, and pet-friendly hotel chains like Red Roof Inn, La Quinta, and Motel 6, will let you use their facilities with your pet.
About TripsWithPets
TripsWithPets has been helping pet parents find pet friendly accommodations since 2003. TripsWithPets provides online reservations at over 30,000 pet friendly hotels & accommodations across the U.S. and Canada. You'll find thousands of pet-friendly destinations like Hilton Head, SC, Santa Rosa, CA and Lincoln, NE. When planning a trip, pet parents go to TripsWithPets.com for all they need to book the perfect hotel for their pet -- including detailed, up-to-date information on hotel pet policies and pet amenities.
Be the first to know
Get local news delivered to your inbox!