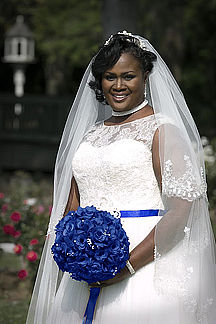 Robin Wade Green of Orangeburg, S.C. and Curtis Darrell Williams of Clinton, S.C., were united in marriage at 3:00 p.m. on Saturday, May 20, 2017, at Santee Conference Center in Santee, S.C.
The bride is the daughter of the late Mr. and Mrs. Samuel (Eunice Mood) Wade, Sr., of Ladson, S.C. She is the granddaughter of the late Ms. Gertrude Mood and the late Mr. David Pinnacle.
The bridegroom is the son of the late Mr. Donald Williams and Mrs. Katherine (Metts) Williams.
Rev. Keith Hunter officiated the ceremony.
The bride was given in marriage by her brother, Lord Wade.
Matron of honor was Shana Green Boneparte of Orangeburg.
Maids of honor were Shanekqua Wade and Roberta Green of Orangeburg.
Bridesmaids were Cheryl Lynah and Janet Wade, both of Ladson, Ruth Wade and Catherine Green, both of Orangeburg, Joyce Robinson Howard of Greenville, N.C., Laverne Goggans of Clinton and Debbie Simmons of Fountain Inn.
Junior bridesmaids were Shanayah Boneparte, Troziyah Taylor, all of Orangeburg and Kori Pollard of Jacksonville, FL.
Hostesses were Deaveon Green, Tyreon Boneparte, Ja'Zaria Wade, Nakayia Whren, Jalisa Dozier, all of Orangeburg and Kennedy Pollard of Jacksonville.
Best men were Douglas Williams, Roddy King of Laurens and Kennedy (Candy Man) Simmons of Fountain Inn.
Groomsmen were Douglas (Duck) Williams of Simpsonville, Tyrone Ferguson and Bobby Hill, both of Laurens, Keith Stevenson of Baltimore, Thomas Gary of Fountain Inn, Tyrone (Rudy) Boneparte of Orangeburg, Anthony Frasier of Johns Island and Michael Thompson of Clinton, S.C.
Ushers were Jashawn Green, Devin Green and Quamaine Green, of Orangeburg.
Junior groomsmen were Alton Hair, Jr. and J'Lony Wade, of Orangeburg.
Flower girls were JaLaysia Williams of Greenwood, S.C. and Kaydence Bluford of Columbia.
Ring bearers were Kardel Larkin and Khayden Smith, both of Orangeburg and Kevern Simmons of Fountain Inn.
Following the ceremony a reception was held at the Santee Conference Center.
After the reception the couple went on a wedding trip to Ft. Lauderdale, FL and a cruise to the Bahamas.
Mrs. Williams is a graduate of Goose Creek High School and S.C. State University. She is currently enrolled at Greenville College and employed at MingHua USA in Greer, S.C., as Injection Molding Supervisor.
Mr. Williams is a graduate of Clinton High School. He is currently retired.
Be the first to know
Get local news delivered to your inbox!