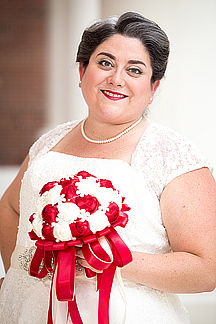 Frances Elizabeth Farrar of Columbia and Frank Michael Fields, Jr., of Graniteville, were married December 3 at North United Methodist Church in North, SC. The Reverends Marie Ray and Ted Bost officiated the 4:00 p.m. ceremony.
The bride is the daughter of Mr. and Mrs. Charles Shingler Inglett of North and Joseph Beverley Farrar, Jr., of Staunton, VA. She is the granddaughter of the late Mr. and Mrs. Thames William Jamison of Columbia, the late Mr. and Mrs. Joseph Beverley Farrar of Blackstone, VA, and the step-granddaughter of the late Mrs. Carolyn Knotts Inglett of Columbia. A graduate of Coastal Carolina University in dramatic arts, she also holds a certificate from The Clown Conservatory in San Francisco, CA, and is an educator and company member with the Columbia Children's Theatre and the SC Shakespeare Company.
The groom is the son of Mr. and Mrs. Frank Michael Fields of Graniteville. He is the grandson of the late Mr. and Mrs. George Meyer Cartledge of Belvedere, and the late Mr. Frank Fields and Mrs. Ella Powell Fields Priest of Bath. He holds a degree in mechanical engineering from the University of South Carolina and is employed as a process engineer for Bridgestone Americas Tire Operations, LLC, in Aiken County.
The bride was escorted by her father and stepfather and given in marriage by her parents. Vocalists Jessica L. Hurst, Melissa B. Henry, Matt James, Bryan Robinson, and the bride's mother, along with pianist Ellen Freeman, provided special music. Barbara Mooneyhan served as wedding director.
Matron of honor was Jessica L. Hurst of Columbia. Bridesmaids were Melissa B. Henry of Aiken and Jean Jones of Cayce. Honorary bridesmaids were Carter C. Farrar of Atlanta, sister-in-law of the bride; Jennifer Fields and Michelle F. Whitesides of Graniteville, both sisters of the groom; Carter Willard of Charlottesville, VA, and Amy Dixon of Victoria Australia, both cousins of the bride. Lily Henry of Aiken was the flower girl and Vivy Farrar of Atlanta, niece of the bride, was the littlest flower girl.
Best man was Glenn Spradley of Aiken. Groomsmen were Brett Spradley of Aiken and William Jamison of Chapin, cousin of the bride. Ushers were Field Farrar of Atlanta, brother of the bride; Nathan Fields of Graniteville, cousin of the groom; and Matt James of Greenville. Jacob Whitesides of Graniteville, nephew of the groom, was ring bearer.
A reception followed at the Livingston Municipal Complex Banquet Room. The couple will reside in Aiken.