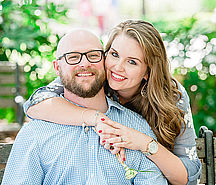 Caitlin Marie O'Donnell of Charleston, S.C. and Joshua Harrison Fort of Norway, S.C., proudly announce their engagement.
The bride-elect is the daughter of Mr. and Mrs. Ed (Becky) O'Donnell of Summerville, S.C. She is the granddaughter of Mr. and Mrs. Ed (Barbara) O'Donnell of Winter Haven, FL and Mrs. Marjorie Posey of Summerville and the late Mr. Dorn Posey.
You have free articles remaining.
The bridegroom-elect is the son of Mr. and Mrs. Hugh (Marcy) Fort of Norway. He is the grandson of Mrs. Margaret Ann Fort of Norway and the late Mr. Clarence Fort and Ms. Eleanor Wannamaker of Norway.
Miss O'Donnell is a 2009 graduate of Fort Dorchester High School; a 2013 graduate of Elon University with Undergraduate degrees in Journalism and History and a 2015 graduate of Francis Marion University with a degree in Education. She is currently employed as a 5th grade teacher at Orangeburg Preparatory School.
Mr. Fort is a 2003 graduate of Orangeburg Prep and a 2008 graduate of Clemson University with an Undergraduate degree in Parks, Recreation, and Tourism Management. He is currently employed as a Mortgage Broker Loan Originator at Kwest Mortgage Group.
The wedding is planned for June 3, 2017, at Willow Creek Farm in Norway.