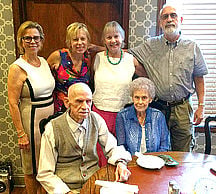 A celebration was held at Chestnut Grill with their children Holly (the late Bob) Burgess, Gwynette (Nick) LaTerra, Diane (Jim) Waddill, and Dexter (Debbie) Pigott. Grandchildren and spouses were also in attendance. Mr. and Mrs. Pigott were married on June 20, 1942. They now reside in Orangeburg at The Oaks in Independent Living.
Be the first to know
Get local news delivered to your inbox!