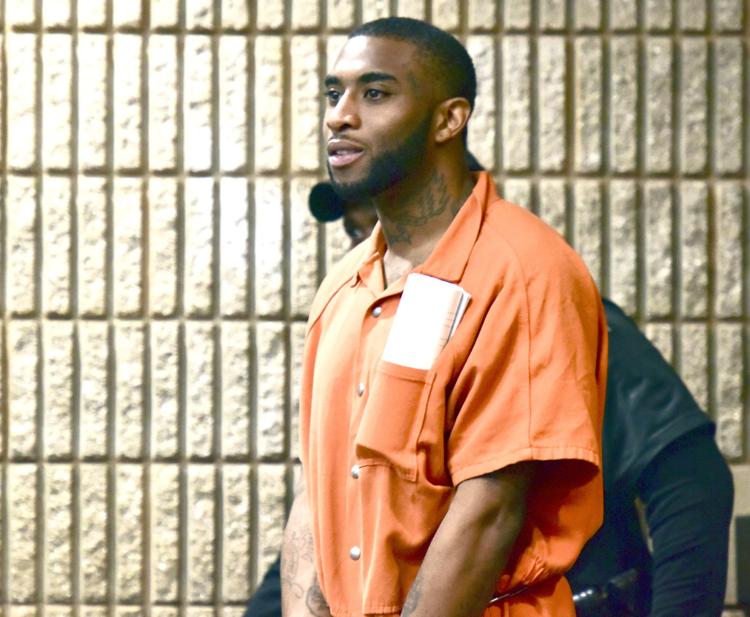 A Bowman man has been charged with 10 counts of attempted murder for allegedly shooting at people inside an Orangeburg club and at a Bowman residence.
Dajour Maurice Hall, 26, of 860 Rail St., is also charged with four counts of possession of a weapon during the commission of a violent crime, two counts of malicious injury to personal property, two counts of possession of a firearm by a person convicted of a violent felony and one count of discharging a firearm into a dwelling.
In addition, the S.C. Department of Probation, Parole and Pardon Services charged Hall with violating his probation.
Hall appeared in court Tuesday afternoon, delivering a profanity-laden outburst when he saw one of the alleged victims in the courtroom.
Deputies escorted him out of the courtroom. A few minutes later, a deputy informed Orangeburg County Magistrate Derrick Dash that Hall agreed to appear in court without misbehaving.
After Dash told Hall that he wouldn't set bond on his charges, Hall again used profanity towards the alleged victim as deputies led him out of the courtroom. A circuit court judge may set bond at a later date.
The Orangeburg County Sheriff's Office is accusing Hall of shooting and injuring a father of three at 4 a.m. Sunday at Club Atlantis, located at 1022 Chestnut St.
The shooting victim now undergoing medical care and will be out of work for a while, victim's advocate Amy Rinkenberger said in court.
Hall's arrest warrant accuses him of using a 9 mm pistol to "shoot the victim while his back was turned" during the incident.
After the shooting, "a man with a gun in his hand was seen getting into a vehicle, which then sped off with officers in pursuit. In the strip mall near Chestnut Street's Fire Station Number 2, the vehicle abruptly stopped and three individuals fled on foot," sheriff's office spokesman Richard Walker said.
After a brief chase, sheriff's office deputies captured the driver.
The gunman, however, fled behind the mall and onto George Street where an Orangeburg Department of Public Safety K-9 unit located him, Walker said.
The K-9 detected a handgun underneath a nearby vehicle, Walker said.
The Bowman Police Department had been searching for Hall since Jan. 5 after he allegedly shot at nine people in two separate incidents.
In the first incident, a Bowman officer heard gunshots around 4 p.m. while patrolling Rail Street near Adams Street.
An incident report states that the officer heard several people yelling about someone shooting at an Adams Street residence.
A 48-year-old man told officers that he was riding his four-wheeler along with two of his cousins on Rail Street when Hall opened fire at them, the report states.
When the three victims arrived at an Adams Street residence, Hall began firing at them again, the man claimed.
A resident at the Adams Street home took cover behind a GMC Envoy. The gunfire allegedly struck and damaged the vehicle.
Then at 7 p.m., the same Bowman officer received a phone call alleging that Hall was shooting into the same Adams Street residence.
A man said that he was out in his front yard when Hall began shooting toward him. He said Hall was about 40 yards away.
The man said he ran into his house and yelled to his family to get on the floor when they heard bullets hitting the side of the house. A woman and three children, including a 4-year-old, were in the home.
Officers located two bullet holes in the residence.
Orangeburg County Sheriff Leroy Ravenell said the S.C. Highway Patrol and the Orangeburg Department of Public Safety deserve a round of thanks for their part in preventing Hall from escaping on Sunday morning.
"This is a perfect example of how agencies work together to take a dangerous individual off the streets," he said. "It could have been far different. Someone else could have gotten hurt or worse if any one of these elements weren't in place."
If convicted, Hall faces up to 30 years in prison on each count of attempted murder.