S.C. STATE FOOTBALL
S.C. STATE FOOTBALL: Pough ready to continue coaching; SCSU still evaluating program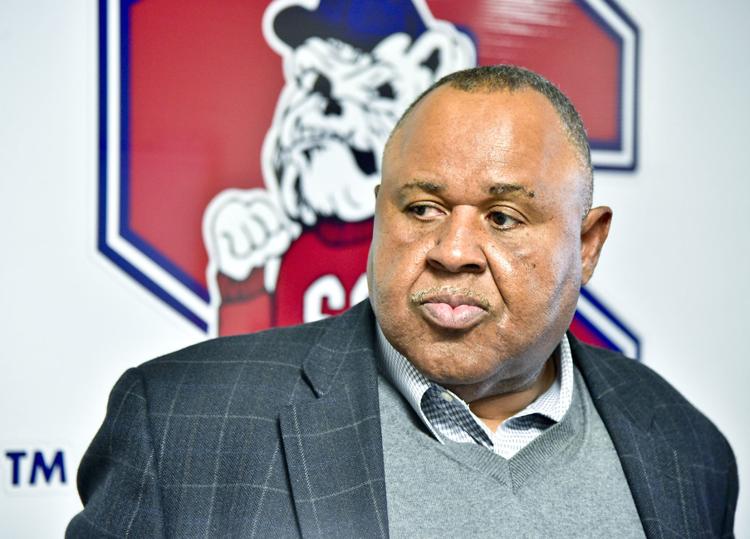 At Wednesday afternoon's final Bulldog Weekly Press Conference for the 2018 season, South Carolina State head football coach Buddy Pough spoke of the surprising turnaround for his current team, wanting to continue coaching at his alma mater and ongoing discussions concerning his future with the program.
Pough has not officially been told, after 17 years at the helm of the Bulldog football program, if he will be getting another contract when his current one-year contract expires in the coming weeks.
But he expects to have further discussions with SCSU Athletic Director Stacy Danley and the administration within the next week. Pough coached on a one-year contract for the 2018 season.
Earlier Wednesday, Danley and S.C. State President James Clark said the story was premature because no final decision has been made.
"The athletic director has not brought any decision to me about the coach," Clark said.
According to a release from SCSU Sports Information late Wednesday, no final decision has been made on the future of another possible contract with Pough.
"Discussions regarding Coach Pough's contract have not taken place at this time," Danley said. "I will have the appropriate discussions, with Coach Pough and President Clark, to determine the state of the program.
"Subsequently, a decision will be made based on what we believe will be in the best interest of the university."
Pough told assembled media from across the state that negotiations and decisions are in the works with the university, but "with a lot of moving parts."
"We've got a story brewing, that I'm coming back (for 2019), and at this point that story is a bit premature," Pough said. "We will be working with our administration to figure out exactly what the status of the football head coaching position is here at South Carolina State.
"Mr. Danley and I have gone through the evaluation process of the program for the year. We've gone over the good and bad things and everything else that you talk about. He is now in the process of getting through the rest of the administration and the board to decide exactly what will be done. But, as of this point right now, we have not decided -- from his side as administration or from my own personal side -- if this is going to be an agreement that is going to come together for 2019."
Pough believes he still has some good coaching years ahead of him.
"Under the right circumstances, I think I would like to come back," he said. "Contractually, I'm not exactly sure what I'm open to. But I can tell you that I enjoy doing what I do here, so that makes you a little bit vulnerable in the way that people negotiate with you. They know you want to be here and you love the place.
"I'd like to continue to work for another few years. I'm still young enough that I can still run around some. If it wasn't for these artificial hips they gave me a couple years back, I think I could still outrun some of these guys."
The 2018 Bulldogs team started off 0-4 but rebounded for a 5-6 record, including a four-game winning streak and a 4-3 record in Mid-Eastern Athletic Conference play. One more win in conference play would have clinched second place in the conference standings for S.C. State, which ultimately finished in fourth after Saturday's 21-17 home loss to N.C. Central.
"We normally wouldn't have had an agreement in place this soon (after the season)," Pough said, four days after a makeup game from September was played to complete the season a week later than originally scheduled. "Generally, with a university such as ours, you've got to go through several layers of administrative kinds of personnel and just let things play out.
"I'm not saying they don't want me to come back. I think they do. At the point when we said it was going to be one year last year, I generally thought it was going to be just one year. Given some of the circumstances we were dealing with, that team (2017) was a lot different from the team we have ending this season."
With as many as 15 freshmen or redshirt freshmen playing considerable roles for the Bulldogs this season, Pough admits he got more excited about continuing to coach.
"Those guys really have come about in a way where it gives you a big piece of confidence in the fact that this team could be really good for years to come," Pough said. "I'm excited about the possibility of what could be with this group of kids. And I would like to be around to try to see them through it all. Our running backs, in particular, are about the finest group that we've had around here in some time. And we've got a really good quarterback coming back, along with that secondary full of freshmen running around making plays.
"Last year, we didn't have a single kicker returning on our team. We've got two of those guys and a long snapper now, all freshman. The pieces are in place to where you can say this team can be pretty good for years to come. At this point, I've fallen in love with some of these guys, they've grown on me in a way where it's really, really important for me to have an opportunity to hang around and watch them grow through their college careers."
Pough said in recent weeks that his major concern is not whether he is coaching next season. Instead, his focus is on what's best for the program and that his assistant coaches know if they should plan to continue working toward next season. On Wednesday he said that the relationships made while coaching are more important than any single win or loss.
"We've got some guys graduating, the (Austin) Rugers and the (Quan) Caldwells of the world (both redshirt seniors this past season), that are close to me, and that's always tough seeing those guys go away," Pough said. "But we've got this other group coming along, that's going to be doctors and lawyers and so much down the road. Those are the relationships that keep you young and excited about this.
"But everybody seems to think I'm just old and decrepit and sitting around here waiting for the rocking chair."
In his 17 seasons leading the Bulldogs, Pough's program has posted a 125-70 record, for a win percentage of 64.1. That includes a record of 99-37 against Mid-Eastern Athletic Conference competition.
"There are some time considerations and some budget considerations, some things that need to be somewhat better for me to be able to have an opportunity to be successful here," Pough said. "But, at the same time, the university has its considerations also.
"So, it's not just me; it's both sides of the ledger. We'll get it cleared up in the next week or so. If it's not done in a week or so, then you will probably, for sure, see a change. But, for now, we are trying to be sure about what we are doing here."