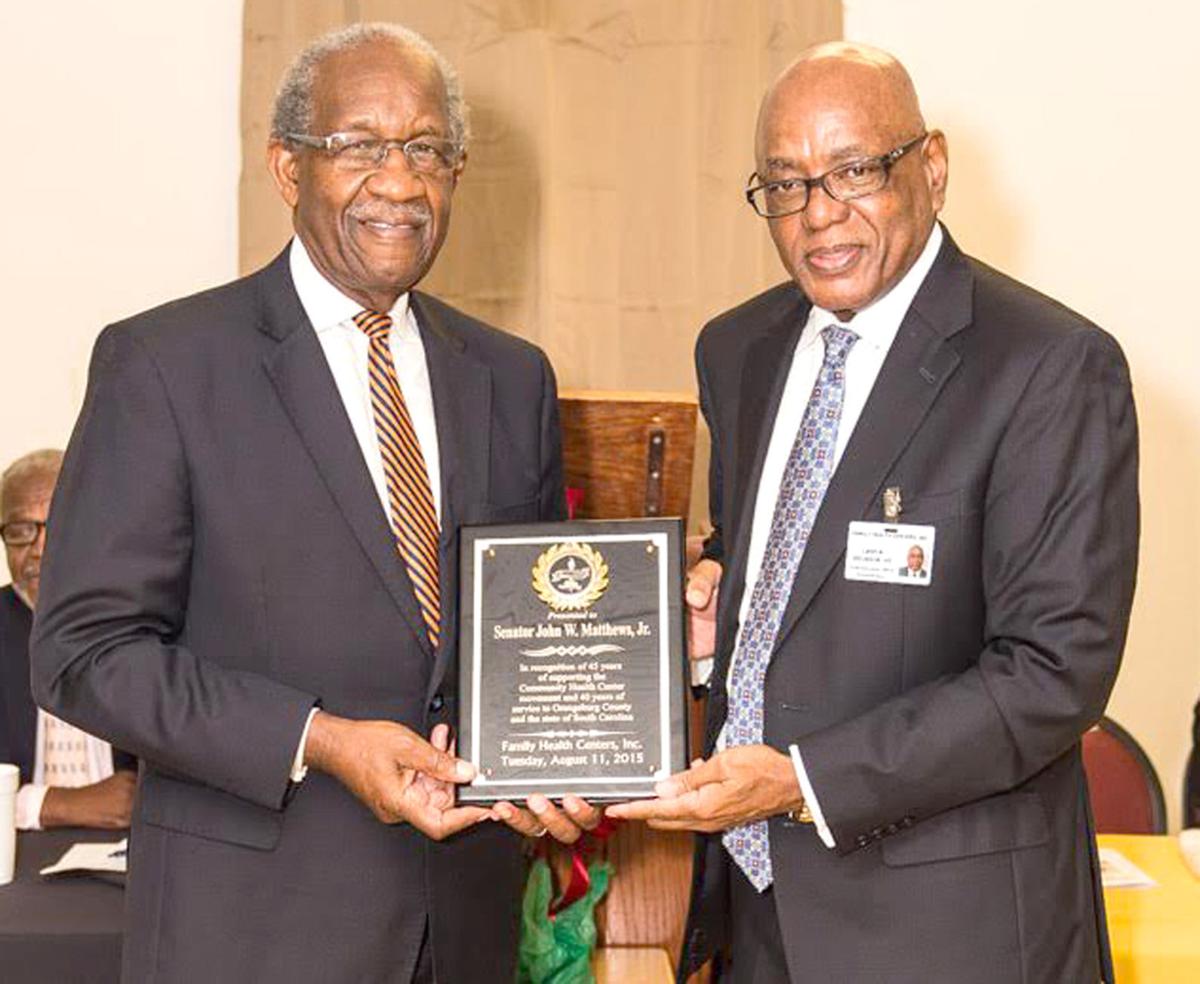 "The only ones among you who will be really happy are those who have sought and found how to serve."
The quotation from German theologian Albert Schweitzer solidified the sentiments expressed toward the longest-serving African-American state lawmaker on Tuesday morning.
State Sen. John Matthews, D-Bowman, was honored during the annual Legislative Breakfast, which Family Health Centers Inc. held at the New Vision Center in Orangeburg.
The 75-year-old was recognized for his commitment to improving health care among his constituents and others across the state. After 40 years in the General Assembly — 30 of them in the Senate — Matthews was touted as being instrumental in the development of the FHC, one of the state's largest community health centers.
"When the secretary of the state of South Carolina signed the article of incorporation, Sen. John Matthew's name was on that article. That was signed on Jan. 22, 1970, so he's been associated with Family Health Center for 45 years," FHC Chief Operating Officer Leon Brunson Sr. said.
"He believes that everyone needs accessibility to affordable health care, and that's what makes it so great to have a statesman like Sen. Matthews in our corner as we move forward in the world of health care," Brunson said.
National Health Center Week 2015 was observed Aug. 9-15, marking the 50th year of the community health center movement. The theme for 2015 was "America's Health Centers: Celebrating Our Legacy, Shaping Our Future."
America's Health Centers serve more than 24 million people across the nation, providing care to the medically vulnerable and
Matthews, who was joined by his wife of 54 years, Geraldine, and other friends and family members, said his mission throughout his political career has always been to serve others.
"What we do in life that benefits others is what counts, so that's been my motto. If you can help somebody without expecting anything in return, that is truly what I call a giver," Matthews said.
The veteran lawmaker said health disparities -- including disparate rates of hypertension and diabetes -- still exist and particularly affect minority communities. The solution goes beyond creating better health care access.
"There's still much work to do. If we're gonna change these outcomes ... we've got to improve the quality of life in the communities in which we serve," Matthews said.
Growing poverty rates continue to negatively impact education and health care, he said.
"Poverty determines lifestyles and if we're really gonna complete this process, we've got to deal with lifestyle changes. Health care and education make the difference," Matthews said, noting that "incremental improvements" are being made to close education-outcome gaps among African-American and other minority communities.
"We're (also) beginning to close the gaps on access to health care and private health care, and community health centers are playing a vital role in closing the gaps. So you have much to be proud of," Matthews said.
The FHC has been accredited as a primary care medical home by The Joint Commission. Its service area includes seven satellite sites. Adult medicine, pediatrics and OB/GYN are among the services provided.
Brunson said FHC is the only federally qualified health center in the state with 60 percent of its board members having been certified by the National Association of Community Health Centers.
The FHC is to open pharmacies at its satellite sites in Denmark and St. Matthews in September. The facility is also looking forward to implementing telemedicine technology at all of its locations by Sept. 15. The FHC has also been approved to provide care to veterans through the Veterans Access, Choice and Accountability Act.
"A veteran can come into our center and receive their VA benefits. All of our veterans, as you know, don't have transportation to Columbia or Charleston or Edisto Village," Brunson said.
Doug Bryant, Carolyn Emmanuel-McClain and Santee Mayor Donnie Hilliard, all former CEOs of the FHC, expressed their appreciation for Matthews' support of community health care centers, particularly the FHC.
"Over the last years alone, community health centers across the state served over 350,000 people. Sen. Matthews has been a leader in helping us to get over $20 million to provide care to the underserved and the underinsured citizens in the state," Bryant said, noting that more than 25 percent of individuals who visit the FHC for care are uninsured.
"He has also helped us get $10 million worth of capital money into the budget. Places like Springfield, Neeses and Cross have to have somewhere for people to come to for service," Bryant said.
Emmanuel-McClain said, "He has dedicated his entire life to giving service to others. While Sen. Matthews was not at the health center physically working, he was instrumental in making sure that center was protected, it was in good hands and stayed afloat the way it should be."
Hilliard, who served as Matthews' campaign manager in 1974, said, "This man has poured his heart out for us. ... We just want to let him know that we appreciate him for it. ... I want you to pray for him this coming year because they're gonna have a tough time up there in that place called Columbia."
Dr. Vicki Young, chief operating officer of the state Primary Health Care Association, was among those who presented Matthews with tokens of appreciation.