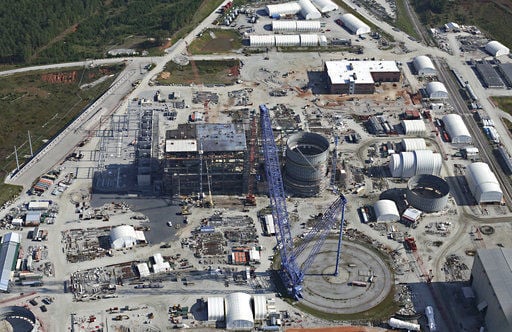 As state-owned utility Santee Cooper was racking up billions in debt – which ratepayers are expected to shoulder – for the failed V.C. Summer nuclear project, the company's top executives were raking in huge bonuses and salary hikes.
More than $4 billion in bonds that were sold to finance the biggest financial flop in the Berkeley County-based utility's history will have to be paid back with interest over years – to the tune of $200 million to $300 million annually.
But those I.O.U.'s are only part of the company's overall debt load, which company records show stands at more than $15 billion. That tab will be paid back over 40 years, starting last year with payments totaling nearly a half-billion dollars.
And that means Santee Cooper's customers likely will face rate hikes – how much is unknown – in the coming years.
Meanwhile, from 2009 through 2016 as the V.C. Summer project costs were escalating and construction deadlines were missed, the utility paid out a total of $5.6 million in bonuses to 15 executives, company records show.
Of the total bonus pool, $70,648 over the eight-year period was directly tied to the nuclear project, more than half of which was paid to recently retired president and CEO Lonnie Carter.
Carter received the highest total annual bonuses; in 2015 and in 2016 he was paid more than $330,000 in bonuses, which represented more than 60 percent of his salary for those years. During the 2009-16 period in which the V.C. Summer project was active, his yearly salary jumped 34 percent, from $404,756 to $540,929.
Besides bonuses, Santee Cooper's top executives also received, according to a company spokeswoman, annual car allowance and life insurance benefits, which made up their total compensation. The additional perks brought Carter's total 2016 total compensation to $894,369, a hike of about $377,000 from his 2009 compensation.
The total compensation of seven other top executives in 2016 ranged from $282,811 to $552,133, with nearly all of them receiving increases from the previous year, records show.
And Carter also received a golden parachute with his retirement last year: In addition to receiving $344,572 for life from the state retirement system, he will be paid up to $455,192 annually for 20 years through a separate executive retirement plan with the company, plus had had $858,577 in a 401(k)-type retirement plan through Santee Cooper, according to media reports.
The Santee Cooper board recently voted to close the two company-backed, executive retirement programs to new participants, a company spokeswoman said.
The Nerve in 2011 reported that Santee Cooper top executives, including Carter, received salary and benefit hikes during the Great Recession years and aftermath.
In more recent years, the utility's top executives were getting raises and bonuses even as a now-public internal report authorized by Santee Cooper and its partner in the V.C. Summer project, South Carolina Electric & Gas, detailed serious problems with the project, which was abandoned last July 31.
No bonuses were paid in 2017 to Santee Cooper's top executives, according to the utility's records.
In recent emails to The Nerve, Santee Cooper spokeswoman Mollie Gore said "performance-based pay" given to top executives was "tied to specific corporate and individual goals on reducing costs and improving service and performance," adding that most of the benefits related to "cost of power, customer satisfaction and safety results."
Asked if no bonuses were given last year because the nuclear project was scrapped, Gore replied, "Performance results are audited prior to any benefits awarded, and that audit is ongoing."
Whether any bonuses for top executives are planned for this year will "depend entirely on year-end results and an audit of those results," Gore said.