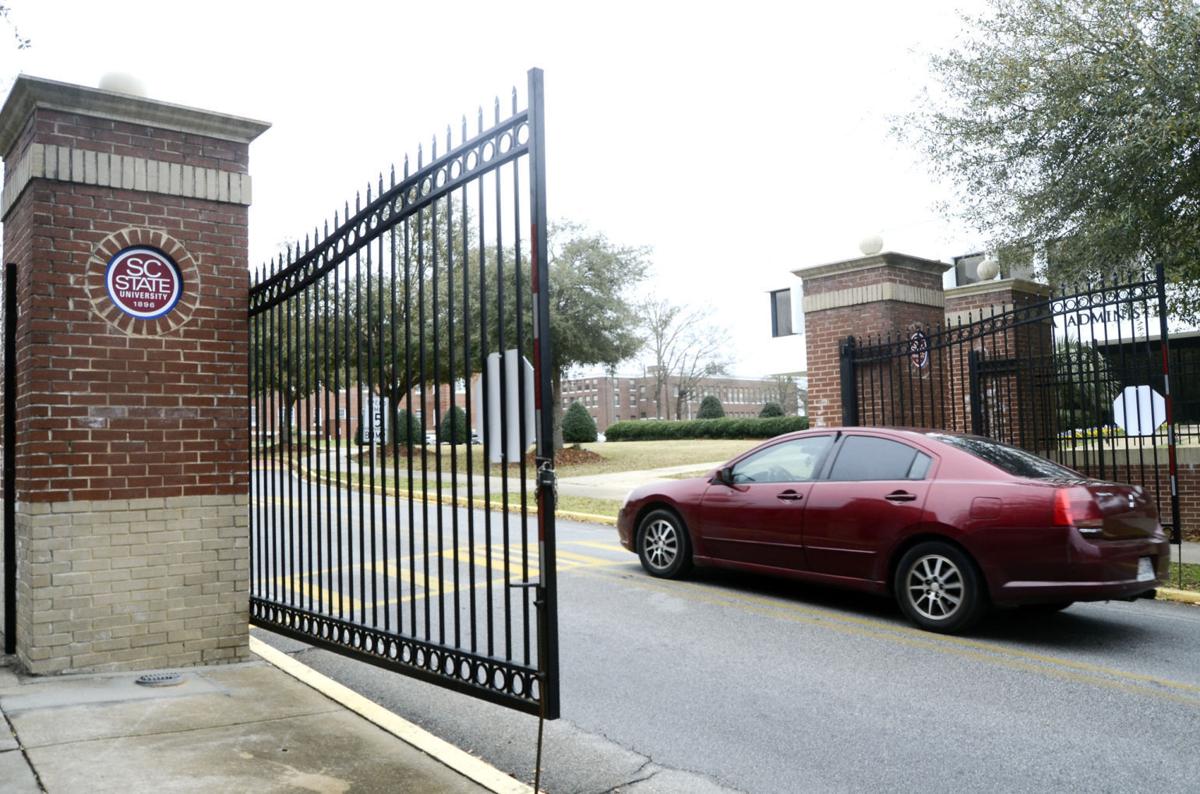 The South Carolina State University board of trustees elected Trustee Rodney Jenkins as its new chairman.
Former chairman Milton Irvin stepped down from his leadership role during a Sept. 11 meeting, although he remains on the board.
Board Vice Chairman Rodney Jenkins had been serving as interim chairman.
"I'm here to serve the board of South Carolina State University," Jenkins said, noting that his goal is ensuring the betterment of the university.
University General Counsel Mercedes Pinckney said the election of a vice chairman will be held at the board's next meeting. A date has not been set.
Meanwhile on Dec. 18, trustees also heard a report from Valerie Goodwin, the university's acting director of institutional effectiveness/quality enhancement plan, on how it is preparing for its 2020 accreditation review by the Southern Association of Colleges and Schools Commission on Colleges.
Making education student-focused and achievable with an emphasis on student retention is the backdrop upon which S.C. State is planning for the visit.
The university turned in a compliance certification report well ahead of a Sept. 10 deadline and is now working on completing a focused report and quality- enhancement plan.
The university's plan and focused report is due Feb. 11, 2020. An on-site review team is scheduled to visit the university on March 24-26.
"We chose our QEP lead evaluators in September. We spent most of the fall semester working on the QEP, finalizing the details. We received feedback from the off-site committee on Dec. 3, which kick started a whole new set of actions on our part to prepare for the visit," Goodwin said.
SACSCOC Vice President Dr. Crystal Baird will be on campus Jan. 21 to review drafts of the university's focused report and QEP.
S.C. State President James E. Clark said Baird acts as the university's SACS liaison and would also be available to meet with the board of trustees about how the SACS process is going.
"We've already talked to her about the possibility," Clark said.
Goodwin said, "Once the on-site committee finishes its review, there are a few possibilities that could happen. What we would like to happen is for them to say that (they) have no recommendations, which means we've cleared all the standards … and we'll just wait for the rest of the process to go through. So that's what we're pulling for."
"Our Quality Enhancement Plan is called MESA: Making Education Student-Focused and Achievable. We're setting the table for student success. We're choosing to focus on student success and specifically retention, and I'm sure you all are aware that we need to retain more students. So that's our focus for this particular QEP," Goodwin said.
The three components of MESA include developing active learning strategies for general education courses, revamping University 101 and focusing more on intervention for at-risk students.
"Those students who we identify as in trouble. How do we help them to persist and to graduate in a timely manner?" said Goodwin, whose presentation also included how campus labs are being used to document the progress of its strategic plan.
"Between April and December, we will have the opportunity to respond to any of the recommendations that the committee has. So we'll have another chance to prove compliance. Once we do that, the SACS board of trustees will review the report. Whether we're perfect in March or not, the SACS board of trustees has to review the report.
"So they will review all of the information and make recommendations to the full board. At the annual meeting in December 2020, the board will vote and then our compliance will be made public at the end of that meeting," Goodwin said.
Clark said, "The bottom line is we're on track with the process."
Jenkins praised Goodwin and her team, including Provost Dr. Learie B. Luke, for their work.
"Being a neophyte at all of this, this is really good. The comprehensiveness is great. So thank you," Jenkins said.
Trustee Donnie Shell said, "I think it will help in recruiting when you go and share with the parents. If your child has an issue, we're gonna try to identify it and work with the student."
Trustee Doris Helms said, "I would like to commend Valerie and Provost Luke. This is a huge accomplishment."
In his report to the board, Clark introduced Dr. Gwynth Nelson as the university's new associate vice president for development.
"She's doing a fantastic job," said Clark, who also updated the board on the university's work in upholding its strategic plan, including ensuring fiscal stability.
"We continue to develop and operate against a balanced budget and improving our net position over time. We had good financials over the period since our last SACS review. Of course, that was one of the things that was a flag for us years ago, but we've been on a straight march in terms of maintaining that," Clark said.
According to updated Fiscal Year 2019-20 budget figures, the university had operating revenues of $44,597,874 and operating expenses of $66,393,625, resulting in a net operating loss of $21,795,751.
"We had some slight updates. But you can see that the updates were very, very minor from what has been approved and discussed in a previous board meeting," Clark said.
The budget is based off of a head count of 2,376 students and a full-time equivalency, or FTE, of 2,155.
Clark said, "If you look at the net position, that is a positive number. We're always operating against that. From a SACS standpoint, no matter what set of numbers we have or what time frame it is, we just need to make sure we need to make sure we have a budget for this period of time on record that is an approved budget."
The president said the university has submitted its budget to the Governor's Office and will present its budget request to the House Ways and Committee on Jan. 28. He encouraged the board members' attendance.
"In anticipation that our House budget might be more expansive, I did speak to those in charge of the budgeting process to make sure that it was possible for us to do an addendum to the submission that we had because, as you know, the financial situation of the state has changed," he said.
Enrollment
In comparing fall 2019 figures to fall 2020 figures, Clark said the major thing was that total application decisions were up 63% and the total number of admitted undergraduates was up more than 90%.
Clark said Stacy Sowell, the university' director of admissions and enrollment, and her staff have done a good job of "getting and processing decisions, making decisions one way or another no matter what the decision is. And of those that have been admitted, (they're) making sure that we get that information processed quickly."
According to preliminary figures, spring 2020 enrollment stands at 946 (808 undergraduates and 138 graduates) compared to a spring 2019 enrollment of 1,069 (899 undergrads and 170 grads).
"That 946 looks like it is lower, but we actually had a lower fall class to move forward. So actually this spring number is running percentage wise higher than based on what we would have expected from the class. It's not so much higher that we're gonna jump and celebrate, but it is right in line with our projections that we've done," Clark said.
The university has a fall 2019 enrollment of 2,479 compared to 3,022 in fall 2018, with fewer returning undergrad students because of tighter financial controls.
"We're spending a lot more time visiting the various school districts and so forth" to try to reach students early, Clark said, and even going as far as working with the S.C. Commission for Minority Affairs for help in translating the university's recruitment materials in Spanish to recruit more students from the growing Hispanic population.
Curriculum and research programs
"We have been working with a number of different corporations over a period of time," he said, including Westinghouse, which has provided the university with a $10,000 grant to develop an Institute for Nuclear Energy.
"We're planning to visit Boeing, speak with Boeing about increasing our level of participation and interaction with them. They've had some changes and so forth along the way. We're still they're partner, but we're looking forward to a much deeper partnership with them," Clark said.
"One of the things that we're going to be more aggressively tracking is the number of internships and the number of jobs with the different companies, as well as the percentage of our students that have internships, the percentage of students that have jobs, the number of jobs they have and the average starting salaries and so forth," he said. "That can become part the value of coming to S.C. State."
University grants have included a $2.25 million federal grant the university's rehabilitation counseling program received over the next five years and a $1.4 million grant from the state Department of Education to improve minority access to the teacher education profession.
Campus environment
Clark said a facilities master plan has been "painfully slow," but is in the works.
"Hopefully in January we'll be getting started on that. That will start looking at the larger visioning of improving the campus now we have a major master plan," he said, noting that the university will be hiring a new chief information soon.
"We're going to take another leap forward hopefully when we bring on said person," Clark said.
A Lamar Powell Student Success and Retention Center will be located in Moss Hall with help from a grant the university received from the Lamar Powell Estate. Its amenities will include an academic tutoring program, a scholarship academy and a veterans' resource room.
Luke said, "There's a tutoring room and some other spaces that we've renovated that are in use, but some of the technology has not been put in yet."
Clark said the facility should be complete in the next three months.
Campus safety and security
Clark said campus safety and security has always been being monitored, including with the burgeoning development of a Rave Guardian campus safety app.
"We had a town hall meeting with students ... and a lot of people came up with a lot of different things to continuously improve. Right now we're working the initial stages of a new security app," he said.
The app features map-based incident reporting data and analytics and the ability to track usage trends to improve campus safety.
Improving the brand
"There's a lot of activity on the brand. A lot of good things are happening. A lot of media has occurred," Clark said, and a Talking Points list has been created, including the university's distinction as a top producer of African-American teachers and school administrators in the state.
"So spread the word about it," he said.
Legislative bills
In other business, Heather Smith, the university's legislative liaison, updated the trustees on bills moving through the General Assembly that could benefit the institution, including Senate Bill 283 which is sponsored by state Sen. Scott Talley and outlines the State Institution of Higher Education Enterprise Act.
"That bill would allow the board of trustees of a research university or four-year college or university to establish one or more auxiliary divisions as a constituent part of its institute, and then it would also allow permanent improvement projects for us to increase the threshold before we have to go to the Joint Bond Review Committee," Smith said.
"So that would be very important for the university so we have a little more flexibility as it relates to how much we can spend before getting prior approval. That bill has passed out of Senate Finance and is sitting on the Senate Floor waiting for debate. The person that has placed an objection on the bill for right now since it does relate to procurement processes is Sen. Hugh Leatherman, but I know we're working through all of the issues," she said.
What are auxiliary divisions?
"That could be for any your outside services. So that would be economic development, research, housing, food services, stores, health services and athletics. This is a very, very important piece of legislation for all universities in the state, but particularly for us especially since it increases that threshold for spending."
Vice President for Finance and Management Teare Brewington said, "If I recall the language correctly, to be qualified as an auxiliary, it has to be 100 percent self-supporting and cannot receive any state-generated aid. So that means it could not be funded by, say, a student activity fee. It would have to be a stand-alone unit, 100 percent self-supporting to be qualified as an auxiliary under this particular bill."
Smith said, "Another important thing that it does is it removes the CHE approval from the equation. So we could go straight to JBRC ... to get our permanent improvement projects done. And that's once all of our architectural designs are done and all of that. But it would remove that cumbersome layer we have through CHE."
She said a bipartisan comprehensive higher education bill that could benefit the university was Senate Bill 298 which is sponsored by state Sen. Vincent Sheheen and several other lawmakers.
"This is also sitting on the Senate Floor. It's passed Senate Finance and Senate Education…. The most important thing is it would increase appropriations for all institutions of higher learning" including technical colleges, she said.
Smith said, "An increase in appropriations for each public institution must be equal to the projected percentage increase in the general fund revenues, which would tremendously help out higher education since we are the ones that took a major hit in 2007, 2008 and 2009 and have not seen the increase back in our revenues that other state agencies have.
"It would cap it at no more than 5% of that general revenue increase. So that would be a tremendous amount of money coming to all the universities and technical colleges. And it also does different adjustments as it relates to our Life, Hope and all of those scholarships."
Smith added, "It evens us out…. Instead of us having to continuously increase tuition fees and serves, it could flatten that and increase our revenues that we could get from the General Assembly."
The business news you need
With a weekly newsletter looking back at local history.