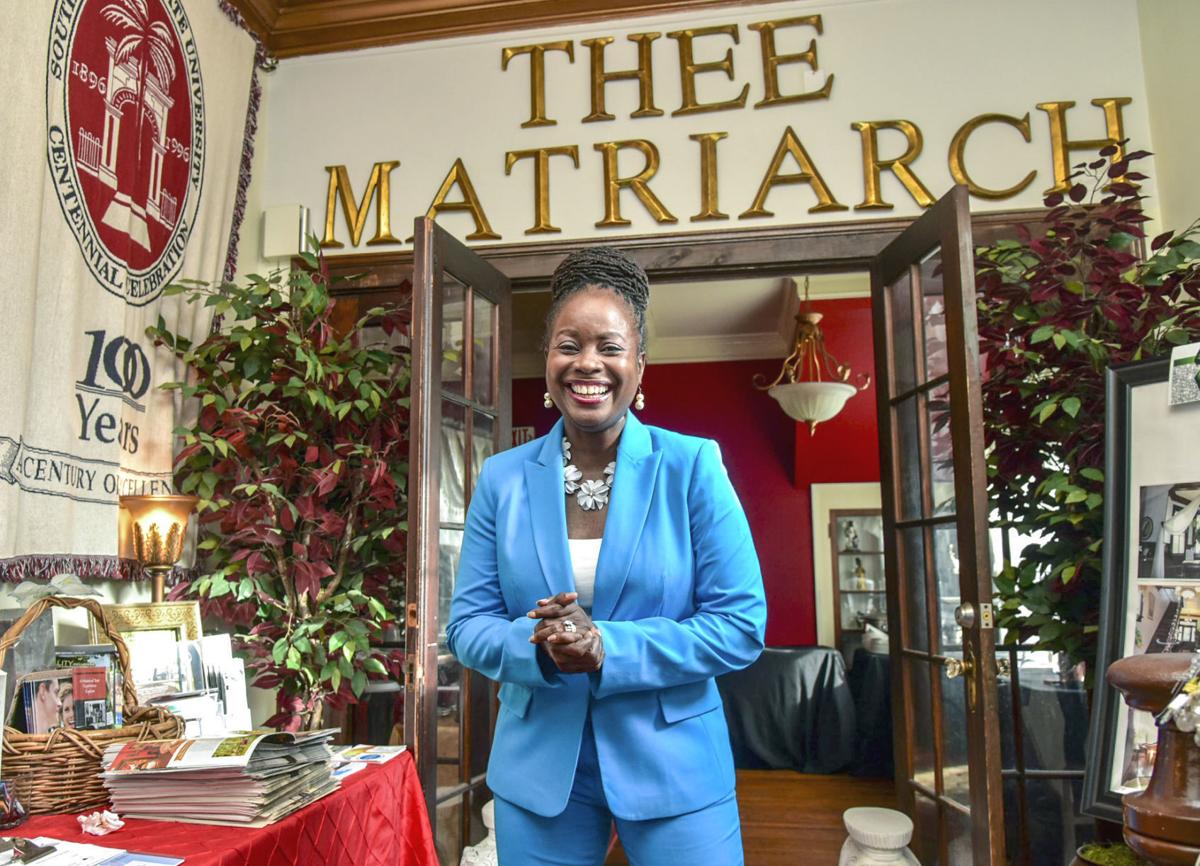 Orangeburg native Rachelle Jamerson-Holmes -- an award-winning fashion designer, entrepreneur and motivational speaker – in 1992 decided to bring a relaxing and exotic boutique to Orangeburg by establishing Rachelle's Island.
Yet her success as a woman in business did not begin there.
Rachelle's story
After graduating from Orangeburg-Wilkinson High School and Winthrop University, Jamerson-Holmes lived in New York perusing her dream as a model and fashion designer. She opened her Fashion Design Studio in Harlem, where she designed and tailored custom apparel for men, women and celebrities such as Rap Artist Kool Moe Dee. Rachelle studied at the Fashion Institute of Technology, worked for acclaimed fashion houses such as Mary McFadden and Holly Lueders and won numerous awards while living there. In 1990 she was named New Day Associates/Hennessy Cognac Designer of the Year and later captured the National Council of Negro Women Service Award.
Her designs have been featured at the acclaimed Apollo Theater, MTV Style Report, BET Screen Scene and The New York Times feature on young designers.
During her time in New York, Jamerson-Holmes produced a fashion extravaganza show titled, "The Hottest Show Off Broadway."
"I brought the show home to Orangeburg for three years and after the 1992 show, I opened a Rachelle's Island Boutique pop-up store for 90 days in a small location on Russell Street to service customers who wanted to purchase my designs and I've been here since," she said.
Over the 28 years of Rachelle's Island, Jamerson-Holmes has continued to raise the bar.
In 1994, she decided to expand. She purchased the yellow house in the heart of downtown on the corner of Middleton and Fischer streets and named it Rachelle's Island Boutique and expanded into a brick-and-mortar travel agency, Island Cruises and Tours.
The vision for Rachelle's Island is to design and develop an oasis downtown comprised of shopping, dining, entertainment and lodging. In 2001 she purchased the two houses adjacent to Rachelle's Island Boutique on Fischer Street with the expectation to develop them into additional avenues of revitalizing the downtown area. That vision is materializing, into a beautiful bed and breakfast, Thee Matriarch.
With the opening of the first full-service boutique Inn and event venue in Orangeburg, Thee Matriarch Bed & Breakfast, Meeting and Events Venue in 2007, Jamerson-Holmes utilized her first love of fashion and designing to create a gorgeous rental facility and three relaxing accommodations in which she uniquely named, designed and themed each room in the renovated century-old home.
Today, Thee Matriarch features meeting and event rental space, luxury bedroom suites, and offers both onsite and offsite catering services.
In 2005 Rachelle married the love of her life, Fred Holmes of Charleston, at Victoria Falls in Zimbabwe Africa. Their nuptials were featured in Ebony magazine as one of the top destination weddings.
Jamerson-Holmes -- along with her husband, who is chef at Thee Matriarch -- has earned many awards. They include:
• In 1995, Rachelle's Island was the first downtown Orangeburg merchant to receive the Master Merchant Award from the S.C. Downtown Development Association.
• In 1999, Jamerson-Holmes was recognized as the U.S. Department of Commerce's National Minority Female Entrepreneur of the Year and became one of three inaugural recipients of the BB&T Trailblazers Award.
• In 2007, Rachelle and Chef Fred were featured in Success From Home magazine as well as Your Business At Home magazine in October 2008.
• In 2014, Thee Matriarch garnered national ranking among The Top 7 Black-Owned Bed and Breakfast Inns by Black Enterprise.
• In 2015, Thee Matriarch was ranked among an impressive list of 29 Best Romantic Getaways in S.C. by VacationIdea dream vacation magazine and also was recognized as one of the 12 unforgettable vacations in the state as posted by the travel website OnlyInYourState.com.
• In 2017, Rachelle and Chef Fred were chosen to compete in the Couples BuzzFeed Tasty Date Night Cooking Challenge at the Charleston Wine & Food Festival. BuzzFeed released the challenge video in April 2017 and it attracted 4.4 million viewers.
• In 2017, the inn was one of three B&B's featured in the Official South Carolina 2017 Visitors Guide Discover South Carolina
• In 2018, Rachelle's Island was honored at The Orangeburg Legacy of Black Business Gala for businesses that have been open for 25 years or more.
• In 2018, the inn was featured in Palmetto State Weddings among the 20 South Carolina Bed & Breakfasts Perfect for Weddings.
Big years for tea
The business from which Thee Matriarch was born in 1992, Rachelle's Island, celebrated its 28th anniversary on Sept. 20, 2019. And it did so in style with Jamerson-Holmes' signature "World Famous Rachelle's Island Tea" winning more awards.
The signature beverage won first place People's Choice BEST Sweet Tea for a second consecutive year in 2019 and continues as the 2020 champion for the Summerville Sweet Tea Festival. The tea was picked as the best from among 30 contestants.
In the spring of 2019, World Famous Rachelle's Island Tea was named Taste of Black Columbia BEST Sweet Champions from among 20-plus contestants and remains the 2020 champion. The competition consisted of all types of sweets, including baked goods and candies.
A month later, the tea was the featured beverage and won acclaim from the 22 Democratic presidential candidates in attendance at Congressman James Clyburn's World-Famous Fish Fry held at EdVenture Children's Museum in Columbia.
In July, the tea "did it again," winning at the Summer Showcase Orangeburg City Favorite Food & Restaurants presented by Prince of Orange Mall.
It also was the featured beverage at the S.C. Department of Parks, Recreation and Tourism's 50th anniversary of the South Carolina Welcome Centers, the 25th anniversary celebration of the South Carolina African American Heritage Commission, the SC ABW Day Women's Conference hosted by the SC Area Council of ABWA, and the The Fabulous Frolic hosted by the Coastal Chapter of Sisters on the Fly (over 100 attendees).
Rachelle's Island Tea was featured in PineStraw Magazine in July 2019 and in the SC SBDC Brochure in May 2019.
Rachelle founded and created the signature line of World-Famous Rachelle's Island Beverages in 1994 when she opened Island Deli within her women's clothing boutique, Rachelle's Island Boutique. Jamerson-Holmes served her guests gourmet salads and sandwiches while quenching their thirst with her refreshing Southern Rachelle's Island Tea, Island Punch and Island Lemonade.
Rachelle is looking forward to the day when customers can walk into stores and restaurants and purchase Rachelle's Island Beverages. Locally you can purchase by the gallon Rachelle's Island Tea, Island Punch and Island Lemonade at Thee Matriarch Bed & Breakfast and place orders for special events. The collectible bottles were launched in November 2018, and 2020 will launch Rachelle's Island Beverage Co.
To catch up with Rachelle and Fred on Thee Matriarch and Rachelle's Island Tea Stops nationally, like, follow and share Rachelle's Island Tea and Thee Matriarch Bed & Breakfast on Facebook, Instagram and Twitter. Thee Matriarch Bed & Breakfast, 1170 Fischer St. Orangeburg, SC 29115. 803-937-4271 www.TheeMatriarch.com
SBDC leadership
Small Business Development Centers actively work with many women-owned businesses.
The South Carolina SBDC (www.SCSBDC.org) is partially funded through a cooperative agreement with the U.S. Small Business Administration, in partnership with the state. The Orangeburg Region SBDC is hosted by South Carolina State University and serves as the regional office for a seven-county area.
The SBDC offers one-on-one business consulting at no charge and educational outreach in the form of workshops. It connects businesses to resources.
As a S.C. SBDC advisory board member, 2019 board chair and vice chair of the Orangeburg Area Small Business Development Centers, Jamerson-Holmes has the opportunity to promote the SBDC in a significant way – and help get the push toward business success that the SBDC gave her a quarter-century ago as one of its first clients.
In 2018, she was recipient of the S.C. SBDC Partner of Distinction Award from the S.C. Small Business Development Centers