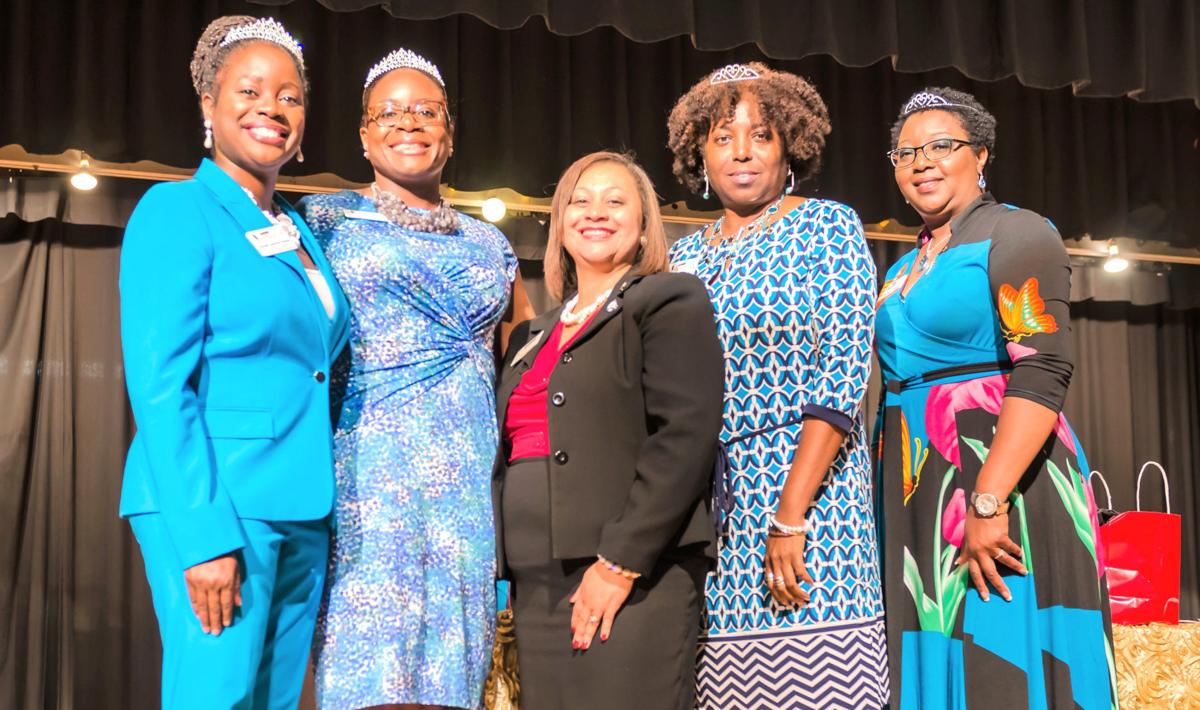 The culmination of a 15-year dream for Rachelle Jamerson-Holmes came on Sunday, May 20, 2018, with the chartering of Orangeburg's EmpowerHer Chapter of the American Business Women's Association.
More than 100 charter members were installed during the EmpowerHer Diamond Celebration and pinning of members. The program was held at Stevenson Auditorium and came two months after the chapter's founding in Orangeburg. The Diamond Celebration Reception was held at Thee Matriarch Bed & Breakfast, Meeting and Events Venue, founded and owned by Jamerson-Holmes.
"I am humbled and honored to have the opportunity to connect and lead women both personally and professionally by starting the American Business Women's Association chapter EmpowerHer in Orangeburg," Jamerson-Holmes said. "I am excited about all of the great things that EmpowerHer will do for the Orangeburg County community and surrounding areas by 'Changing Women's Lives One Women at a Time' through leadership, education, networking support and national recognition.
"As we embark upon this amazing journey of the ABWA sisterhood, I look forward to connecting, learning and growing with everyone," Jamerson-Holmes said. "Diamonds are forever (the chapter's official symbol is the turquoise blue diamond) ! Be bold! Be brave! Be you! Be empowered!"
The mission of the ABWA, established in 1949, is to bring together businesswomen of diverse occupations and to provide opportunities for them to help themselves and others grow personally and professionally through leadership, education, networking support and national recognition.
The mission statement of the EmpowerHer Chapter is: "To be the premier women's business league that impacts, connects and empowers women personally and professionally in the greater Orangeburg, S.C., area through educational resources, professional development, community service and lifelong friendships in a refreshing atmosphere."
Dr. Sonja Ogletree Satani, national president of ABWA, was in Orangeburg for the installation of members.
"We are excited to welcome the members of the EmpowerHer Chapter to the ABWA Family," Satani said. "I am so proud of each of the leaders and members who were determined to turn dreams into a reality by providing a nurturing and empowering environment for people to share their professional endeavors, ideas and resources with like-minded professionals.
"The EmpowerHer Chapter will be a great addition to expanding our global reach as well as contributing to the mission of American Business Women's Association in the Orangeburg and surrounding areas," Satani said. "The members of the EmpowerHer Chapter are already changing lives and their community one person at a time."
ABWA National Executive Director Rene' Street also was in Orangeburg for the chapter launch. She said she was impressed with what has been accomplished.
"The new chapter president, Rachelle Jamerson-Holmes, has jumped at the opportunity to expand women's opportunities in Orangeburg so they can find their voice, sharpen their business skills, network and support other like-minded working women," Street said. "I was overwhelmed when I attended their installation ceremony on May 20. Installing a new chapter with over 100 women was inspiring, and we are still receiving more applications at our headquarters in Overland Park, Kansas."
ABWA membership has benefits for women, who can:
NETWORK face-to-face with accomplished professionals.
CONNECT with members online in ABWA's exclusive Community Connections or on members Facebook group.
STAY INFORMED by reading timely business features in ABWA's Women in Business Magazine and Achieve Newsletters.
SAVE MONEY on business products and services with member discounts.
REGISTER for online courses and webinars focused on workplace productivity from Gemba Academy.
New members are excited to be part of the EmpowerHer Chapter:
Barbara Chappell: "I am a fundraiser, which means I often find myself holding a microphone, but just as often I'm holding the hand of a grieving widow or shaking hands with a corporate executive. It is fast-paced, high-profile and high-stress work. I don't love stress, but I do love making a difference. ABWA has made my move to this town much easier than it would otherwise have been. It's the difference between trying to rake leaves in a thunderstorm and brushing confetti off my dress after a party. At the end of a busy day, knowing there are dozens of women close at hand who are rooting for me -- and I for them -- is an awfully good feeling."
Angel Howell: "My philosophy is push, pull, repeat. Push someone above to higher heights and pull someone below up. This is what I have found in the Orangeburg chapter of AWBA."
Mary Canty: "I sat here day after day week after week month after month and even year after year with three major projects in my spirit and on my computer with no motivation to share them with the world until I joined ABWA. I feel empowered, motivated and determined to share them with the world."
Cheryl Nugent: "I am a published writer, I have lived and traveled the world and retired to Orangeburg. When I envisioned a website for writers, I knew I needed help. ABWA came into my life at the perfect time and the warmth, generosity, enthusiasm and love that I feel with this amazing group gives me not only the courage to continue, but the firm belief in my own abilities as I learn from the professional pool of terrific members, knowing my success will be theirs as well."
The EmpowerHer Chapter is diverse in age, race, income and occupations. The chapter is actively seeking to mentor young ladies attending local colleges, universities and youth to help ensure that the glass ceiling continues to be shattered.
The chapter has partnered with Habitat for Humanity, and EmpowerHer's first volunteer initiative was in May with the National Women Build Week.
EmpowerHer is the second ABWA chapter to form in Orangeburg. In 1981 a chapter was formed at Orangeburg-Calhoun Technical College.
EmpowerHer holds monthly empower chats every second Tuesday at 6:30 p.m. at Thee Matriarch Bed & Breakfast, Meeting and Events Venue. Admission is $15 for non-members.