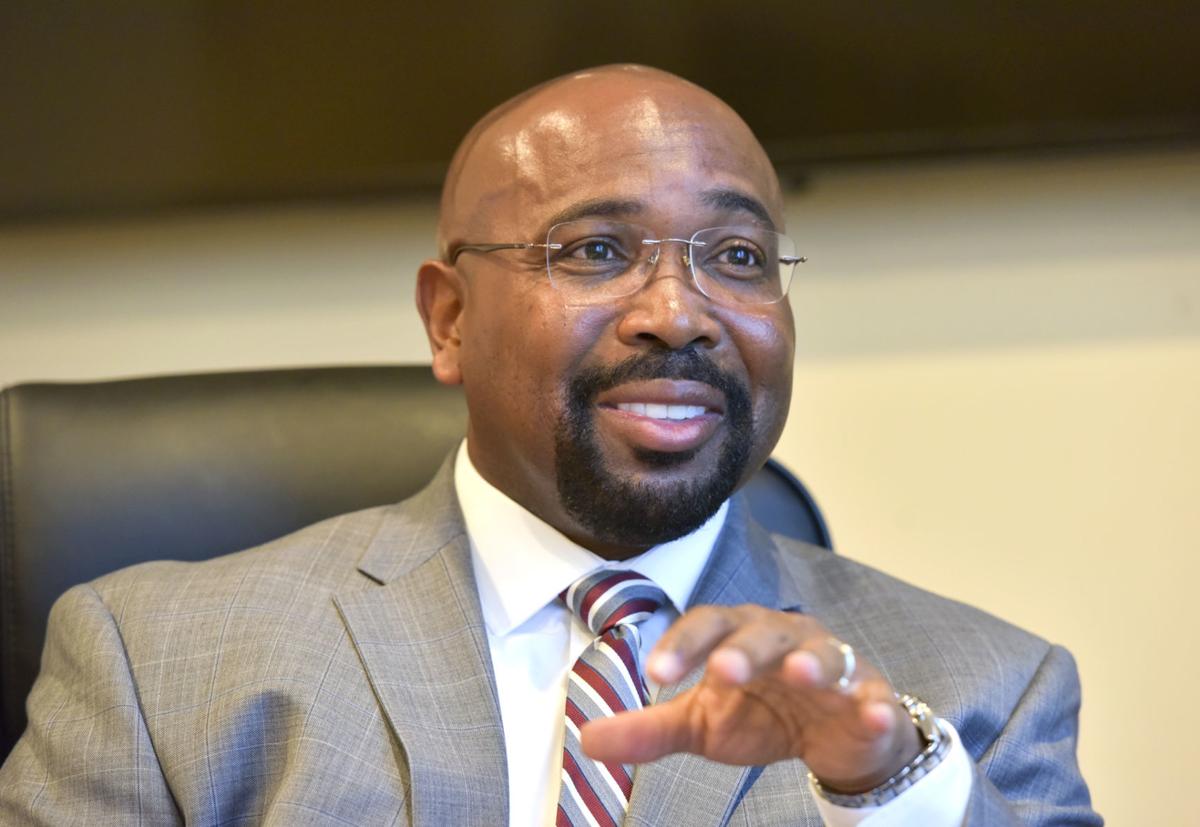 The Regional Medical Center's President and Chief Executive Officer Charles E. Williams compares his duty to provide quality care to that of building a home. Ensuring a good foundation undergirded by the strength of community involvement and support is where he has started.
Having grown into a diverse health care system with a 286-bed acute care medical center and 24 primary and specialty care practices located throughout the community, the hospital is celebrating its 100th anniversary this year.
Williams officially began his new job at the helm of RMC on Dec. 11, 2017. He replaced longtime CEO Tom Dandridge and is looking forward to strengthening the hospital's service programs and its interconnectivity with the outlying community, including businesses.
"My vision for RMC is no different than my vision for the community. I will use building a home as an example. I see a strong community having the partnership of a strong health care organization to help it grow and thrive. I see not just delivering the care that we have the opportunity to do, but also helping to recruit companies, other organizations and different amenities so that the families have a well-rounded life," Williams said.
"We understand that while laying the foundation might not be the most exciting piece of building, it is the most important. ... So what we're doing as we've developed a team is laying that foundation and understanding what works in Orangeburg.
"What is the interconnectivity of not just what's within Orangeburg, but Orangeburg within South Carolina and the Midlands region? What is it that people need vs. want? What health situations affect us? Diabetes. Cancer. We're not trying to be all things to all people but want to be the right things for the people in this community," Williams said.
For a few examples, he points toward work being done with the help of 24-hour emergency care, a Dialysis Access Institute, the H. Filmore Mabry Center for Cancer Care and obstetrics/gynecology care.  
A native of Fort Worth, Texas, Williams was born in 1972 to George and Rosie Williams. The eldest of three children, he has a younger sister, Angel, and brother, Tim.
He was raised in the Stop Six neighborhood in the southeast portion of the city and is a graduate of Paul Laurence Dunbar High School.
He received his bachelor's degree in community health/health studies and his master's in occupational therapy, both from Texas Woman's University. He was the first person in his family to go to college and later earned a second master's degree in business administration from the University of Texas in Arlington in 2001.
He said his penchant for service and dedication to patient care, particularly in the rural area, is sincere and personal.
"It's a calling. When you think about metropolitan health care, it's wonderful as well. But the impact that the rural health care organization has on the rural community itself is so much larger. When I came here for the interview, it was something magical when I got off of Exit 145.
"As I interacted with the different individuals at the restaurants and the other places I would visit, what I felt was a community. It was a community of people who saw the importance of having a strong health care system, a community that wanted to improve, a community where people cared about one another. And as a true servant and as a patient care provider first, that was a draw to me," Williams said.
Tenet Healthcare Corp., a multinational health care services company based in Dallas, was the organization for which he worked before landing in Orangeburg.
"That was a large $20 billion company with multiple hospitals, a 130,000-employee organization. At the time, we had 80-something hospitals and 400 ambulatory sites. But I've also worked in the JPS (Health Network), which was a county hospital in Tarrant County, Texas, similar to RMC, with the mission of taking care of the community regardless of the ability to pay.
"I love that, and what I love most about it is it gets back to my core. I was born in that county hospital. So when I see these patients walking in here, I see my family. I see me. That's the service that I love to fulfill," Williams said.
The CEO said he looks to continue both educating and receiving input from the public. The continuation of community forums across The T&D Region is planned.
"When I go out to different events, people will share with me, 'Well, I'd wish they'd ask me.' Well, we are asking. Come to those forums. Tell us what you need, become educated on when emergent care is needed vs. urgent care or primary care. It's about accessing the care at the right place so that you get the right need taken care of," Williams said.
He has met with a plethora of community and civic organizations, including service clubs, along with employees in every hospital department.
"It's a marathon. It's not just understanding the needs, but how to access the needs. What type of hospital are we? Are we an academic medical center? A Level One Trauma Center? No, we're not, but we are a Level Three Trauma Center and a community hospital," Williams said.
He added, "It's about understanding the services we do provide so that when you need health care, you're getting it at the right point. It's about understanding that if you come here for the right things, we have established systems and transfer agreements so that when a higher level of service is needed, you get to the right point of care a lot quicker. We don't want to be confused and say all hospitals are the same. That is not the case."
With only approximately 60 academic medical centers across the nation, Williams said, "The system was never established for every hospital to be an academic medical center. So we don't need to be what we were not meant to be. Stay in your lane and you do a lot better job."
What does the hospital mean to its community? It should mean a lot, Williams said.
"RMC truly is the largest employer. It is an organization that is providing $4 million every two weeks in payroll through this community. What does that mean to Walmart, Chick-fil-A, the churches, home values? And then when you look at the multiplier effect of spending power, what is the true economic impact?
"So what I say to the people is work with us to continue to strengthen the community. ... If we don't help the organization be stronger, what does that mean for the community? How do we help strengthen it, use it for what it was meant to do? And I think if we do that, we will be fine," Williams said.
The administrator said while people "put a lot of effort into sharing negative," there is much life-saving work going on at RMC.
"I've had people in this community call me and apologize to me, saying, 'I have been one of the main people through the years bashing the organization on Facebook, Twitter, in the bars and restaurants. But I have to tell you, I was in your hospital and your team saved my life.'
"I want them to put the same effort into sharing that story because a lot of times the negative stories that they share are stories they've heard about. Share your personal experience that was good because when we begin to do that, it's a testimony and there's nothing stronger than a personal testimony," Williams said.
He is proud of RMC and credits the staff members who help make its engine run.
"The people here are good. The staff here is loving. They love this community. They love this place. They love their patients," he said.
The business news you need
With a weekly newsletter looking back at local history.