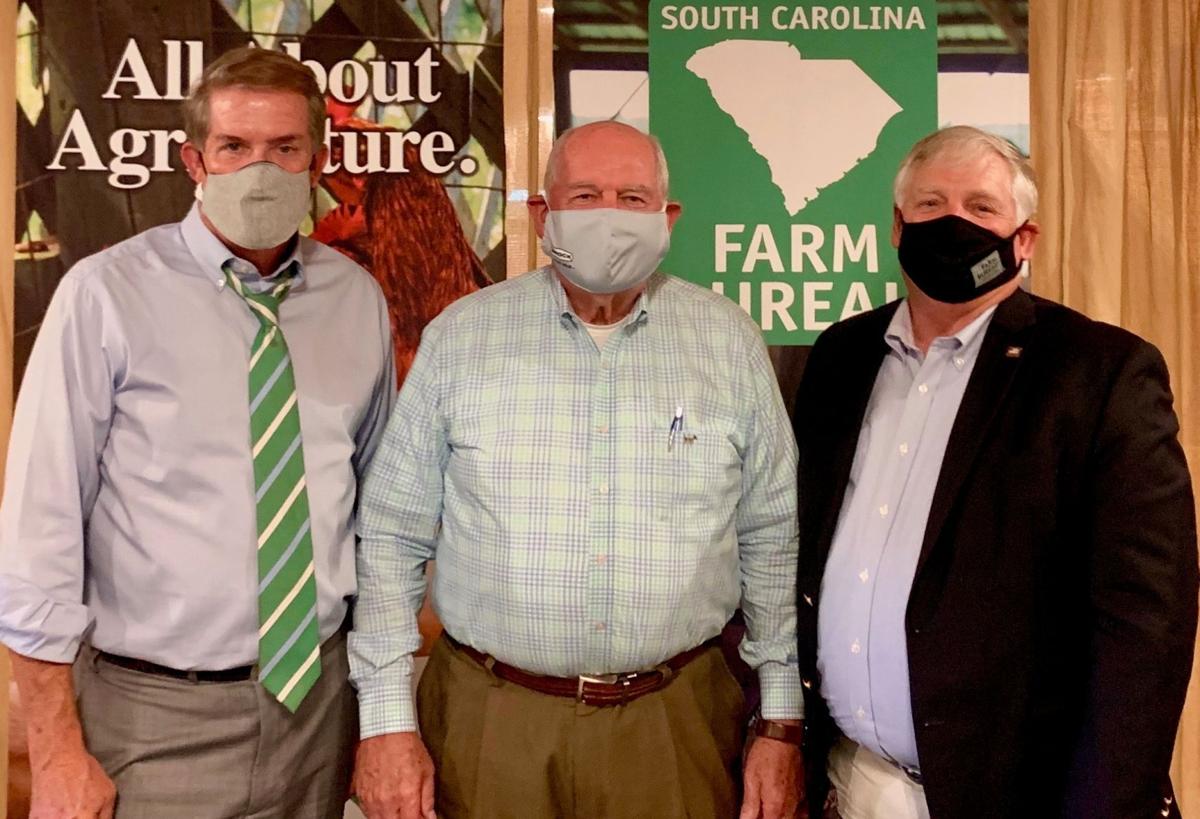 HAMPTON – South Carolina Farm Bureau hosted a roundtable with U.S. Secretary of Agriculture Sonny Perdue, S.C. Commissioner of Agriculture Hugh Weathers, S.C. Farm Bureau President Harry Ott and Farm Bureau members.
The roundtable, held Sept. 2 in Hampton County, gave Farm Bureau members the opportunity to discuss various agricultural topics and hear more about U.S. Department of Agriculture's programs.
"We are very fortunate to have someone in Washington like Secretary Perdue," Ott said. "He understands a farmer's perspective and more importantly he wants to listen to know more about what's happening daily on our farms and in our rural communities."
The panel discussed important agricultural issues including access to labor, feral hogs, rural broadband and relief programs. The secretary was also able to hear from specialty crop farmers, like mariculturists, on ways the USDA could help support them.
"It was great to have an opportunity to meet with the United States secretary of agriculture yesterday," said Chris Stevens, chair of the SCFB Young Farmers and Ranchers committee. "Everyone in attendance could tell that he and the USDA have the interest of our South Carolina farmers in mind."
Participants were: Anthony Gray (Hampton), Walter Mack (Beaufort), Jeff Massey (Charleston), Robert Mixon (Hampton), Brad O'Neal (Allendale), Joe Oswald (Allendale), Don Sharp (Allendale), Rachael Sharp (Allendale), Chris Stevens (Horry-Loris), Wesley Ulmer (Colleton), Landy Weathers (Orangeburg) and Gary Youmans (Hampton).
Perdue was in Hampton County for the announcement of a 1,000-acre agribusiness cluster that will employ 1,547 people in growing, packing and shipping tomatoes, leafy greens, blueberries and other fresh produce – using a cutting-edge approach called Controlled Environment Agriculture.
The $314 million Agriculture Technology Campus at the Southern Carolina Industrial Campus in Early Branch is a joint venture encompassing multiple greenhouses and hoop-houses, a 150,000-square-foot distribution center, and a large co-packer centrally located within the cluster, which is situated near I-95.
The project brings together several powerhouse agribusinesses – Mastronardi, a Canadian company that sells tomatoes under the Sunset label; LiDestri Food and Drink, which will provide processing, packing, shipping and logistical services; and Clear Water Farms, an experienced indoor grower of leafy greens – along with GEM Opportunity Zone Fund.
Controlled Environment Agriculture is a technology-based approach to indoor farming that allows growers to minimize space and conserve water while controlling for factors like weather.
The business news you need
With a weekly newsletter looking back at local history.