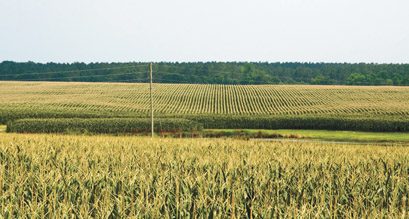 A 30-year-old federal ethanol subsidy has expired, but it's still not known if South Carolina farmers will feel any effect.
Congress allowed the tax credit for ethanol blenders to expire before it recessed for the year. The subsidy cost taxpayers about $6 billion annually. Lawmakers also ditched a tariff that effectively kept out ethanol from other counties.
Tommy Bozard, a farmer in the Four Holes community, said he is uncertain about the overall effect on local corn producers.
"I don't think it will hurt us that bad because most of our corn goes for feed," Bozard said. "There may be more to it. It may affect us but I don't know.
"Because of the demand for ethanol, that makes our prices more attractive. We have had some short corn crops nationwide and corn prices are also higher because of that."
The subsidy for blending ethanol into gasoline was 45 cents per gallon. There was also a 54-cent-per-gallon tax on imported ethanol, most of which is produced from Brazilian sugar cane.
Other federal mandates remain, such as the federal Energy Independence and Security Act of 2007, which sets targets for national ethanol use.
South Carolina Agriculture Commissioner Hugh Weathers of Bowman said the change could impact the future price of corn.
"We like things stable," Weathers said. "If taking the subsidy out stabilizes the price, that is a good thing, but I don't know if that is expected.
"Our corn prices are affected by supply and demand and the transportation costs it takes to bring it in from the Midwest. There isn't enough to meet the demand from the poultry industry, which is our largest commodity."
State Rep. Harry Ott, who grows corn and other crops, said South Carolina is considered a corn deficit state.
"We have so many livestock operations in the state that have to import corn from the Midwest every day," the St. Matthews Democrat said. "We can use every bushel of corn we produce in South Carolina and more."
Subsidies do help with the price of corn, he said. "Farmers can turn a profit if we can add 10, 15 or even 25 cents a bushel. I understand the flip side is that puts corn at a disadvantage to feed livestock. But as long as it is a break-even or slight loss proposition, I support the subsidy. "
Ott feels the federal government should preserve efforts to provide as much alternative fuel as possible rather than sending money to foreign countries for crude oil.
"I don't buy the argument that subsidies are astronomically raising food prices," Ott said. "Some increase, maybe. That is the nature of the business."
Orangeburg County Clemson Extension Agent Charles Davis said many farmers feel there is a lot of public misunderstanding about the use of corn for ethanol and whether it is worth the price to produce it.
"There's the whole debate about using food for fuel even though we take the ethanol out at the front end and still use the corn for feed," Davis said. "Using it for ethanol does keep corn prices higher than was traditional before ethanol.
"It's a mixed bag and you can go on for hours both ways."