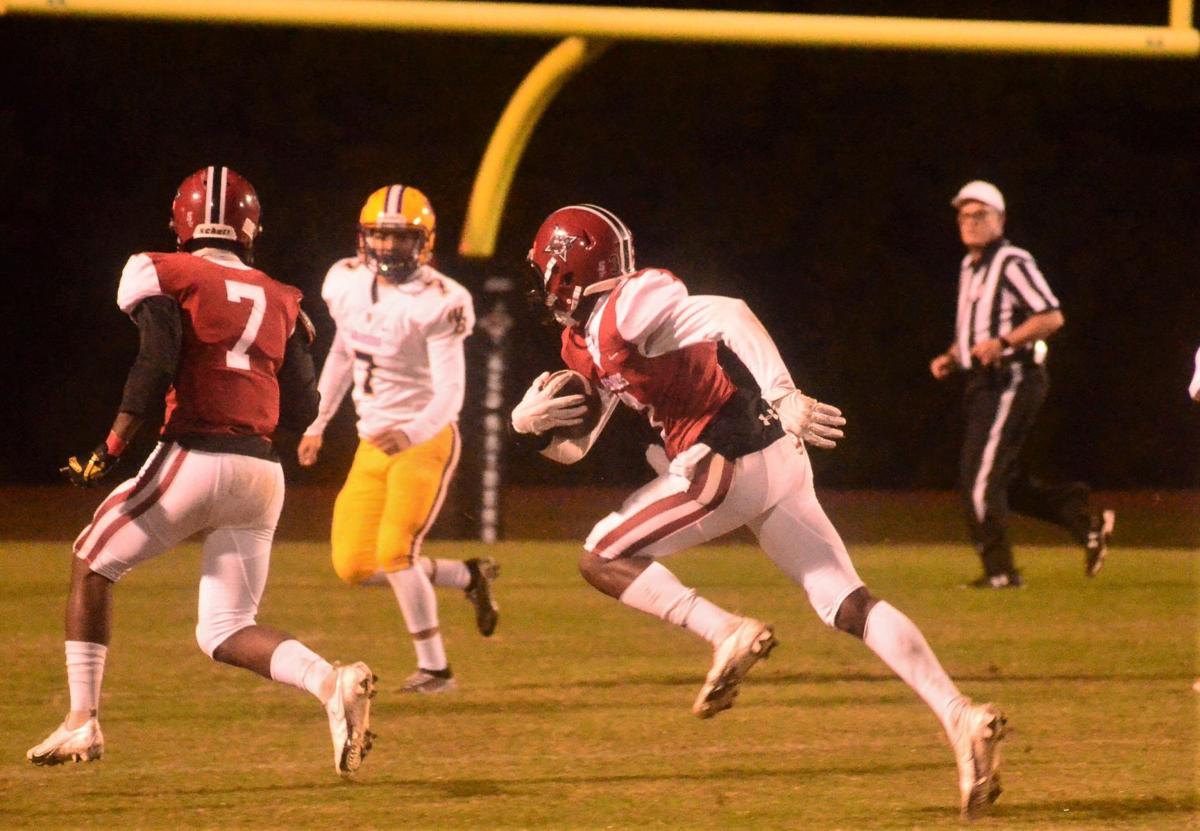 BAMBERG — Bamberg-Ehrhardt didn't score in the second half on Friday, but it didn't need to in taking an 18-15 SCHSL Class A football lower state semifinal win over Whale Branch at Leon Maxwell Stadium.
The Red Raiders depended on their defense, which allowed just 8 points in the regular season, to allow just 8 points in the second half against the Warriors and hold onto what was left of an 18-7 halftime lead.
In a battle of two 8-0 teams, B-E won out, leaving Whale Branch with an 8-1 final record.
The Red Raiders are 9-0 and will play at Lake View (7-0 record) next Friday for the Class A Lower State Championship. The Wild Gators got by Carvers Bay on Friday with a 30-22 win.
"The defense played good in the second half," said Robert Williams, B-E head coach. "We were trying to get one more (score), but they are a great team, they are physical, and we got a few first downs, punted away and let the defense play. We buckled down and played strong in the fourth quarter.
"Our defense has given up a few more points, but when they need to step up, they step up big. I think we've got a good, solid team. We advance to play another week."
The Red Raiders started the scoring on Friday on their second offensive possession, taking a Whale Branch punt to start the series at the visitors' 40-yard line. Five plays later, senior quarterback Treyton Still connected with senior wide receiver Frank Hyland on a post play that went 37 yards for a touchdown. The PAT did not get kicked, as Still handled the low snap and threw an incomplete pass on an unplanned 2-point attempt. B-E led 6-0 with 5:43 left in the first quarter.
Whale Branch answered by starting its second drive with a 44-yard kickoff return. The B-E defense battled the entire 15-play drive, with Hyland deflecting a pass attempt, senior lineman Trayvon Jamison sacking senior quarterback Jalen Reeves twice, and Reeves having the best gain of just 10 yards among the first 14 plays.
But, the last play of the drive was a field goal set by the Warriors, who decided to line up for a 35-yard attempt, only to fake the kick and have junior running back Joseph Hicks pass to senior wide receiver Amar Jenkins for a 19-yard touchdown. Senior quarterback/kicker Henry Tome added the PAT for a 7-6 lead for Whale Branch with 9:10 left in the second quarter.
The Red Raiders answered that score just minutes later, as Still returned a kickoff 28 yards, before following up a first-down play where B-E lost a yard with a quarterback draw that covered 65 yards for a touchdown. Still added the 2-point conversion run for a 12-7 lead for the home team.
The scoring inspired the Red Raiders on defense, as both junior defensive lineman Christian Draper and senior linebacker Ty'Quez Stuckey had quarterback sacks on the following possession by Whale Branch. The Warriors were pinned back inside their own 16-yard line and had to punt. Hyland fielded the punt cleanly and promptly returned it 44 yards for a touchdown, with 4:51 left in the first half. Sophomore kicker James McIntosh pulled the PAT attempt wide left, but B-E still led 18-7.
The Red Raiders shut down the Warriors on the ensuing drive, holding the visitors to minus-7 yards.  B-E didn't manage much better on its next drive, as only 2 of 7 passes from Still were completions.
Two plays into the final drive of the half for Whale Branch, Still intercepted Tome to end any threat before the break.
On the first series of the third quarter, Whale Branch pulled out all the stops on offense and special teams, converting for 2 yards for a first down on a fake punt, as the visitors had a 12-play drive that ended with a punt but used up 10 minutes and 20 seconds of game clock.
Each team followed with a 3-and-out series, before the third quarter ended.
Whale Branch then made its first series of the fourth quarter count, going 80 yards on 12 plays to score on a 2-yard run by Reeves. Tome highlighted the drive with a 16-yard pass play to Jenkins and a controversial 8-yard pass play to Jenkins that looked to have been intercepted by senior Deandre Vanzego as the two went to the ground with the ball. Reeves passed to senior Richard Parker for the 2-point conversion, leaving the score 18-15 with 6:04 left to play.
B-E ran 9 plays and all but 25 seconds off the game clock before punting the ball back to the Warriors. After a pass for a first down, Tome was sacked to end the game by junior linebacker Quincy Bias to end the game.
Still finished with 14 carries for 102 yards and a touchdown, along with 5-of-13 passing for 96 yards, including a 39-yard pass to freshman Anthony Williams.
Be the first to know
Get local news delivered to your inbox!