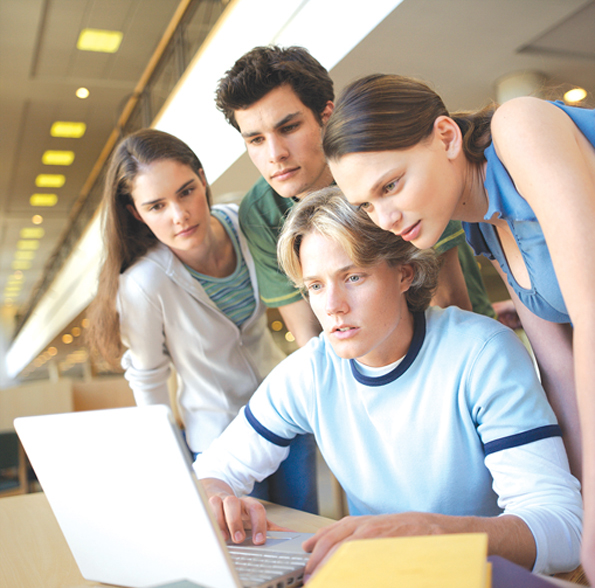 The classroom atmosphere familiar to today's children is likely very different from the atmosphere their parents were accustomed to when they were students. Many of these changes can be traced to technology, which has gradually had an increasing presence in the classroom over the last several decades.
But technology has not only changed the classroom experience for kids, but thanks in large part to the Internet, technology also has changed the way kids approach their schoolwork at home. Though a potentially valuable learning tool, the Internet also poses some problems for today's students. The following are some of the advantages and disadvantages of relying on the Internet to complete schoolwork.
The accessibility of the Internet can be a significant benefit to students. Students have a wealth of resources available to them online, and those resources can make it easier for kids to understand key concepts on nearly every subject. Whereas students might once have been forced to trek to the library to research a given subject, now they can do so from the comforts of home. And unlike the library, the Internet never closes, so information is at students' disposal regardless of when they sit down to do their schoolwork.
Another advantage to using the Internet to complete schoolwork is that the Internet can be an extension of the classroom beyond school walls. Educational Web sites abound on the Internet, and many of these sites are written and monitored by professional educators. These sites can be valuable resources for students who may find themselves struggling with certain lessons. Many of their questions or concerns may already be addressed, and certain topics may be more easily explained on a Web site written by a professional educator or scholar in a given field. Rather than waiting to address an issue in class, students can visit such Web sites to answers to their questions immediately.
You have free articles remaining.
The Internet also can provide students with a forum to discuss their studies which does not always exist in the classroom. That forum may engage students and make them better students. A passionate online discussion about a reading assignment may encourage kids to approach such assignments more fervently. Though such discussions may exist in a traditional classroom atmosphere, many students might be hesitant to express themselves in front of their classmates, feeling the anonymity of the Internet is a more inviting and less stressful forum than a classroom of their peers.
As beneficial as the Internet can be to students, it's not always what it's cracked up to be. Much of the concern about using the Internet to complete schoolwork is the reliability of the information on the Internet. Many sites offer reliable and well-researched information, but many do not. Students, especially younger students, may not be capable of discerning fact from fiction and will simply take the written word on the Internet as truth. That may land students in hot water or make it more difficult for them to understand their subjects.
Another significant disadvantage to using the Internet to complete schoolwork is that students may be tempted to cheat. Because the Internet is so vast, students might be tempted to cut and paste answers to homework problems from the Internet or copy information from Web sites and claim it as their own, feeling as if there is no way their teachers will ever find out. Some students may not even understand that such cutting, pasting or copying is wrong. But in addition to being wrong, such behavior, whether students are caught or not, also makes it harder for students to learn the material, which will make it more difficult for them to grasp key concepts going forward.
The Internet can also be a significant distraction to students. Social networking sites can quickly distract kids from their schoolwork, costing them valuable time they should be devoting to their studies.
For more than a decade, the Internet has proven a valuable resource for students across the globe. But students must recognize there are advantages and disadvantages to relying too heavily on the Internet when pursuing their studies.
Be the first to know
Get local news delivered to your inbox!