COLUMN
COLUMN: Cameras sight bears in Calhoun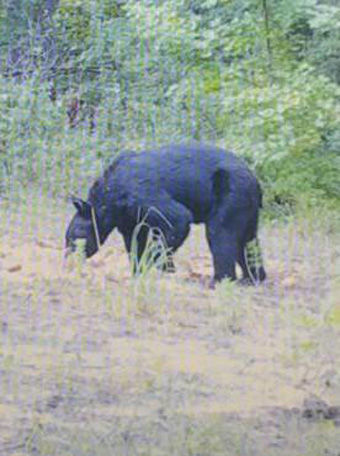 This column by John Rheney was originally published on Sept. 27, 207.
One of the standards now in deer hunting is to put trail cameras around food sources, both natural and feeders.
We often see things other than deer and I get as big a kick out of seeing fox squirrels, coyotes, hogs and bobcats as I do the deer that come to my cameras. The big surprise this year is the number of people along the Congaree River who are getting pictures of bears on their cameras.
We have all heard about the bear that climbed up a telephone pole in Branchville and got knocked out by electric shock several years ago. I have patients from Four Holes who brought me a video on their cell phone of a big bear rooting around their mailbox and reported seeing cubs later that same month.
Hunters don't normally put cameras out until a couple of weeks before the season and thus we miss what is going on year-round on our leases. Bobby McDonald runs 601 Deer and Hog Processing near Fort Motte, and many hunters have reported bear sightings to him. He was kind enough to bring me a map of recent sightings and it is very interesting.
According to Bobby, there are at least three different bears roaming the swamps between Sandy Run and Belleville Road below St. Matthews.
He referred me to Officer Matthew Lambert of the S.C. Department of Natural Resources. Lambert also feels like there are at least three bears involved in the pictures and sightings based on the coloration, size and markings.
During a period from late July until Sept. 19, there were over a dozen sightings. The first one on July 21 was just off Beaver Creek Road in northern Calhoun County. This was quickly followed by sightings the first week of August just across Highway 176 and then further south on Fort Motte Road on the 8th. A flurry of sightings south of St. Matthews from the Calhoun Country Club to McCord's Ferry Road over on the Congaree River followed from Aug. 12 through the 20th. No further reports came in until the week of Sept. 10-19th, when a bear(s) was spotted back up in the Sandy Run area.
I think this is so very cool. I hope to see one on my cameras in the near future and it would be a blast to actually be able to watch one in the wild.
A couple of words of caution. DO NOT SHOOT A BLACK BEAR IF YOU SEE ONE IN OUR GAME ZONE. It is against the law and will result in losing your gun, vehicle, $2,500, jail time and loss of your hunting privileges. If you do shoot a bear, make sure you are missing at least two limbs. An arm and a leg or maybe two legs would suffice to convince DNR you were really in danger for your life.
No injuries or deaths have been attributed to black bears in South Carolina, according to a wildlife biologist with the S.C. Department of Natural Resources. But as more people move into bear territory in South Carolina's mountains and coastal areas, encounters between humans and bears are on the increase.
Also, surveys are pointing toward an increasing bear population in South Carolina. Scent station surveys of black bear in the mountains have increased dramatically in the past five years, according to Richard Morton, a wildlife biologist with DNR based in Clemson. While scent stations received 58 percent "hits" in the mountain areas of Oconee, Pickens and Greenville counties in 2003, that number has been on the rise and by 2009 had jumped to 76 percent. Also every county in South Carolina except Bamberg County had reported bear sightings by 2009.
With bear encounters on the rise, Morton said it's increasingly important that bears not associate people and their homes as a source of food.
"If you feed a bear, either on purpose or accidentally, then they come to associate man with food, and that's not good," Morton said. "A wild bear is very wary of man and usually no threat at all, but a bear that has been fed loses that natural fear. It's less likely to be afraid of people."
Two cases were reported in recent years of people feeding bears from their back porches. One of the bears attracted to the area had to be relocated 90 miles away but was back within a week. If a bear will not stay away, it has to be destroyed, Morton said. So don't feed bears, Morton warns, because instead of helping the bear, the feeding might indirectly lead to its death.
Male black bears are generally larger than females. An average adult male black bear can weigh between 150-350 pounds while the female averages between 100-250 pounds. However, when food is plentiful, older bears have been documented at weights above 400-500 pounds. The largest black bear recorded in South Carolina was 609 pounds. Typically male bear home ranges can be 18 to 160 square miles, while home ranges for females are smaller, around 6-19 square miles.
Bears don't want anything to do with you unless you program them by feeding them inadvertently or by design. If that happens, they associate humans with food. If you do encounter a bear in the wild, do not run. That will trigger a chase instinct. Hold your hands above your head and shout. It makes you appear bigger and dominant to them. If attacked by a black bear, fight with any object available to you. Black bears, unlike grizzlies that are very territorial, attack humans mainly in a predatory mode. They will kill and eat you. Most bears will run at the sight of a human but be prepared if they don't.
This article isn't mean to alarm anyone. On the contrary, I think it is interesting that the area now has a small population of black bears. This is to be a reminder that these animals are very powerful predators; and it would not be wise to contribute to their delinquency by tempting faith will food stuffs that will attract them to human habitation. If you see one or suspect it is living in proximity, enjoy the experience. If you don't do something to attract it to your home, it will move on in short order.
Dr. John Rheney has been writing his outdoors column for The Times and Democrat since 1984.