RSSS.C. State Athletics
S.C. State Athletics Videos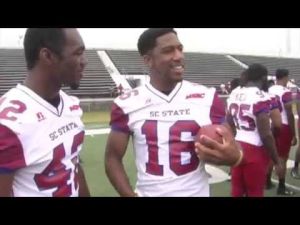 S.C. State quarterback Adrian Kollock interviews, and gets interviewed, by his teammates at media/picture day.
S.C. State Athletics
South Carolina State head women's basketball coach Doug Robertson released the 2014-15 schedule on Wednesday. This year's slate features 11 no…
South Carolina State head softball coach Tonja Braxton announced Monday the addition of five student-athletes who will play for S.C. State.
Check out photos from the Bulldogs' first practice o…

Photos from South Carolina State's scrimmage Saturda…

Bulldogs workout for pro scouts at S.C. State Pro Day. 

Photos from South Carolina State's scrimmage Sunday …

Images from the Orangeburg Touchdown Club Annual Ban…

The Bulldogs take on Furman in a 20-30 loss.
BLOG: Following the Bulldogs
Poll
Loading…
Who will have a better season next year in prep football?
Mailing list
Be the first to know what's going on from TheTandD.com and The Times and Democrat. Get information sent straight to your email inbox, from breaking news headlines to special events! Opt-in below!