T&D Region preps for powerful Irma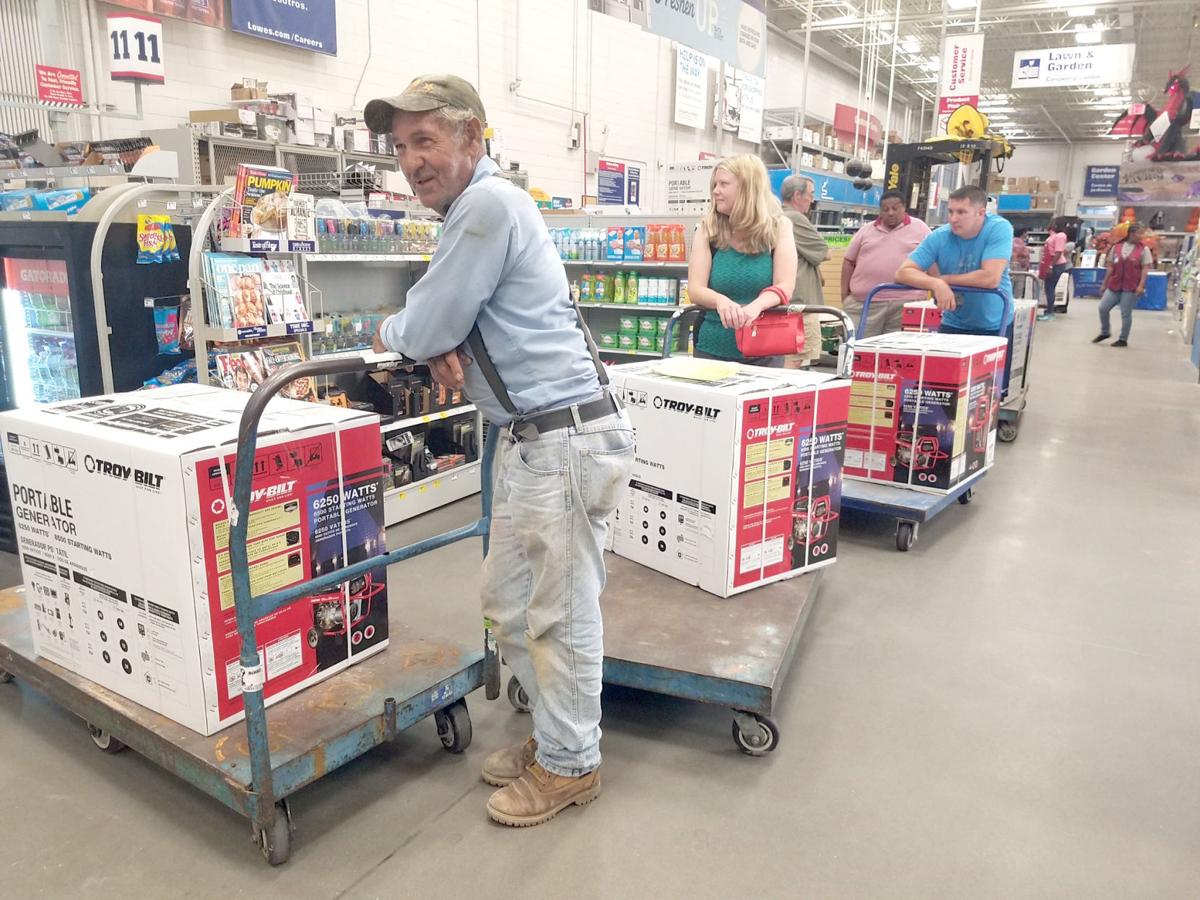 While uncertainty remains about Hurricane Irma's exact path, models are pointing to significant impacts for The T&D Region.
"It looks like we are definitely going to get hit," Calhoun County Emergency Services Director Bill Minikiewicz said Thursday.
He said the forecast for Irma calls for it to be stronger than last year's Hurricane Matthew when it arrives.
Through late Thursday afternoon, Irma continued to churn in the Caribbean with sustained winds at 175 miles per hour.
The National Weather Service is forecasting the storm will begin impacting The T&D Region on Sunday night, with conditions deteriorating Monday and especially into Monday night.
Even though later models seem more favorable for the region, NWS Meteorologist Chris Rohrbach said residents should not let their guard down.
"The impacts likely will still be strong winds, which will cause power outages and cause damage to large limbs and to trees," Rohrbach said.
The T&D Region could find itself in the northeast quadrant of the storm, which would mean a greater chance of tornadoes.
According to windy.com, a website used by the Orangeburg Department of Public Utilities for planning purposes, wind gusts could get as high as 64 miles per hour.
Saturday and Sunday
NWS Meteorologist Al Moore said indirect impacts from Irma will be felt as early as Saturday afternoon.
"We are calling for winds in the afternoon from the northwest around 10 miles per hour to 15 mph," Moore said.
Sunday will be the "more breezy day."
"There should be a steady increase in sustained winds throughout the day Sunday," Moore said.
Monday and Tuesday
Moore said the area should start feeling stronger winds Monday afternoon into Monday night.
"I would try say people should try to determine whether your homes where you live are able to stand winds at least at a minimal hurricane strength," Moore said. "People who live in trailers may want to consider getting out if this track holds."
Moore said people should prepare for potential power outages possibly lasting for days with nonperishable food items and water for drinking and bathing.
Loose lawn furniture and other items should also be placed inside.
Moore said the Orangeburg area could conservatively receive about 5 inches of rain with isolated higher amounts.
Winds in the Orangeburg area would be expected to diminish by Tuesday afternoon.
Coastal evacuations of those with medical needs in hospitals and nursing homes were ordered Thursday. Lane reversals may be put in place over the weekend.
Additionally, the governor ordered all dam owners throughout the state to evaluate and assess current water levels to determine whether levels can be safely lowered to accommodate anticipated rises in water level.
Emergency
preparedness
Orangeburg County officials spent Thursday finalizing their preparations, including support for shelter operations, Emergency Services Director Billy Staley said. Shelter locations will be announced over the weekend.
The American Red Cross is looking for volunteers to help support shelter operations. It will be conducting a training class for volunteers at noon Friday at the County Administrative Centre on Amelia Street.
In Bamberg County, a shelter will open at Richard Carroll Elementary School at noon Sunday. The school is located at 1980 Main Highway in Bamberg.
Individuals can bring bedding, clothing, medications, blankets and an emergency kit. Alcoholic beverages, illegal drugs and weapons are not allowed. Pets are not allowed in shelters.
The shelter will be manned by the American Red Cross and the Department of Social Services.
Minikiewicz said a decision will most likely be made about Calhoun County's shelters on Friday.
The main shelter will be in St. Matthews at Calhoun County High School, 150 Saints Avenue. A second shelter would be at the St. Matthews K-8 at 135 Saints Avenue and a third shelter could open at the Sandy Run K-8 school, if there's a need.
Cancellations
The Orangeburg County Farm Bureau meeting scheduled for Sept. 12 has been rescheduled for Wednesday, Sept. 20.
The South Carolina Department of Agriculture also cancelled the waste pesticide disposal program due to the hurricane, including the Sept. 12 event at Middling Cotton in St. Matthews. Possible make-up dates will be announced at a later time.